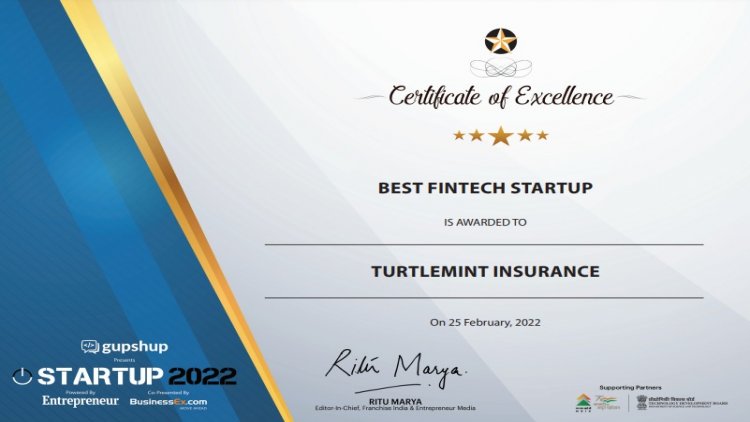 The latest feather in the cap for Turtlemint is the "Best Fintech Startup" award by Entrepreneur India at the Start up Awards 2022 event. It indeed is a very prestigious award for Turtlemint for being recognised for its special achievement in the Fintech startup ecosystem.
Turtlemint had been launched with the intent of empowering the insurance advisors with a tech platform to enable them with digitalisation and create multiple micro-entrepreneurs within the country. This led to the digital empowerment of the Point of Sale Persons (PoSPs) by creating the largest network of over 1.4 lakh advisors having footprints in 14,000+ Pincodes Pan India. Tutlemint's digital tools have enabled the insurance advisor to advise the right insurance product to their customer and hence contributing to an increase in insurance penetration in the country.
Being pioneers in this industry, Turtlemint has been able to create a name for itself with its pivotal role in creating tech-enablement in the insurtech space. Being recognised for digital empowerment as the "Best Fintech Startup" by Entrepreneur India is indeed quite humbling as the journey was far from smooth. The recent campaign #ActiveHoJao with Dhoni as the brand ambassador has been Turtelmint's initiative to nudge consumers from passive financial thinkers to active financial doers.