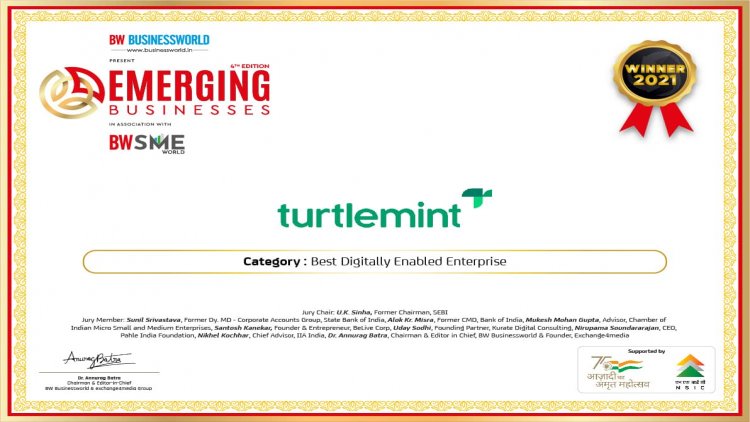 The eminent jury comprising industry veterans and seasoned BFSI stakeholders have selected and conferred Turtlemint with "The Best Digitally-Enabled Enterprise." Being selected by such a prestigious jury is indeed an honor for us.
Turtlemint has been recognized for its contribution to the insurance ecosystem by way of adding a layer of digitization which has created micro-entrepreneurs across the length and breadth of the country as well as attracted new customers from tier 3 cities and beyond into the folds.
Turtlemint was launched with a single goal in mind, i.e., to improve insurance penetration in India. Our first and most important observation was that the insurance advisor has a pivotal role to play in the insurance ecosystem and in order to achieve our overarching goal we must choose to empower the insurance advisor. Accordingly, we set on the path of digital innovation and to create digital tools that can help the insurance advisors engage better with their customers and seamlessly sell the right insurance policies to the right individual. We are happy to note that our endeavors have fructified as is evidenced by the fact that Turtlemint has created and become the largest network of PoSP's in India with 1,40,000 advisors and presence in 14,000+ pin codes out of the 19,000 pin codes in India and more than 4 million customers. Our digitally powered solutions are helping stakeholders in the insurance ecosystem leapfrog the digital growth curve and taking India closer to achieving universal insurance. 
We are currently in the midst of unprecedented innovation with scores of companies optimally leveraging digital technology to build future ready enterprises. To be recognized as a digital innovator in the backdrop of the current landscape is indeed humbling. However, above everything, the award validates our belief that the future lies in a hybrid model that enables individuals to harness the power of digital solutions and generate value for the end consumer.