Every individual is needed to have an authentic identity proof for them to be identified as an Indian Citizen. Aadhaar Card is one of those documents Issued by the Government of India. The Aadhaar Card has become one of the most significant documents for the identity of any person. Other than acting as an identity proof, the Aadhaar card can also be used as a proof of address of the individual. The card is used for various financial transactions and availing of government subsidies etc. Among the various documents issued by the Government of India for different purposes, the position of Aadhaar Card remains strong as a proof of being an Indian citizen. Let us understand what is an Aadhaar card.
Table of Contents
What is an Aadhaar Card?
Aadhaar Card is a unique identity number issued to Indian citizens by the Unique Identification Authority of India or UIDAI. The card consists of a random grouping of 12 numerical figures which are exclusive for each Aadhaar cardholder. This 12-digit number is known as the Aadhaar card number and is used to recognize individuals. The speciality of this card is that it comprises the demographic and biometric information of the individual and thus used for various authentication purposes. Aadhaar card is issued free of charge and people can voluntarily apply for them to enrol themselves for this card.
After enrolling yourself for getting an Aadhaar Card and after receiving the same, you may see that few details are there in the card which is being erroneously captured, you are allowed to correct or update the same. UIDAI has given this facility to make corrections or updates in your Aadhaar card both online and offline. You can correct any error or update any data in your Aadhaar record by filling up the Aadhaar card correction form. There is no need for you to pay any charge for doing this if you are doing the same within 96 hours or 4 days from the enrolment date. However, beyond 4 days, you need to pay a negligible charge of INR 50 for doing such activity.
Also Read: How to Download Aadhar Card Using Mobile Number?
How to change father's name in Aadhar Card
Here we will take you through the process of how to change father's name in Aadhaar card in detail.
Update or Change father's name in the Aadhaar card offline?
There are two ways to have your father's name updated or corrected in your Aadhaar through offline medium:
1. Update or change in father's name via post
The most convenient way to update your father's name in your Aadhaar card is by way of post. You just need to fill up an Aadhaar correction form and send it via post to the UIDAI office together with the supporting documents.

Mentioned below are the steps for your better understanding:

Download the form from the official website of UIDAI https://uidai.gov.in/images/UpdateRequestFormV5.pdf
Fill in the form correctly and attach any Proof of Identity -POI and Proof of Address -POA as per the specified list given by UIDAI. You would also need to attach a proof where your father's name has been correctly mentioned
You can now post the form and other documents. You can send the same to any of the below address:

UIDAI, Post Box No. 10, Chhindwara, Madhya Pradesh – 480001.
UIDAI, Post Box No.99, Banjara Hills, Hyderabad

You will get an acknowledgement once the form is received by UIDAI
After UIDAI makes necessary update or correction in your father's name you will receive the second acknowledgement confirming that the request has been processed
2. Update or change in father's name via enrolment centre
The second option, as stated above, for how to change father name in Aadhaar card is through an enrolment centre. The steps are very simple and easy to follow:
Book an appointment by visiting the official site of UIDAI –https://uidai.gov.in/You will also come to know your nearest Aadhaar Enrolment Center by entering your city and location as shown below so that you can visit accordingly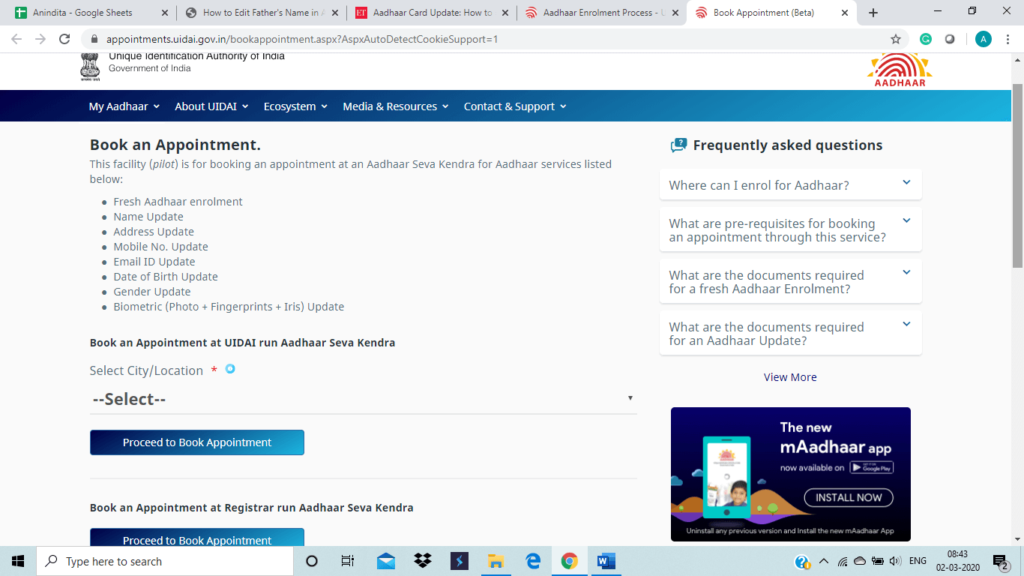 Fill in the correction or update form with the correct name of your father and do not forget to attach a valid proof of your Father's Name. And then you need to submit the form to the officer.
The respective officer will authenticate the form and your request in the Aadhaar portal. The changes will be validated with the help of your fingerprints and after the form is submitted, you will get an acknowledgement for the same
The new Aadhaar card will be made available for you to download after 7 to 10 business days. You can download the Aadhaar from the UIDAI website as shown below.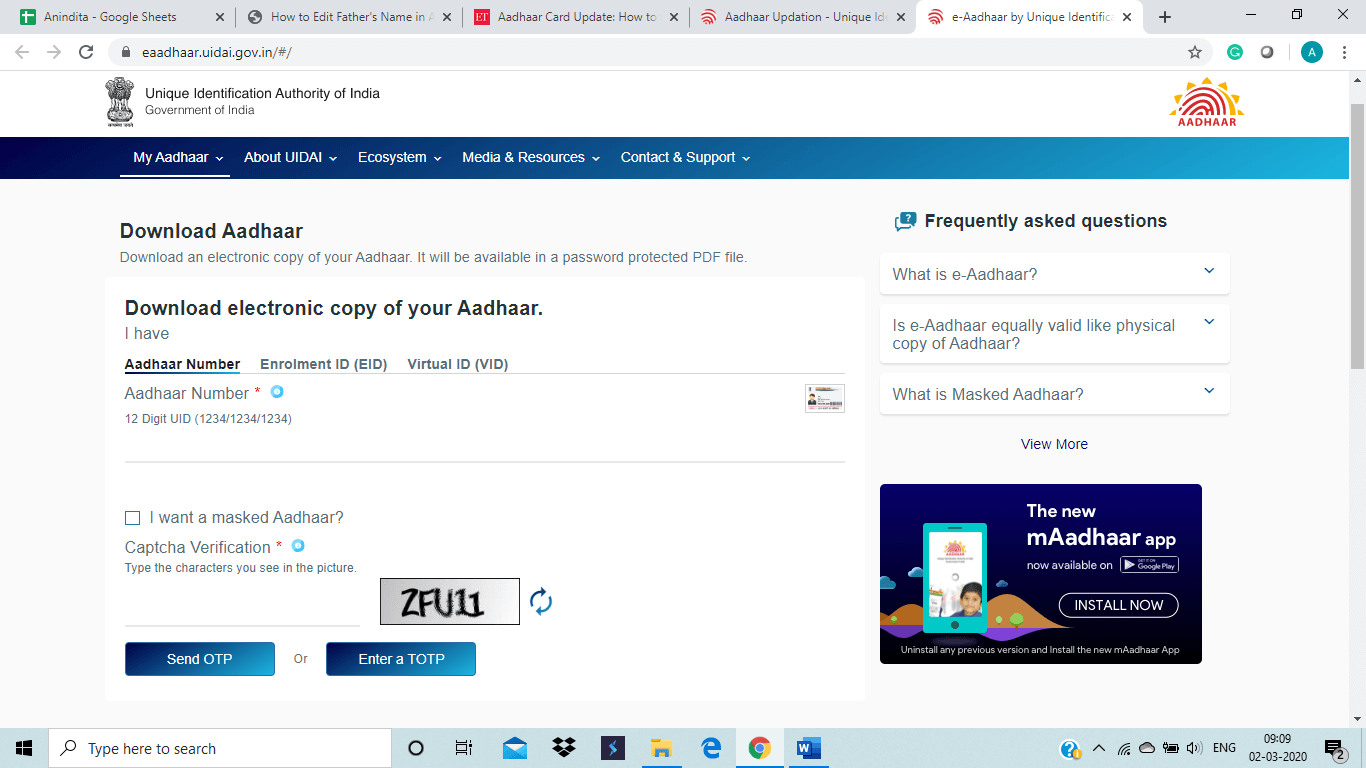 Now that you know how to change the father's name in Aadhaar card, doing this activity will not be an issue for you at all. You must check all the details after you receive your Aadhaar card and notify UIDAI in case you need any corrections. Remember, all every information given in Aadhaar is very important for you to get several benefits under Aadhaar.
Update or change in father's name via an online portal
If your father's name is missing from your Aadhaar card, you can easily update it via the online portal by following a few simple and easy steps.
First, visit the Aadhaar Self Service Update Portal by going to https://ssup.uidai.gov.in/web/guest/update
Next, you will be asked to enter the 12 digit UID, i.e., your Aadhaar Card Number in the given field, and then solve the captcha and submit.
You will receive a One-Time Password (OTP) on your registered mobile number or you can even try out a Time-based One-time Password (TOTP) in the mAdhaar application.
Then enter the OTP and confirm by clicking login button
On the next page, enter S/O or D/o and Father's name, your complete address, and submit.
Then you will have to submit POA Documents containing your Father's Name, just take a photocopy of the document, self-attest it, then scan it and upload it and submit it.
After that, select a BPO provider who is good enough and click the submit button.
Within a few minutes, a message will arrive that the name is successfully uploaded.
List of documents required to update father's name in aadhaar card
To update the father's name in your Aadhaar card, you need to provide the following documents:
Aadhaar card
Proof of Identity (PoI) document that contains the name of the applicant and the father, such as:

Passport
PAN card
Voter ID card
Driving License

Proof of Relationship (PoR) document that establishes a relationship between the applicant and the father, such as:

Birth certificate
School leaving certificate
Mark sheet of Class 10th or 12th
Please note that the document you submit as proof of identity and proof of relationship should be self-attested. Additionally, the name mentioned in the PoI and PoR documents should match the name in the Aadhaar card.
As mentioned above, the update process can be done online or offline by visiting a nearby Aadhaar Enrollment Centre.
FAQ's
Yes, your e-Aadhaar downloaded online letter has a similar validity as an original one has
It may take till 90 days as well for correction or update in your Aadhaar after you request for the same.
Not really as submission of data for the update will not give the assurance for an update in your Aadhaar data. The data or the information submitted will be verified and validate and then the request will be processed. If there is improper information submitted or the information is suppressed for any reason, then your request for the update may get rejected.
No, your Aadhaar number once applied and received remains the same forever.
You can correct or update your Demographic details like your name, date of birth, address, mobile number, email, gender and your Biometrics like your finger Prints, Iris scan as well as photographs in your Aadhaar.