In India, Aadhaar is a crucial document to prove the identity of an individual and it is a 12-digit unique identification number issued to the citizens of India by the central government. Aadhaar is governed and issued by UIDAI -Unique Identification Authority of India. Aadhaar is designed to add the necessary information in its database and verify the details of each resident Indian citizen including name, address, contact number, photo along with their biometric particulars. Aadhaar card has now become one of the most vital government identity documents for any citizen of India.
Your Aadhaar card is not only the utmost significant identity proof but also is used in practically all types of services which includes:
Largely accepted means of an ID proof
Compulsory for authentication of SIM card, bank account or Demat account opening
Compulsory for making an investment in a public financial establishment
Obligatory for taking an LPG gas connection
Used in MNREGA scheme Mahatma Gandhi National Rural Employment Guarantee Act – A plan under which the earnings of the workforces are directly put into their account
Considering the above aspects, it is needless to say that you must fill all the particulars in your Aadhaar card appropriately and correctly and you must always keep that information updated. And on the other hand, there might be some circumstances when you may need to correct or update a few data or information in your current Aadhaar card.
After enrolling yourself for obtaining an Aadhaar Card and after receiving the same, if you notice that few details are captured wrongly, you can correct or update the same. UIDAI has given the facility to make corrections or update your Aadhaar card both online as well as offline. You have the liberty to correct any error or update any data kept in the Aadhaar record through the Aadhaar card correction form. No need for you to pay any fees for doing such activity if done within 96 hours or 4 days from the date of enrolment. However, after 4 days, you need to pay a very minimal charge of INR 50 for any corrections or updates.
Originally, the Unique Identification Authority of India or UIDAI permitted people to correct or update and change their name, address, as well as the photograph in the existing Aadhaar card online. But now the online process is applicable for the address change only. The rest of the changes like a change in name, cell number, date of birth, email address and photograph need to be done offline.
Here we will take you through the process of how to change a photo in Aadhaar card in detail.
How to change the photo in Aadhaar card?
There are two methods by which you can change your Aadhar card photo. You can do so by visiting any nearest enrolment centre or you may apply for the change in a photograph via the post.
Aadhaar card photo change through enrolment centre
The photograph comes under Biometrics data other than your fingerprints and iris scan and for updates in your biometrics particulars, you need to visit the nearest Permanent Enrolment centre. You can follow the below steps as stated.
Search for the next-door Aadhaar Enrolment Centre or Aadhaar Sewa Kendra on official UIDAI website https://uidai.gov.in/ as shown below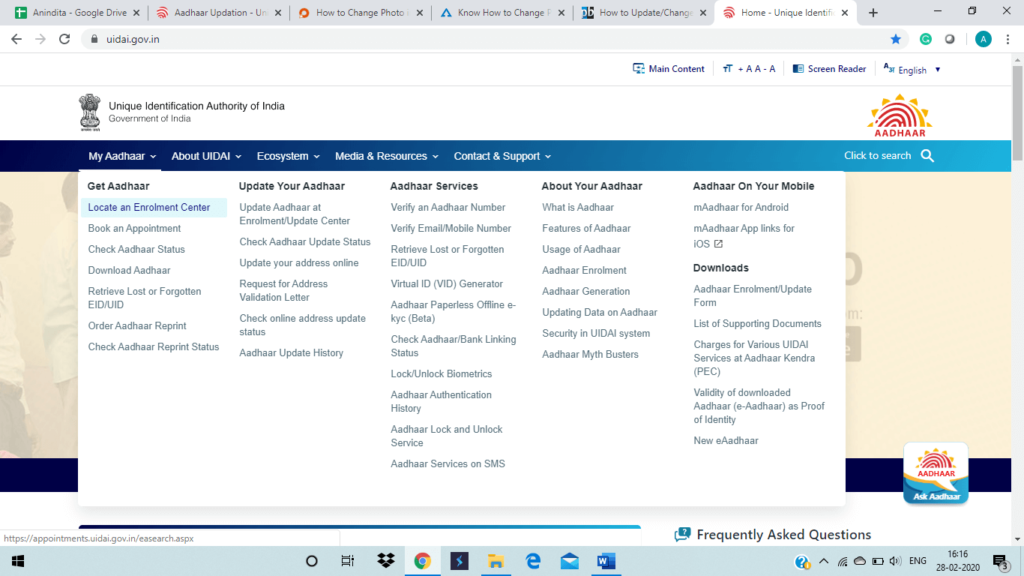 2. Download the Aadhaar Enrolment/update form from the homepage under " Get Aadhaar" section as shown below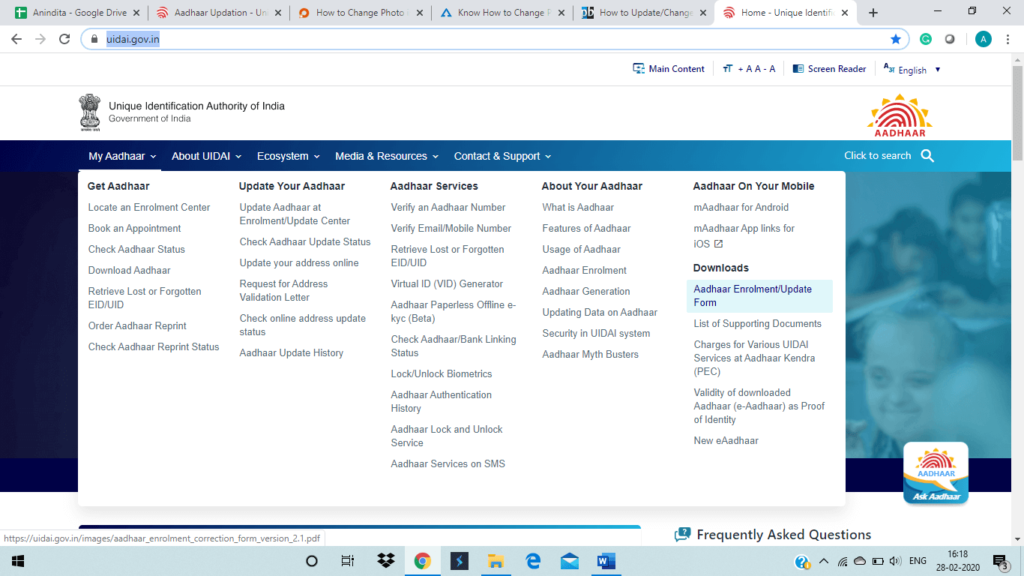 3. Fill the form correctly and submit to the Aadhaar enrolment centre which is best suitable for you
4. You will need to go through the process of capturing your biometrics data again. Your fingerprints, retina scan and photograph will be taken again at the centre itself
5. The centre officer will click your photo there itself on their camera
6. After providing the necessary biometrics data, you will need to approve the details
7. You need to pay a nominal fee of INR 50 for you to get your Aadhaar details updated
8. The necessary data is sent to the UIDAI corporate office. It takes about 90 days for you to get your new Aadhaar card, with the updated picture
9. Once the request is placed to update your photograph, you will receive a URN or Update Request Number
10. Note the URN to track your request online
11. You can download your updated Aadhaar card online as shown below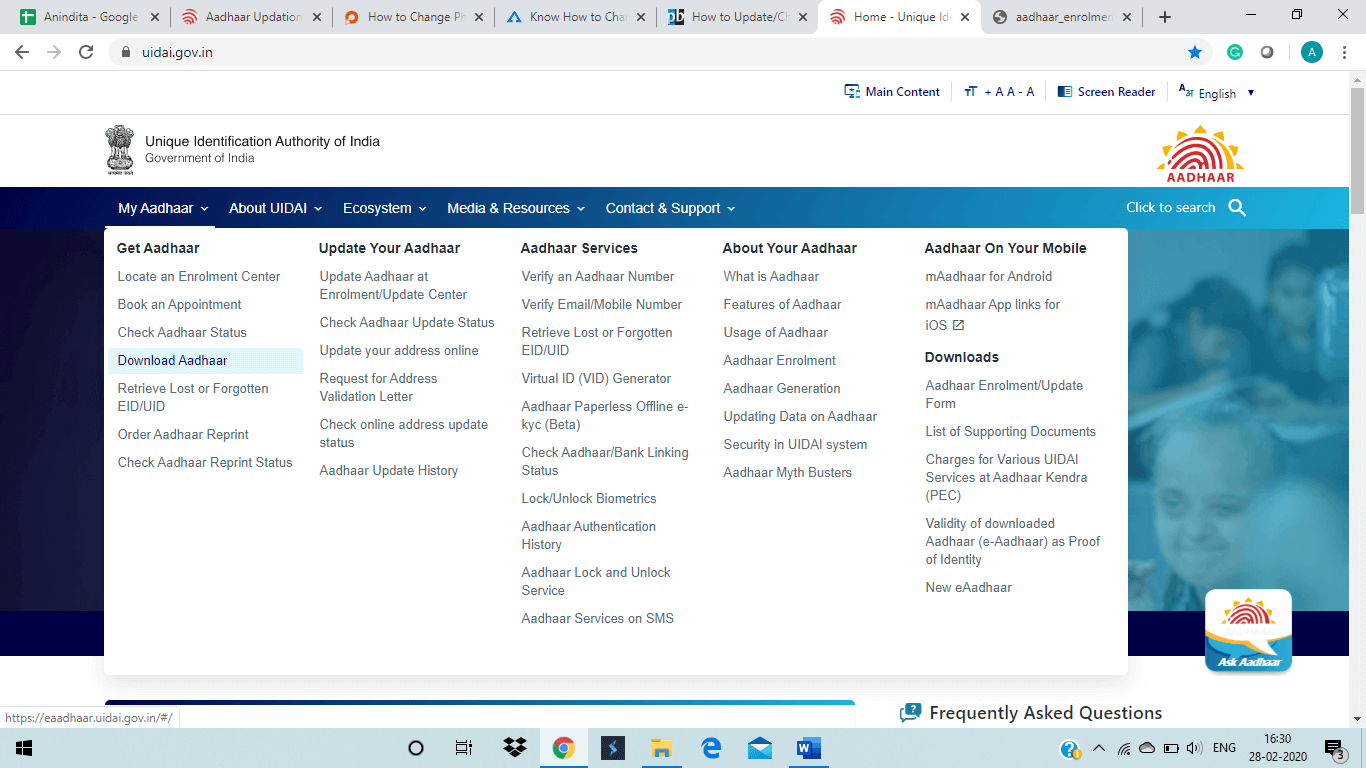 Aadhaar card photo change through the post
The second option, as mentioned above, for Aadhaar card photo changeis via post. If you are not in a position to visit any of the Aadhaar enrolment centres and submit the Aadhaar card correction/ update form physically, you can just write to UIDAI -Regional office to get your old photograph replaced and to update the same with your current photograph. The stages involved in the process are very simple and easy to follow:
Visit the UIDAI portal and click on the 'Aadhaar card update correction' form and download it
You need to fill in your demographic particulars
Write a request letter addressing the UIDAI regional office, wishing for a photo update. Send the update form together with the application
Do not forget to give a self-attested copy of your current photograph along with the form and your application
You can send all these documents through the post to UIDAI Regional Office on the respective address published in the certified website of UIDAI for your respective area
Within two weeks of you submitting the request, you will get your updated Aadhaar card with the present photograph
Keep the above points in mind as to how to change a photo in the Aadhaar card will help you to know and understand both the process, thus making life much easier for you to handle all these without any issues.
How to download e-Aadhaar?
An e-Aadhaar card is your Aadhaar card in an electronic form having your biometric and demographic details. It is a paperless form of your Aadhaar card which is much easier to carry and you do not have to worry all the time of losing the same. Visit the official website of UIDAI at https://uidai.gov.in/
You can download an e-Aadhaar in 3 ways which are namely as shown in the below screenshot where you need to fill in either your Aadhaar number, or the Enrolment ID received at the time of application, or the Virtual Id which you can create in the home page of UIDAI under" Virtual ID ( VID) Generator". You need to complete the captcha verification process and with an OTP you can download your e-Aadhaar in a .pdf version.
Downloading e-Aadhaar using Aadhaar number
Downloading e-Aadhaar using EID – Enrolment ID
Downloading e-Aadhaar using VID – Virtual ID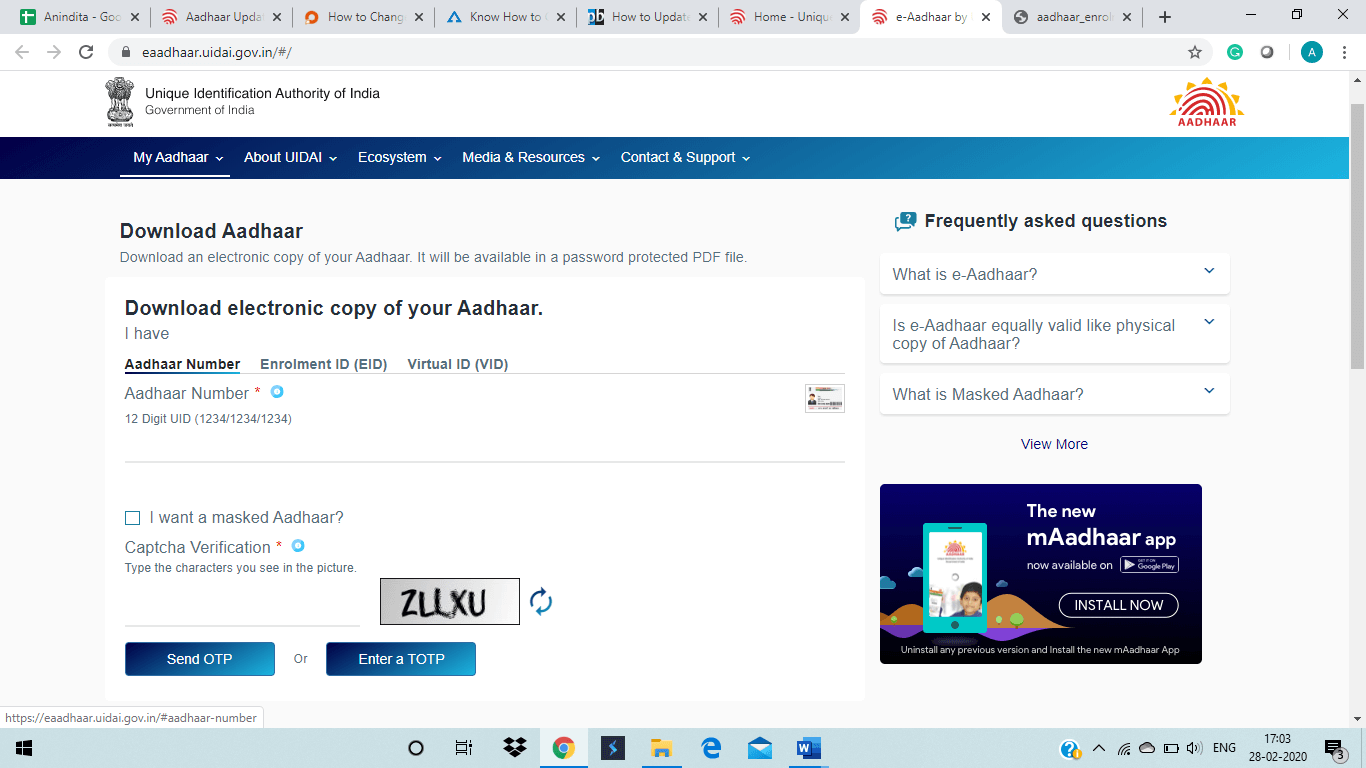 Key points to keep in mind while updating photo:
Altering photograph in your Aadhaar card is equally important as appraising your demographic details like a change in your name, address or date of birth. Now that you are aware of how to change a photo in the Aadhaar card, it will be difficult at all for you to go through the process. But, in case if you have questions or doubts about the process, you can call the UIDAI help desk and ask for support. Remember the following aspects always:
You do not need any document to change your photo in your Aadhaar card
You need not carry any extra photograph as the Aadhaar Enrolment officer will take your photograph at the spot using their webcam
It may take 90 days to get your details updated in Aadhaar
You can track your request online in the UIDAI official website by using the URN which is given to you as the acknowledgment for the request placed by you
No online procedure is allowed to do a change in your photo in the Aadhar card through the Self-Service Update Portal -SSUP
UIDAI has made it very easy and convenient for all citizens in all the services related to Aadhaar. Hence, do apply for Aadhaar, if you are still thinking about whether you will do so or not.
FAQ's
Yes, you will receive a fresh Aadhaar letter with all the necessary updates that will be delivered at the mentioned address, but only for updates in name, date of birth, address, and gender. For an Update of your cell number or your Email ID, the intimation will be sent on the mentioned mobile number or the email ID.
No, you cannot. For all updates in your Biometric, you need to visit the nearest Aadhaar Permanent Enrolment centre.
No, you may visit any of the permanent Enrolment centres for updation as per your ease
Yes, you need to bring all the original documents for updates at the enrolment centre as all the original documents will be scanned and will be given back to you after the update.
Yes, you are allowed to update or correct any details in your Aadhaar.