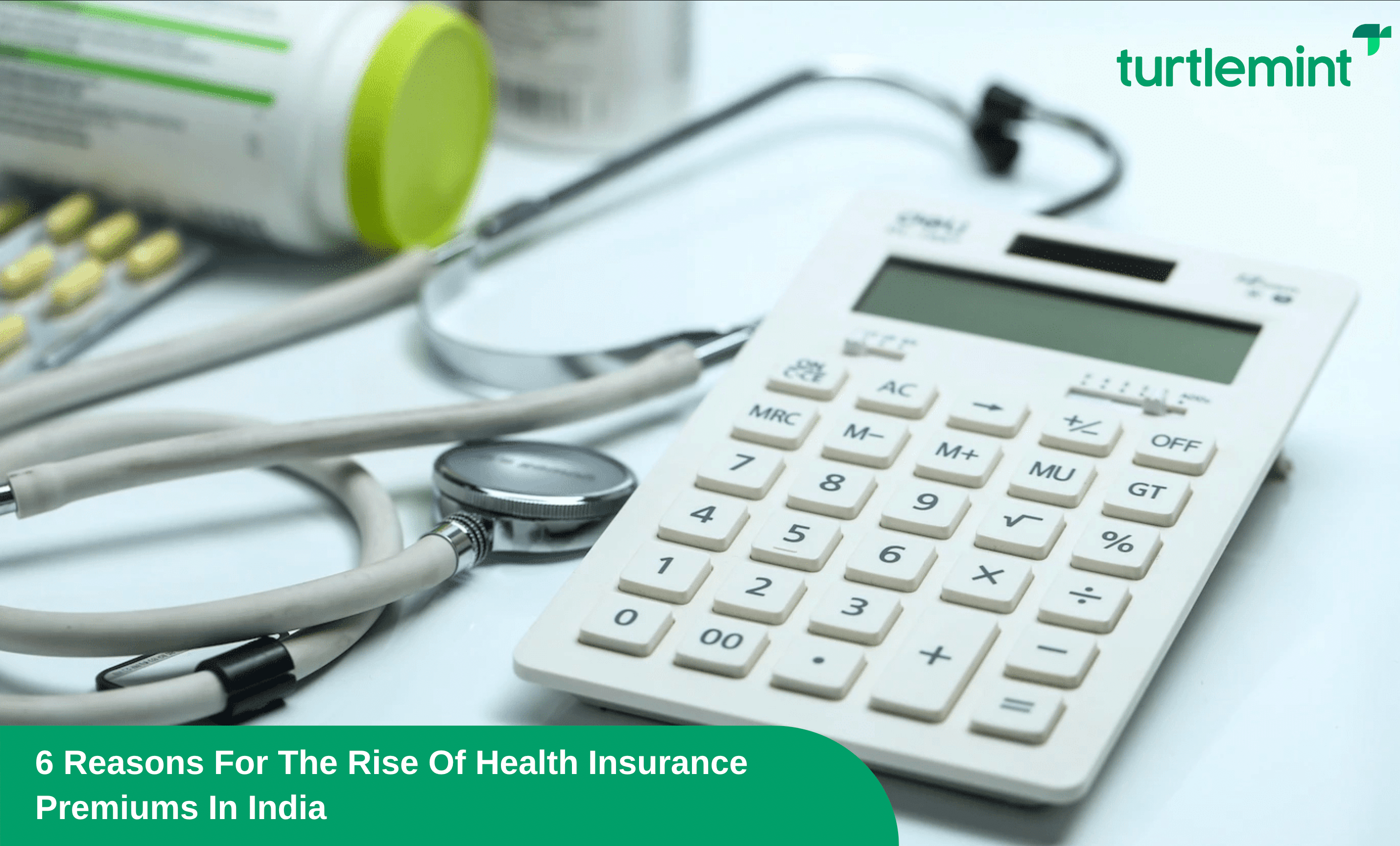 Have you recently renewed your health insurance policy and suddenly seen a rise in the premiums? Well, let's just say, you are not alone. There is an increasing trend in health insurance premiums in India. Here's why:
Higher instances of illnesses

The environment has become increasingly unpleasant for human life to thrive, from climate change to increased pollution, we are all seeing the worst happening to the environment. This has led to a rise in diseases and critical illnesses.

Heart attacks and cancer cases in today's times are much higher than what it was during the earlier years. It has also become increasingly prevalent among younger individuals, you hear of young individuals as less as 30 years losing their lives to heart attacks. The instance of hospitalisation among the younger population is also on the rise. The illnesses could also stem from increased stress levels, with the advent of social media, there are also increased mental health issues. Health insurance plans are slowly recognising this aspect and offering coverage for such illnesses as well.

Increasing lifestyle diseases

There is the curious case of, 'sitting becoming the new smoking', with desk jobs being the trend these days, the number of people actively exercising is very low. This has also caused many lifestyle diseases such as thyroid, obesity, cholesterol, and diabetes. India is among the top nations in terms of the number of diabetic patients.

Many youngsters fall prey to lifestyle diseases and are put on medication at a very young age. The increase in lifestyle diseases has led to more outpatient disposition/treatment instances. Many health insurance plans offer coverage for OPD treatment as well. The increase in claims has also led to an increase in health insurance premiums. Almost 75% of one's medical treatments are usually OPD related, hence, there is a need for health insurance policies to offer coverage for lifestyle diseases.

Medical inflation

Medical inflation in the last couple of years has hovered around 7.5% p.a to 8% p.a which is much higher than the regular inflation rate. However, in the year 2021, India saw medical inflation shoot up to 14% as per a report on Indian Health Insurance by Motilal Oswal Financial Services Limited (MOFSL). The inflation rate was the highest among Asian countries.

In fact, among all Education costs and medical inflation costs are the two expenses where the inflation rates are rising at an unprecedented pace. The entire medical system including hospitals, research labs, lines of treatments, pharma etc., are all experiencing a very competitive environment. There is increased effort to stay competitive and manage to hold the market share, this has resulted in increased incurrence of cost due to advanced tech investments, higher / better customer service practice, and better marketing etc. This results in an increase in overall medical costs as the companies are eventually pressured to pass on the costs to the end consumer.

Claim statistics

As per the report by MOSL, the covid related claims went up sharply, the claims accounted for 6% of the total claims paid out by all health insurance companies in India in the year 2020-21. The number is expected to be around 12% of total claims in the year 2021-22.

These statistics indicate that Covid has been a game-changer and has exposed the vulnerability of people in terms of them being exposed to health hazards. It also made the health insurance companies relook at their risk factors, during the covid waves, several otherwise healthy individuals had to undergo hospitalisation and extreme lines of treatment.

The risk factors were reassessed and the risk premiums were revised to accommodate these new environmental factors. Thus, increasing premiums across the board.

Higher hospital charges

Hospitals are constantly innovating and upgrading to provide best-in-class experiences to their clientele. A stay in the hospital has become synonymous with a stay at a luxury hotel with healthy and sumptuous food at its disposal.

Hospitals are also investing heavily in technology to ensure that they cater to customers in the best possible way. The space is becoming extremely competitive, and with increased demand, the hospitals are also able to up the price of the services which are in limited supply.

This calls for a higher quantum of the sum insured for the individual to ensure that he is adequately covered for any unforeseen hospitalisation. This results in the payment of higher premiums.

The increasing cost of sophisticated treatment

The focus has always remained on a better line of treatment which eventually translates to a better patient success rate. The treatment costs are quite huge, compared to the earlier days. To be able to afford such treatment, there is a need to avail a higher sum insured for the policyholder.
Further, there are many alternate treatment lines like AYUSH which are undertaken in parallel to ward off any possible side effects from the mainline of treatment, especially in cases of critical illnesses. Many health insurance plans allow such parallel claims, these factors have contributed to the increase in premiums.
These are only some of the factors which have contributed to the increase in premiums of health insurance plans. There is a major chasm between medical treatment accessibility and the general, middle-income public without health insurance. There are efforts to address this gap by the Government. However, all these aspects only point to one thing, the growing need for health insurance. There are different types of Health Insurance available as per your needs and if you have not hedged your health risk comprehensively, then it is time to do so!
Contact Turtlemint Health Insurance Advisor to get protection from rising costs and help you with your insurance needs now!
DISCLAIMER
This article is issued in the general public interest and is for educational purposes only. The blogs should not be used as a substitute for competent expert advice from a licensed professional to best suit your needs.