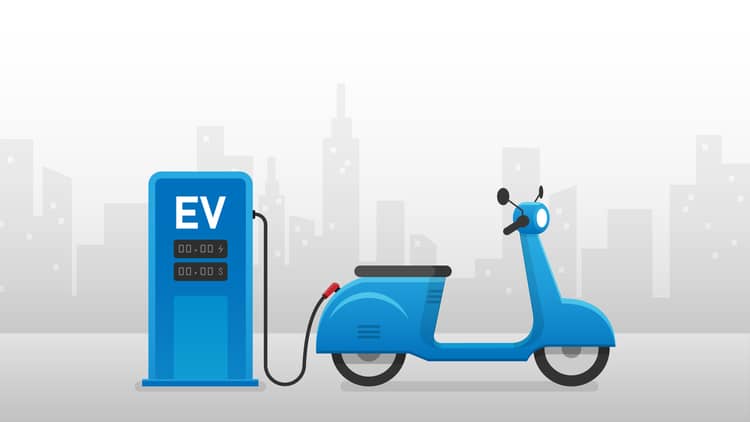 With the world moving towards sustainability with every moment, the transportation industry is also thinking of ways to improve the quality of its service. Electronic bike or e-bike is one such initiative that has been designed in relation to the rising fuel prices, air pollution, heavy traffic and various other environmental problems.
An e-bike is basically a two-wheeled vehicle that runs on previously-stored energy rather than fuels. This bike is run on a sync of electrical technology and computerisation. E-bikes require low maintenance, are easy to operate, save you from fuel costing, are noise-free and environment friendly. These are the reasons why this concept is getting a good response in India despite being in the teething stage.
The Union Budget 2022-23 announcement on EVs:
In the Union Budget 2022-23, it was decided that electric vehicles be promoted all over the nation especially for public transport. Moreover, the government also made one big announcement regarding the battery swapping policy wherein private players would now come together with the state governments to help transform the condition of public transportation. Electric vehicles are the need of the hour and the government's initiative towards it will definitely make relevant changes towards the same.
E-bike Driving Licence:
The first thing that clicks our minds when it comes to driving is the important documents that one would need and the top one on the list is the driving licence. We know that this document is an absolutely necessary thing to have while driving to stay aloof from legal issues. Not only this, having a valid driver's license showcases that the driver is well versed with the traffic rules, signals, signs and is reliable.
As per the Motor Vehicle laws, an electric vehicle that has a top speed of 25km/h and a power capacity of 250 watts is not considered a motor vehicle and therefore the driver won't require a driver's license. But electric bikes have many designs and anything more than this power and speed would be considered a motor vehicle and therefore require a valid driver's license to be driven on the roads.
E-bike Insurance:
Though electrical bikes are the newest trend in the market they may have a higher tendency for a breakdown. This may be due to the high-end computer technology that is being used as a base in them. Moreover, electric vehicles are often more or as expensive as fuel-based ones and therefore it is important to have Insurance of the same. An e-bike insurance plan would provide protection to your bike in case of thefts, fire, natural or man-made disasters. Moreover, it will support you in situations when you accidentally injure or damage a third party. No matter what, insurance is a necessity for every vehicle and it is important to have one to avoid legal allegations.
Features and benefits of e-bike insurance plans:
Though an e-bike is expensive but offers low speed and power, the insurance plan for the two-wheelers is cheaper
It is a costly vehicle and therefore having insurance would cover you financially at the time of mishaps
An insurance plan would help you repair and replace the parts of your bike in case you meet with an accident
A handful of add-ons are available that can increase your coverage at a little extra amount
Inclusions and exclusions of E-bike insurance plans:
Let us take a look at what is covered and not covered in e-bike insurance:
Financial support and damage repair in case of a road accident
Third-party liability cover
Coverage against man-made disasters
Coverage against natural calamities
Coverage against theft
Personal accident cover
Financial support towards replacement and repair of damaged parts.
Accidents caused when under the influence of intoxicants or alcohol.
In case the driver has an invalid or no driving licence.
Damages caused either intentionally or due to negligence
In case the e-bike insurance policy has lapsed and has not been renewed.
Things to consider while buying an e-bike insurance plan:
Buying insurance is essential, however, you need to keep the following points in mind:
E-bikes have a tendency to break down easily therefore buying a comprehensive plan would be better for full coverage.
Try opting for add-ons that can help you with the charges of repair and replacement of the damaged parts of the bike, as EV bike parts are pretty expensive.
Compare e-bike insurance plans online to check which one is better.
Read all the policy documents carefully and know about the inclusions and exclusions of your plan.
Conclusion:
Electric vehicles are the future of the world and they have a lot to offer. Despite the fact that this initiative is still in the nascent stage, it will soon reach heights. With the addition of new policies and schemes in the Union Budget 2022, the electric vehicle industry will boom rapidly. Moreover, it's spread towards public transport would reduce a lot of social and environmental issues.