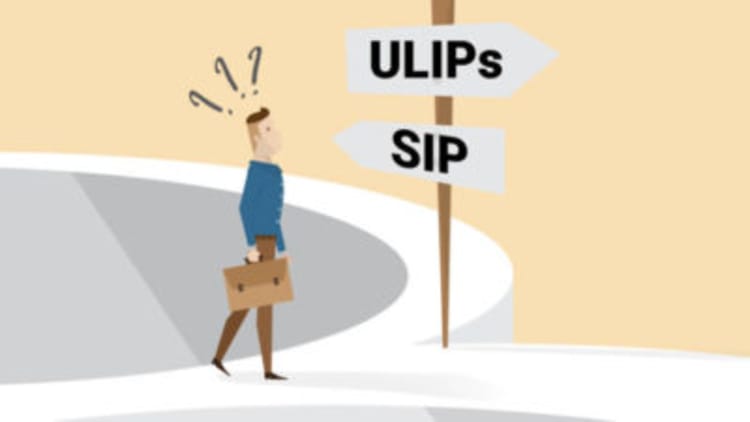 Investments are a must if you want to create wealth and multiply your savings. Investments also help you meet your future goals as what you invest today accumulates into a corpus in future. that is why almost everyone invests their savings into different investment avenues which suit their risk appetite and investment strategy. If you don't mind taking risks and want to invest in avenues which give you returns linked to the market, there are two investment options which are quite popular – ULIPs and Mutual fund SIPs. Many investors believe that both these avenues are the same. Alternatively, many investors know that these avenues are different but the differences are not very well known. So, let's study the concept of ULIPs and SIPs, understand their differences and find out which one to choose –
What is ULIP?
A Unit Linked Insurance Plan, ULIP, is a plan of insurance which provides life insurance cover as well as investment returns. When you invest in ULIPs, the premiums paid are invested in different types of funds. these funds, in turn, invest their corpus in different types of market-linked securities. thereafter, as the market performs your fund value changes. In case of death during the term of the policy, the higher of the fund value or the sum assured is paid. this ensures optimal insurance coverage even if your investments are not enough. When the plan matures, however, the available fund value is paid. ULIPs, therefore, give insurance coverage over the policy tenure as well as investment returns on maturity.
What is SIP?
SIP stands for Systematic Investment Plan. SIPs are a type of mutual fund investments where you invest your money in a chosen mutual fund scheme regularly at specified intervals. You can invest small amounts monthly or after any period and create a good corpus. the investment of different investors is created into a pool using which the scheme invests in different securities of the capital market. thereafter, as the value of the invested securities changes the value of your investments also changes. When you redeem the investment you get the value applicable on the date of redemption.
ULIP vs SIP – the similarities
ULIPs and SIPs are often considered to be the same because of the following similarities –
Both invest in market-oriented securities giving you market-linked returns
While SIPs mean investing in small amounts at regular intervals, under ULIPs too you can choose to invest regularly in small amounts over the policy tenure
Both investment avenues pool together the investments from different investors and then invest in different securities based on the asset allocation of the fund
You can get attractive returns from both the schemes
Investments into ULIPs and ELSS SIPs both qualify for deduction up to INR 1.5 lakhs under Section 80C
Switching facility is available under both schemes where you can change the investment funds
You can also withdraw partially from the funds of both ULIPs and SIPs
ULIPs vs SIP – the concept of NAV
Both ULIPs and SIPs invest your money in chosen funds based on the Net Asset Value (NAV) of the fund. NAV depicts the per unit cost of the fund. It is calculated using the following formula –
NAV = (market value of the portfolio – existing liabilities) / total number of securities held
the money pooled from different investors is invested in different securities having different values. When the aggregate value of the securities purchased are added, it gives the market value of the portfolio. the liabilities are then deducted from the value to arrive at the net value of the portfolio. this value is divided by the number of securities which was bought using the pooled investments. this gives you the Net Asset Value of the fund. As the market value of securities changes every day, NAV also changes and it is dynamic in nature.
ULIPs vs SIP – the differences
Now that you know the similarities, let's look at the differences between these two investment avenues which completely sets them apart from each other –
| | | |
| --- | --- | --- |
| Basis of difference | ULIPs | SIPs |
| Benefits provided | Life insurance cover + investment returns | Only investment returns |
| Investment funds | A single unit-linked plan offers you different types of investment funds like equity, debt, mixed, etc. You can, therefore, invest in different types of funds based on your risk appetite with a single investment in ULIPs | In case of SIPs, you would have to choose different mutual fund schemes for different investment funds. For each scheme you would need an independent SIP |
| Investment tenure | Investment in ULIPs can be done through single premiums, limited premiums or regular premiums. the premium would be payable for the premium payment term that you select. the maximum investment tenure would be the term of the insurance plan | there is no fixed tenure for SIPs. You can invest for as long as you want |
| Tax implication on returns | the returns that you earn from ULIPs are completely exempted from tax under Section 10 (10D) | Long term equity-oriented returns earned from SIPs would be taxed @ 10% if the returns are more than INR 1 lakh. For short term equity returns, 15% tax is charged on the entire return. In case of debt SIPs, short term returns are taxed at your income tax slab rate while long term returns are taxed @20% after indexation |
| Tax implication on investments | Premiums paid towards a ULIP are tax-free under Section 80C up to INR 1.5 lakhs | Only investment into ELSS SIPs is allowed as a deduction under Section 80C. For any other SIP that you buy, the investment would be taxable in your hands |
| Switching | You can easily switch between the available fund options within the ULIP that you have bought. Switching would not affect your plan and would be completely tax-free | To switch SIPs, you would have to redeem your existing SIP and invest in another. the redemption would be subject to tax as it would be treated as returns. |
| Charges | ULIPs involve multiple charges like premium allocation charge, fund management charge, administrative charge and mortality charge among others | Under SIPs, there are limited charges. Only entry loads and exit loads are applicable and that too in limited cases |
| Liquidity | ULIPs allow partial withdrawals only after the completion of 5 years | Under SIPs, liquidity is not a problem. You can withdraw anytime that you want. However, in the case of ELSS schemes, there is a lock-in period of 3 years |
| Regulator | ULIPs are regulated by the Insurance Regulatory and Development Authority of India (IRDAI) | SIPs are regulated by the Securities Exchange Board of India (SEBI) |
ULIPs vs SIPs – Which one should you choose?
Now that you know the differences between ULIPs and SIPs, which one do you think would be better for you?
Both ULIPs and SIPs have their respective pros and cons. To choose the best avenue you should understand your investment requirements and then make a choice. What is ideal for one investor might not be good for another. So, assess your needs and then make a choice.
ULIPs would be a good choice if-

Your investment horizon is long term
You need to fulfil specific financial goals which can be fulfilled with your ULIP portfolio
Tax efficiency is extremely important for your financial portfolio
You can manage your investment portfolio by actively switching from one fund to another depending on your financial goals and market conditions
You need a life insurance cover also

So, for example, if you want to

Create a corpus for your child's future education when your child is just a toddler, ULIP would be an ideal investment avenue
Save taxes on your investments and the corpus that you have created would also be tax-free for your child's financial needs.

Moreover, if you buy a child ULIP,

in case of your death during the policy tenure, the plan would still continue undisturbed.
The insurance company would pay the premium till the remaining duration of the policy and promise a maturity benefit after the term is over.
This way, you can be ensured that the life cover available under child ULIP would create a good corpus for your child whether you are around or not.
On the other hand, SIPs make sense if-

You want liquidity in your investment portfolio
You want the charges to be the lowest
You know your risk appetite and favour one type of investment fund
You already have life cover through another insurance plan and you need only investment returns
You want a pure investment portfolio, even if you need to pay taxes on the same
For instance, if you want to buy a car in the near future and want to invest for a shorter duration, mutual fund SIPs would be good. You can invest regularly to create a good corpus which would help make the down payment of your car. Moreover, if you like taking risks, you can invest in equity mutual funds for attractive returns.
So, weigh both investment avenues on their respective needs and then choose the one which suits your requirements perfectly.
FAQs
What is the term of ULIPs?
ULIPs are available for terms ranging from 5 years to up to 30 or 35 years. In fact, there is whole life ULIP as well which gives you coverage till 99 or 100 of age.
What charges are deducted from SIP investments?
An entry load might be deducted from the amount that you invest in SIPs.
Are SIPs and mutual funds different?
No, SIPs and mutual funds are the same. SIP is a way of investing in mutual fund schemes wherein, instead of a lump sum investment, you pay periodically.
Can ULIPs be bought online?
Yes, you can buy ULIPs online through Turtlemint. Turtlemint gives you a platform to compare ULIPs of different insurance companies and then buy the best plan as per your coverage needs. You can buy ULIPs through Turtlemint within minutes by filling out an application form and paying the premiums online.