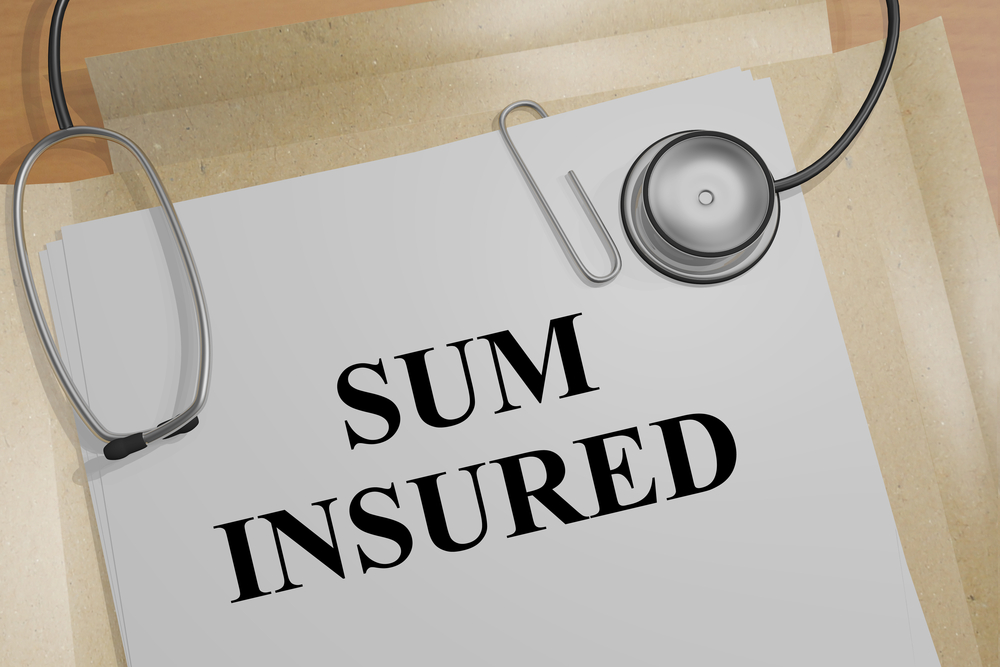 An insurance policy consists of a number of clauses that you must be aware of. However, if you are new to insurance, you need not panic if you do not understand some of them. You can, and you must ask your policy provider and clarify all your concerns in order to make the right decision.
One popular term used in health insurance policies is the 'sum insured'. Now, what exactly is a sum insured, and what importance does it hold in a health insurance policy? Before delving into further details of a health insurance plan, you need to understand and analyse the sum insured. So, let's understand the sum insured meaning in detail-
What is Sum Insured in health insurance?
A sum insured in health insurance is also referred to as the maximum amount that your policy can provide you in case of any damage suffered. The clause of the sum insured is mostly used in general health insurance policies. Let's check out an example-
Example of Sum Insured in health insurance
Mr Arjun Sharma purchased a health insurance plan that offers him a sum insured of INR 6 lakhs. Now, due to some health issues, if Arjun gets hospitalised and the bill amount is INR 4 lakh, the complete amount (except the uncovered charges) will be paid by the insurance company. However, if Arjun gets hospitalised a second time, and the hospital releases a bill of INR 3 lakhs, then as per the sum insured amount, he will only be liable for receiving INR 2 lakhs. The remaining INR 1 lakh will have to be borne by Arjun.
Here, the total sum insured by Arjun was INR 6 lakh. So, he can only get a maximum of INR 6 lakhs irrespective of the bill generated. Hence, if the bill exceeds the maximum sum insured amount, the excess will be paid by the policyholder, i.e., Arjun. So, in the case above, Arjun will have to pay the balance amount from his pocket.
What is the impact of the sum insured on the premium amount?
The sum insured directly affects your health insurance premiums. Generally, the higher the sum insured for a health insurance policy, the higher the health insurance premium.
Sum insured in terms of health insurance refers to the upper bound on the expenditures that can be covered annually for any bad incident. The amount the insurance company will pay you while making a claim increases with the amount insured. A substantial sum insured results in a correspondingly higher premium because it places a tremendous strain on your health insurance provider if you submit a claim. 
Benefits of choosing the right sum insured
Check out the various benefits you make if you choose the right sum insured-
Save your pocket

Whenever a medical emergency occurs, and you have a health insurance plan, the very basic benefit is you save the exhaustion of your hard-earned money. With a wisely chosen sum insured, you won't have to debit any amount from your hard-earned savings. 

Stress-free treatment

During the times of medical treatment, getting stressed about the payment of bills can be really problematic. But when you know you have a sufficient amount left in your sum insured, you can relax and get the best treatment without any anxiety. 

Family floater plan

A family floater plan is a health insurance plan where the whole family can get covered under a single health insurance plan. The sum insured is shared and can be used by any family member. So, the larger your family, the higher your sum insured should be. Choosing the right sum insured will keep all of your family members protected. 

Better treatment

When you have a health plan that satisfies your medical requirement, you need not compromise when it comes to seeking treatment. Suppose you have enough sum insured left, you can visit the best hospital without worrying about the bills. However, with a relatively lower amount of sum insured, you may tend to compromise on the quality of treatment. 
Thus, selecting the correct sum insured in your health insurance policy is crucial. Your health insurance policy could not be sufficient if you don't have a sufficient amount insured in case of a bad medical situation. So, when you have an appropriate sum insured in your health insurance policy, you can sit back and relax, as you are financially prepared for most emergencies.
Difference between the sum insured and the sum assured:
Are you confused between the sum insured and the sum assured? Well, as they even sound similar, one might get confused. But, they are quite different. Let us have a quick insight into the table below to clear this confusion-
Sum Insured

Sum Assured

The maximum amount that a health insurance company provides to compensate for medical treatment costs.

The maximum amount that a life insurance company provides in case of death or maturity of a life insurance plan

It is a term used in general health insurance plans.

It is a term used in life insurance plans.

Any hospitalisation expense is paid upto the maximum coverage provided by the health plan, i.e. maximum upto the sum insured.

When it comes to a life insurance policy, the maximum sum assured is payable at the end of the policy tenure or on earlier death, as per the terms and conditions of the life insurance plan.

For instance, a sum insured of INR 5 lakh can be used to pay the medical bills that arise during hospitalisation.

So, in this case, the claim amount can be less than or maximum equal to the sum insured amount depending on the amount of expense incurred in the hospitalisation.

For instance, a sum assured of INR 10 lakh is given at the end of the plan tenure or in case the policyholder dies during the policy tenure.

In either case, the claim amount would be a minimum of the sum assured as the total claim amount may include bonuses, loyalty additions, etc., if applicable.
So, the term "sum assured" cannot be used in a health insurance plan. It can be used only in life insurance plans. Similarly, "sum insured" can be used only in general insurance plans, including health insurance, but never in life insurance plans.
How to choose the right sum insured?
Selecting a suitable insured amount for your health insurance coverage is crucial. The inability to receive essential financial support in a medical emergency could render the acquisition of a health insurance policy ineffective. Hence, while choosing a sum insured, the following factors need to be considered,
Age

Purchasing health insurance in your early 20s or 30s is more beneficial because young people have a lower risk of contracting a wide range of diseases.

Your health conditions

You must choose a high sum insured if you have any pre-existing conditions, such as diabetes, hypertension, cardiovascular disease, etc.

Your Lifestyle

Today the lifestyle decides a lot about your health, and it raises the risk of multiple diseases

Life stage and dependents

Because of the increasing financial duties of dependents, you should think about boosting your insurance coverage.Check out quick tips on how you can enhance your sum insured and expand it for even better medical treatment when needed-
Go for a Comprehensive Policy:

When you have your entire family to look after, it is recommended that you opt for an all-inclusive plan. This will allow you to get greater coverage that too for all your family's healthcare needs. By paying a single premium, you cover all your loved ones.

Go for a top-up/ super top-up plan:

A top-up or super top-up plan will offer you additional protection in case your hospital expenses exceed your basic sum insured. Super-top-ups cover all kinds of hospital expenses, including your pre and post-hospitalization expenses.

No Claim Bonus:

Most health plans offer an NCB or No Claim Bonus. It is the bonus that a policyholder receives when they make no claim in a policy year. It helps in increasing the sum insured for the next policy tenure. Not only this, but the renewal charges may also be decreased due to NCB. 

Restoration Benefit:

Restoration benefit is a cover you purchase along with the health insurance plan. If the policyholder is most likely to seek medical treatment or, in the case of a family floater, it is always better to purchase restoration benefits. Why? With this benefit, even if your sum insured gets exhausted, it gets restored without any additional charge or premium. For instance, Ms Simran Sahni has a sum insured of INR 3 lakh. After gallbladder surgery, the amount gets exhausted. A few weeks later, she is again hospitalised and needs to access an extra INR 2 lakh for the next hospitalisation.

Under the Restoration Benefit, the health insurance company will provide this extra benefit again up to INR 3 lakh without any charge. It is only possible if you have a restoration benefit. 
Conclusion
You need to take different things into consideration before you decide on the right sum insured amount. For instance, if it is a family floater plan, you need to analyse how much amount you would require on average for medical treatment of each of your family members. Depending on the city you live in, the medical cost may differ. So, make sure the sum insured complies with the cost of medical expenses in your area. Last but not least, the older the policyholder is, the larger should be the sum insured.
FAQs
What should be my health insurance sum insured?

It is always advisable to have insurance coverage for at least up to 50% of your annual income. Suppose your annual income is INR 20 lakhs per annum, then choosing a health insurance policy that covers at least INR 10 lakh might be the best option. However, 5 lakhs is the minimum coverage you should have

Will all my expenses be covered up to the health insurance sum insured?

Sum insured is the maximum amount for a year that the insurance provider will pay you if you need to be hospitalised. The insurance provider will not cover amounts above the sum insured. You will have to pay.

What is the meaning of restoration benefits in health insurance?

Restoration benefit refers to a benefit whereby the insurance provider restores/ reissues the initial sum insured once all funds have been used in treatment.
DISCLAIMER
This article is issued in the general public interest and is for educational purposes only. The blogs should not be used as a substitute for competent expert advice from a licensed professional to best suit your needs. Insurance is a subject matter of solicitation. For more details on policy terms, conditions, exclusions, limitations, please refer/read policy brochure before concluding sale.