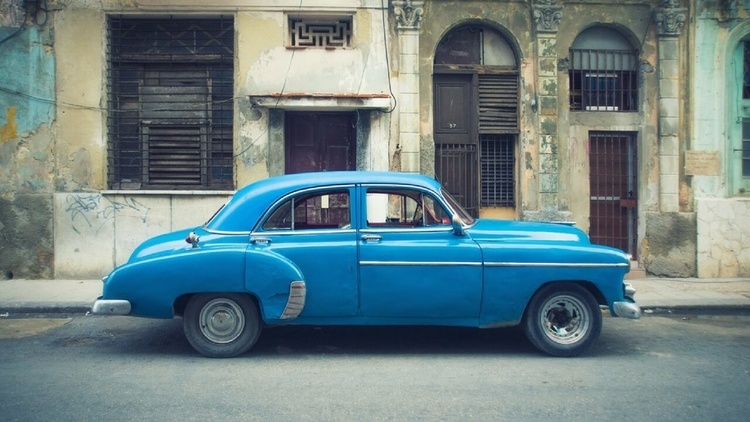 Third party motor insurance is a mandatory requirement in India under the provision of the Motor Vehicle Act, 1988. As the name implies the main beneficiary of the policy is the 'third party'. Third party here means someone who is other than the insurance company and the policy holder- be it a pedestrian or person travelling in another vehicle. Third party insurance policy basically covers your legal liability for the damages caused to the third party by you while using your car. It covers death or bodily injury to third party and damages to third party belongings. There is no upper limit on the liability cover for bodily injury and death. However, cover for third party property damage is limited to the maximum amount of Rs.7.5 lac. Any amount over and above the upper limit has to be borne by the policyholder.
Also check out our video below to know the basics of Third party car insurance
Value of the car plays a major role when deciding which type of insurance is suitable. People with expensive car normally buy a comprehensive insurance policy as it covers wide range of damages. Damages to your car, personal accident and legal liability to third party are part of the cover. It provides end-to-end coverage. In comprehensive policy, premium is relatively more as more than 80% of the total premium is towards covering 'own damage'. Own damage includes personal accident cover for insured and damages to his car. People with expensive and new cars would normally opt for this policy. On the other hand, people who are using older cars, inexpensive models will normally prefer standalone third party insurance policy. In such cases, cost of repair and replacement of parts are cheaper. Hence, it does not make much sense to pay more and go for comprehensive plans. Premiums for standalone third party insurance policy are cheaper. Policy comes with a standard premium rates based on the engine capacity of car. These premium rates are not decided by insurance companies. Third party insurance premiums are decided and revised by IRDAI yearly based on claim census and cost inflation.
Current rates of premium for third party insurance are as below: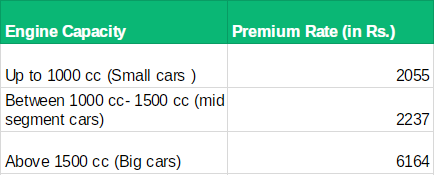 Moving on, let's understand why it is essential to have a third party insurance policy.
Benefits of third party car insurance policy
It reduces your financial burden of repairing the vehicle or compensating the bills of other party in case of an accident caused by your car.
It saves you from shelling out huge amount of medical bills in case the driver or the passengers of other vehicle suffer any serious injuries as a result of an accident. Third party insurance policy provides the coverage for any injuries/ death of the driver or any passenger in the other vehicle in an accident wherein you are held responsible for the loss.
Third party insurance policy saves you from financial stress at a nominal cost.
Claim Process
Making a third party car insurance claim is complex process. Process flows in a below way:
Lodging a complaint and filing FIR with the Police
Approaching a lawyer with charge sheet
Case gets registered in the Motor Accident Claims Tribunal which comes under the jurisdiction of the area where the accident took place or over the area where the claimant or policyholder resides.
Court hearing to scrutinize the evidence
Liability will be fixed basis court's decision
Your insurer will compensate the loss if the decision comes in claimant/third party's favour.
Conclusion
To sum it up, it's compulsory to have a third party car insurance policy in India as it is a statutory requirement. Standalone third party insurance policy will be more relevant if your car is an older and low-priced model. You can get it repaired easily at a cheaper rate instead of paying more premiums on comprehensive plan year on year. Third party insurance Policy comes at a minimal premium and very much cost effective. On the other hand, comprehensive policy may make more sense if the value of your car is more or if it was purchased in recent years. With the heavy traffic, chances of getting into unexpected accidents are quite common these days. It's better to be safe by having insurance in place. You can buy standalone third party insurance policy or the comprehensive insurance plan based on your requirement.
Read more about All you need to know about car insurance
Read more about Benefits of buying car insurance online
Read more about Anatomy of car insurance plan