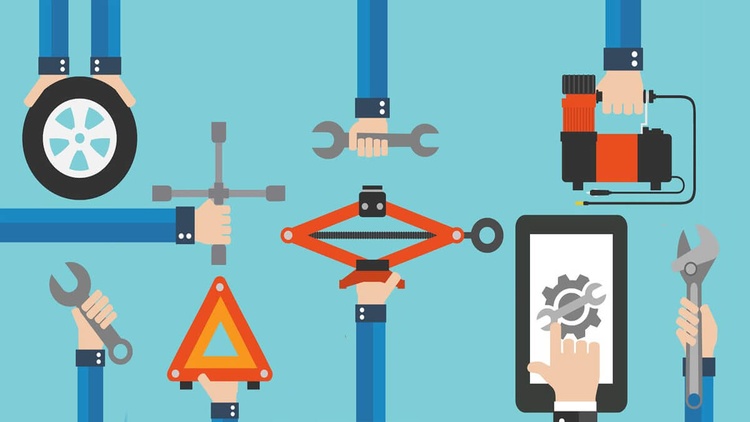 Is car insurance enough to keep your newly bought car safe?
So you just bought a new car. Now all you have to do is get the car insurance with lowest premium and you are good to go. Well, that is what you would like to think.
Now, imagine you are on a road trip, everything is going fine, but just then your car breakdowns. What do you do? Simple, hitchhike to the nearest gas station, get the mechanic and resume your exciting adventure. Sorry to snap you out of fantasy but this phenomenon is only restricted to ideal and lucky situations. There have been cases when people were stranded for days after car breakdowns.
So, what is the precautionary checklist one has to refer?
To start with, buying car insurance add-ons like roadside assistance is a smart way of getting the most out of your insurance. To get the least premium rates, you need to follow maximum safety measures like ARAI approved anti-theft device, etc.
Next is a car emergency kit which can be used during distress. This will find you a temporary fix to avoid further damage and depreciation. We have noted down a list of essentials for your car emergency kit.
First-aid box
A comprehensive first aid kit with your prescriptions, pain-killers, sterile dressings, plasters, anti-septic wipes and cream, cotton, tweezers, bandages, a pair of scissors.
Solar-cum-battery gadgets
These dual-powered gadgets should include flashlights, phone charge and radio along with extra batteries.
Multipurpose utility tool
A Swiss Knife or a Leatherman Tool have numerous uses, right from opening a can of food to cutting wires and ropes, you name it and these tools have it.
Non-perishable snacks and water
There have been cases where people were stranded for weeks at a stretch without help. To sustain in such situations, there are protein bars and packaged drinking water products with a shelf-life of up to five years available in the market.
Foam tire sealant
A quick solution to repair flats until you find the next gas station or roadways help.
Rain Poncho
Monsoons can get rough, especially in the southern parts of India. A rain poncho can be used to cover not just yourself but anything and is pretty versatile in use.
Mechanical Toolkit
On purchase, the cars usually come with a mechanical toolkit which has everything you will need, from pliers to screwdrivers, in a case of a mechanical breakdown. Make sure you always have it in the vehicle while travelling.
Fire Extinguisher
Always carry a small and easy-to-store fire extinguisher in your car. In certain cases, you are unable to claim the insurance benefit on extinguishing the fire yourself. For clarity on the types of fire and other claims covered under a car insurance, you can ask the Turtlemint chatbot.
Cash
Having cash in lesser denominations is quite practical for emergencies.
Documentation and Contact Cards
We suggest a copy of your car-related documents in the kit for reference and contacts. Your insurance company and agent can be your helpline in a disaster due to their expertise in handling such cases. Contact numbers of the car insurance company, especially the 1800 number and your insurance agent need to be accessible at such times.
Don't forget to add miscellaneous stuff like duct tape, match box, rags and tissues and a plastic whistle, that can come handy during a crisis.
If you are a Turtlemint customer, our Roadside Assistance feature is included in every policy, so you can get in touch with us at 1800-266-0101 or even use the Turtlemint chatbot.
Read more about All you need to know about car insurance in India
Read more about Anatomy of car insurance
Read more about Benefits of purchasing car insurance online