In India, the Unique Identification Authority of India or UIDAI has been assigned with the responsibility of providing a 12-digit unique identity number to all the Indian citizens. These random digits issued will undoubtedly help the government to offer suitable benefits to its residents and lessen down corruption in the Indian economy. Developed countries, like the United States of America, have already implemented this unique number of expertise to provide safety and security to the residents. Likewise, India's legal authority UIDAI, founded in 2009, for issuing "Aadhaar" under the governance of the Ministry of Electronics and Information Technology. This 12-digit unique number is called as Aadhaar. Let us understand in brief what is an aadhaar.
What is an Aadhaar Card?
Aadhaar is a 12-digit unique ID issued by the UIDAI to an individual residing in India. Irrespective of the age and gender, any individual can go ahead and enrol themselves to get Aadhaar number. Aadhaar captures two vital data points, one being the demographic details and the other is the biometric data of the applicant at the time of the enrolment process. Applying and obtaining an Aadhaar is a one-time exercise and will remain in force for the whole life.
What is the Aadhaar card mobile number update?
Aadhaar has become a very significant verification tool to authenticate your identity. It provides you with the gathering of your biometric proof like your fingerprints and iris scan, and thus it is treated as an advanced and unique method of authentication of identity. It is a unique way of storing all the necessary data in an authorized central warehouse of UIDAI. During your Aadhaar enrolment, you need to provide a valid contact number and the email id that belongs to you. These will be recorded as your permanent contact details in your aadhaar card. Even though furnishing your mobile number is not compulsory, but it is needed to get several online facilities and other benefits from Aadhaar. Therefore, it is highly suggested to have your mobile number updated or add in your Aadhaar records. Also, aadhaar card mobile number update is very important, as all messages related to your Aadhaar and other vital notifications will be delivered to your mobile number and is mainly important for you to complete the KYC verification process, allowable by the banks and the insurance companies. In the next section, we will discuss in detail how to update mobile number in aadhaar card, how to change mobile number in aadhaar card and its various aspects
Importance of updating your Mobile Number on your Aadhar Card:
There are a couple of vital reasons as to why you must update or add your mobile number and they can be listed briefly as below:
Income Tax Department has taken a step to link your Aadhaar number with your PAN. You can link both by visiting the official website of income tax e-filling.
Another example where the mobile will be needed is where want to avoid the hassle of submitting your income-tax return offline, but want a paperless e-filling return, then you would be needed to authenticate the Aadhaar OTP which will be sent to your registered mobile number with Aadhaar
All the telecom service providers will be required to integrate their phone number with their Aadhaar and complete the verification by way of an e-KYC procedure
Updation of your new mobile number in the Aadhaar database will support you in completing the necessary e-KYC procedure
PF withdrawal and other PF related services with EPFO will be an easy task if your Aadhaar is linked to your PF account, and for this again you would be needed to give your mobile number
Permitting Aadhaar holders for many services like Government & Non-Government Services, Benefits to get Subsidy, Social Benefits, Pensions makes it essential to make sure that Aadhaar data of the resident, including the mobile number is correct and updated.
How to update/ add mobile number in Aadhaar Card?
The most important step for you to get your aadhaar mobile number update is to book an appointment at an Aadhaar Enrolment Centre. You may choose to go directly as well to your nearest Enrolment Centre but doing that is not desirable as you may face long lines and face issues. To avoid this, you must book an appointment for Aadhaar enrolment online with the UIDAI. Also, you can go to any nearest ASK- Aadhaar Service Kendra and do the needful. Mentioned below are the steps as to how to do so:
Step 1: Visit the official website of UIDAI https://uidai.gov.in/and click on "Book Appointment" below "Get Aadhaar" under "My Aadhaar" in the homepage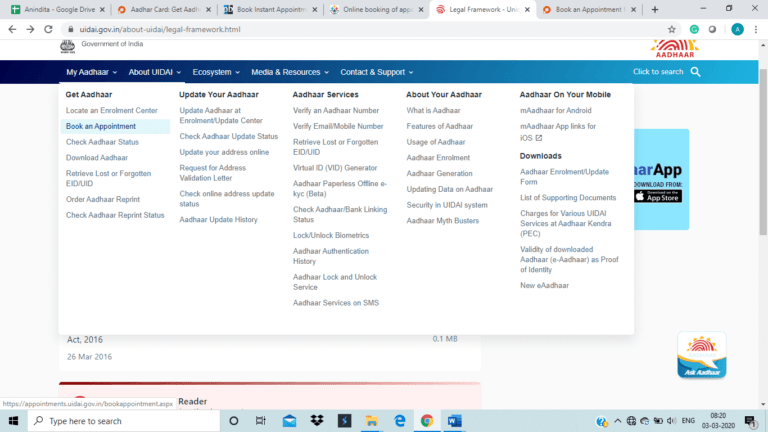 Step 2: Read carefully the terms and conditions for Enrolment
Step 3: Tick the checkbox confirming whether you have enrolled for your Aadhaar earlier or not
Step 4: Enter the security code that will appear on the screen for verification
Step 5: Select the state or union territory where you reside and get the details of the enrolment centre or ASK.
Step 6: Fill the Aadhaar enrolment form which you can download from the UIDAI website and add you're your mobile number in the relevant space
Step 7: Submit the form to the official
Step 8: Validate your details by giving your biometrics
Step 9: A minimal fee of INR 50 will be charged to do this activity
Step 10: You will get an acknowledgement for the aadhaar mobile number update request. You will be able to track the same with the SRN or Service Request Number or you can call in 1947 after 3 weeks to enquire about the status.
How to change mobile number in aadhaar card?
There are incidences where people tend to lose their cell number or deactivate the same due to some unavoidable reasons. UIDAI has provided the facility to handle these kinds of scenarios as well. If you have got a new cell number, you can get the same updated in UIDAI's central database. You need to follow the below simple steps to change your cell number in your Aadhaar records:
Step 1: Visit a nearby Aadhaar Enrolment Centre and follow the process of locating the same as explained above
Step 2: Fill up the Aadhaar Update or Correction form mentioning your new mobile number
Step 3: Submit the form to the Aadhaar officer
Step 4: You need to pay a nominal fee of INR 50 for the service
Step 5: An acknowledgement slip will be given to you which has an Update Request Number or URN
Step 6: You can use the URN to track the status of aadhaar card mobile number update
Step 7: Within 90 days, your mobile number will be updated in the Aadhaar's database
Procedure on how to update a mobile number -UCS, UCL, AUA
These are various methods by which you can place a request for any demographic or biometric update request with the assistance of an officer at the enrolment centre. In such scenarios, the documented evidence is collected by the officer during the time of receiving the request. UIDAI presently has envisioned three modes for Supported Updates:
Update Client Standard or UCS
Fields: All biometric and demographic fields with local language may be updated
Identity Authentication: Back-end Biometric check
Document Verification
Verification for fields requiring documentary proof
Authentication is done by verifier who is appointed by the UIDAI or the Registrars present at the Enrolment or the Update Centre
Verification process followed must be in accordance with the DDSVP Committee Recommendations at the time of the enrolment process
Form Filling and Acknowledgement
Performed by the officer on update client as requested by you as the resident. Handles language issues, spelling, translation, etc. The operator or the officer will give biometric sign off for each update request and so is applicable for aadhaar card mobile number update. You will get an acknowledgement receipt stating the Update Request Number -URN with which you can track your request. This entire process can be shown in the below figure for your better understanding:

2. Update Client Lite or UCL
Fields: All demographic fields with Photo with local language can be updated
Identity Authentication: Biometric Confirmation of the resident
Document Verification
Same as mentioned under UCS as above
Form Filling and Acknowledgement
Same as mentioned under UCS as above
Update through AUA-Authentication User Agency Point of Presence
This particular model will be used by designated Registrar who will also become AUA's. UIDAI may provide an application for Update. The Registrars who are being selected for these updates will be Registrars who are known to gather or create or own and or manage the specific demographic field and is treated as a custodian of those data.
Fields: Demographic fields
Identity Authentication: Your Biometric Authentication on the AUA device; UIDAI may choose to use any other or added authentication factors if needed. For example, OTP sent to the mobile, for taking the update requests under this method.
The operator will give a biometric sign off for every update request. Thus, they must possess an Aadhaar. Authorization standards of UIDAI will be valid for the devices that are used.
Document Verification: UIDAI will accept the request for the update on the basis of the Registrar's verification procedure and your Authentication as a resident. These document duplicates may be taken and received with every resident request or will be available, by the Registrar, in batches for each Update Request Numbers, Date and time.
Form Filling and Acknowledgement
This procedure will be commenced by the registrar's operator on a specific device that includes a biometric substantiation feature or Micro-ATM
The acknowledgement receipt can be a printout or an SMS or an email based on the kind of request. For example, aadhaar card mobile number update may have the URN being sent to your cell via SMS.
Strengths and Weaknesses of aadhaar card mobile number update
Strengths
By updating your cell number in your aadhaar records, you empower yourself to do various financial transactions and also get several benefits from the service providers
By doing this exercise, you will help UIDAI to know the correct aadhaar holder
Weaknesses
Online facilities will not be available to you of you do not have a registered mobile number win UIDAI database
Important points to remember under aadhaar card mobile number update
Certain important points which you need to remember are:
You must inform UIDAI for any change or update in your mobile number without fail, as all the relevant OTPs, messages go to your aadhaar registered mobile number
You will not be allowed to a change or update in your cell number online, you need to visit physically any nearest enrolment centre
UIDAI follows a robust method of doing all updates by following 3 methods as explained above, hence you need to worry about the security of your data
Now that we know how to update mobile number in aadhaar card and various other aspects for this activity and having known the importance to have a registered cell number in Aadhaar records, it is highly advisable that you must add or update your mobile number so that you can enjoy the full benefits of owning an Aadhaar.
To know more about Mobile number update without OTP – Click here
FAQ's
It takes till 90 days for any updation in Aadhaar after placing the request.
No, it is not mandatory for you to provide your email address, however, if you do so you will receive important communications in your mail address. And an update in your email address or mobile number needs the verification process for security purpose. UIDAI wants to make sure that the right message is going to the right person.
If you are using Self Service Update Portal or SSUP online portal for any updation, your mobile number must be registered with Aadhaar, else you can just visit the nearest Permanent Enrolment centre with the necessary supporting documents.
Yes, you can at all times update your details in your Aadhaar.
No, you cannot. You need to visit the enrolment centre for aadhaar card mobile number update..