Aadhaar is a 12-digit unique ID issued by the UIDAI- Unique Identification Authority of India to an individual residing in India. Regardless of the age and gender, any individual can enrol to get an Aadhaar number. Aadhaar captures two important data or information with respect to the demographic and biometric data of the applicant during the process of enrolment and is totally free of cost. Applying and receiving an Aadhaar is a one-time action and will remain valid for the whole life.
Importance of updating details in Aadhaar
Aadhaar has become a suitable verification tool to authenticate your identity. It provides you with the collection of biometric proof of your fingerprints or iris scan, an innovative and transparent technique of verification of identity. It is a unique way of storing all the necessary data in an authorized central warehouse of UIDAI. At the time of your Aadhaar enrolment, you are needed to provide a valid contact number that belongs to you or your email id. These will be documented as your permanent contact details and will be linked to your Aadhaar card. Although providing mobile numbers is not mandatory, to avail of the online facilities and other benefits from Aadhaar, it is recommended to have your mobile number updated or add in your Aadhaar records.
Hence, updating or adding your mobile number is a vital step, as all related messages and important announcements regarding your Aadhaar card will be delivered to your mobile number and is predominantly important for you to help you complete the KYC verification procedure, permitted by all banks and the insurance companies.
In the next section, we will discuss in detail why there is a requirement for updating your mobile number. And then we will take you through the various aspects of updating or adding your mobile number or change mobile number in aadhaar card online without OTP or how to update mobile number in aadhaar card without OTP.
Why is a mobile number update required in Aadhaar?
There are a couple of vital reasons as to why you must update or add your mobile number and they can be listed briefly as below:
Income Tax Department has initiated a step to link your Aadhaar number with your PAN. You can link both by visiting the official website of income tax efiling. Cases where your name in Aadhaar and PAN is matching perfectly, then there is no need for any OTP. But, in case your name is not similar with the two records of your Aadhaar and PAN, then you would be required to verify the Aadhaar OTP, that will come only at your registered mobile number recorded in your Aadhaar
Another instance where the mobile is required is where you do not want the hassle of submitting your income-tax return offline but want e-filing return which would be fully paperless, then again, you would be required to authenticate the Aadhaar OTP which will be sent to your registered mobile number with Aadhaar
The government of India has taken another step towards bringing everything under one platform, is linking your Aadhaar number with your mobile number. All the telecom service providers would be required to integrate their phone number with their Aadhaar and complete the authentication by way of an e-KYC procedure
Updation of your newest mobile number with the Aadhaar database will help you complete all the necessary e-KYC procedure
PF withdrawal and other PF related services with EPFO will become an easy task if your Aadhaar is linked to your PF account, for which again you would be needed to give your mobile number
Empowering Aadhaar for numerous services like Government & Non-Government Services, Benefits to get Subsidy, Pensions, Social Benefits, Scholarships services in Banking, Healthcare Insurance services, Education, Taxation services, Employment, etc., makes it indispensable to make sure that Aadhaar data of the resident, including the mobile number warehoused in the CIDR- Central Identities Data Repository is correct and up-to-date
How to change the mobile number online (with OTP)?
A registered mobile number is important to get the facilities of Aadhaar Online Services. You can authenticate your mobile number that was stated during enrolment or the newest Aadhaar detail update.
Verify Mobile Number
If you do not have your registered Mobile number at the time of enrolling for Aadhaar, you are needed to visit a Permanent Enrolment Centre to get it registered in your Aadhaar record.
One important facility provided by UIDAI is Aadhaar mobile number verification, through which you can effortlessly verify your mobile number. The important point to note which you must keep in mind is that before verifying your mobile number, the same needs to be registered in your Aadhaar records on https://resident.uidai.gov.in/verify-email-mobile.
Let us now see the steps as below:
Visit the official website of UIDAI at https://uidai.gov.in/
On the home page, under the section 'My Aadhaar', select 'Aadhaar Services" and then select "Verify Email/ Mobile Number" as shown below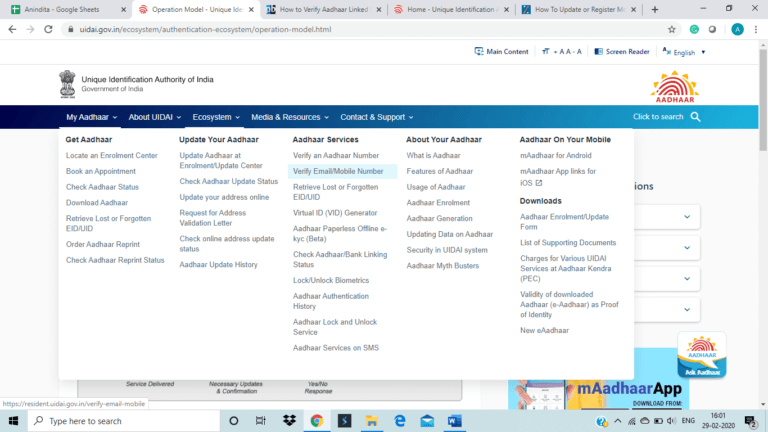 Fill in your 12-digit Aadhaar number in the relevant space provided as below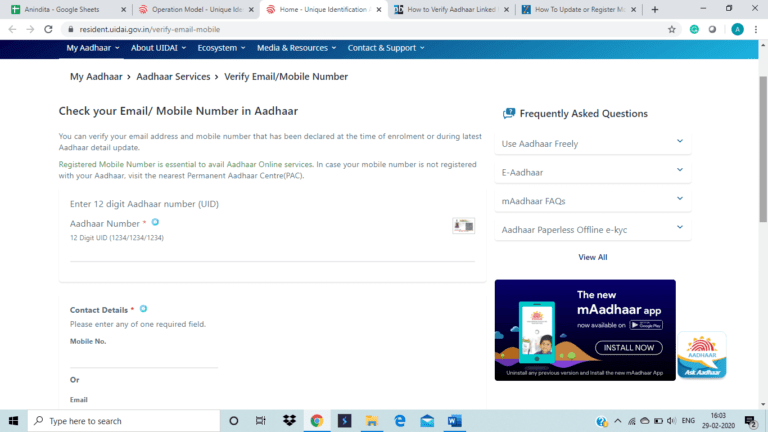 Enter your mobile number in the space as shown below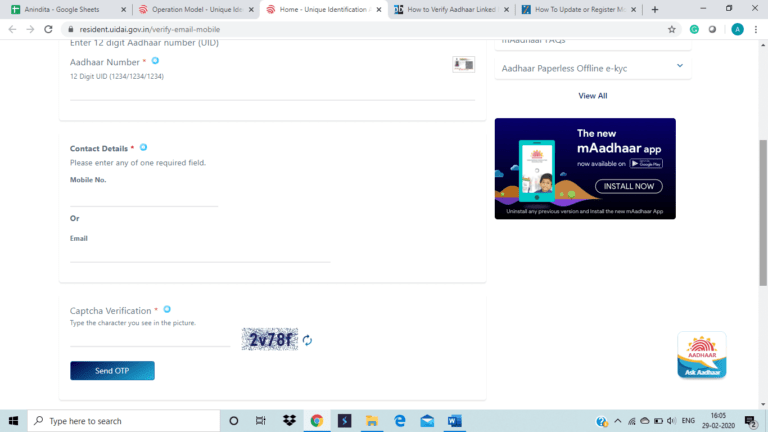 Enter the security code and finish the captcha verification procedure
You will receive an OTP
Click on "Verify OTP" after putting the OTP carefully and then tap on submit
Once the authentication is effective, you will receive a message stating "Your mobile number is successfully verified"
How to change the mobile number offline (without OTP)?
In case you do not have your registered cell number or you want to add or update an alternate mobile number of yours, you can follow the below steps:
Visit https://uidai.gov.in or https://resident.uidai.gov.in
Click on the option"Aadhaar Card" Service
Enter your 12-digit Aadhaar Number or the UID or the VID -a 16- digit Virtual Identification Number or EID-a 28-digits Enrolment ID
You need to enter the security code
Click on the checkbox"If you do not have a registered mobile number, please check in the box"
Enter your Non-Registered or your Alternate Mobile Number
Click on "Send OTP"
Click on a checkbox stating "Terms and Conditions".You may click on the hyperlink to see the details
Click on "Submit" key to complete OTP or the TOTP verification
On the next page, Aadhaar details will be shown for you to authenticate before you place the order for the reprint
Click on the option "Make payment"and you will be redirected to the Payment Gateway
After the payment, a receipt will be generated with a digital signature and you can download it in PDF format. You will also receive a Service Request Number via SMS
You can track the status of the SRN till dispatch of your Aadhaar Letter on the option "Check Aadhaar Card Status"
SMS with the AWB number will be sent once the same is dispatched from DoP- Department of Post. You can also track the delivery status by visiting the official DoP website
In case if you have lost your mobile number or do not own the same mobile number that was registered in Aadhaar, you need to physically visit the nearest Aadhaar update centre for updation of your mobile number. Over here, you will not be allowed to update or add your mobile number through post or online.
Important points to remember in how to update mobile numbers in aadhar card without OTP
It is important for you to register your mobile number with your aadhaar card
After registration, you must verify registered mobile number by visiting the UIDAI official website
All online facilities provided by UIDAI required OTP verification which are sent only to the registered mobile numbers
Service providers do the verification process through your Aadhaar, where again, you would need your registered cell number, as OTPs are sent only to the Aadhaar registered numbers to complete the transaction
Last, but not the least, it is important so as to ensure that the right beneficiary is getting the benefit or performing any transaction, and no fake identity is doing the same
Now that we know how to update mobile numbers in aadhar card without OTP and various situations where the OTP will be required and knowing the importance to have a registered cell number in Aadhaar records, it is always advisable that you must add or update your cell number. Enjoy the full benefits of having an Aadhaar and do not miss the important updates.
FAQ's
No, you must have a registered cell number for you to use the SSUP portal.
No, you won't be able to. You are not allowed to update/ add mobile numbers online. If you want to update your mobile number, you need to visit your nearest Permanent Enrolment centre. However, you can always download the update/ correction from the UIDAI website.
No, you may visit any of the permanent Enrolment centres for correction or updation as per your ease.
You can update your Demographic details like your address if you want to use an online Self Service Update Portal or SSUP for updation. But you need to make sure that your mobile number is registered in your Aadhaar database while using this facility.
Basically, there are two different ways for you to get your details updated: –
By visiting the nearest Permanent Enrolment centre which you can search by visiting the UIDAI official website and clicking on "Locate Enrolment Centre"
Using the SSUP portal and Click on the option "Update Your Address Online "
For the rest of the details update, you need to visit the enrolment centre as mentioned before