Indian Citizens have got a digitally advanced means of obtaining one more proof of identity which is Aadhaar Card. An initiative was taken by the Indian Government to provide a uniform platform of getting an identity proof thereby forming a centralized Aadhaar database. And like a voter's identity card, Aadhaar card is also treated as the most important document in India now and is used for identity as well as address proof of any Indian citizen. Ever since it was announced, Aadhaar has become a sole document that may be used to authenticate the identity of an individual.
What is an Aadhaar card?
An Aadhaar card is a Government-issued card that consists of the demographic and biometric details of a person. The issuing authority is UIDAI- Unique Identification Authority of India. The card has a 12-digit unique number which is assigned to an individual, enrolling for the card. This number helps in recognizing an individual from other individuals. Aadhaar card comprises the following details of a person:
Name
Date of birth
Father's or spouse's name
Address
Fingerprints
Iris scan of the individual
Photograph
How to get an Aadhaar card for the first time?
Applying for an Aadhaar card is completely voluntary. To obtain an Aadhaar card, you will need to enrol yourself at your nearest Aadhaar Enrolment centres. The procedure of getting an Aadhaar card for the first time is offline and you need to physically visit the Aadhaar Enrolment centres for placing an application. Below is a brief note on how you can put an application for an Aadhaar card –
Visit the Aadhaar Enrolment centre with all the supporting documents validating your age and address proof
You need to fill up an application form and submit the same. The form comprises your personal details like your name, address, date of birth, etc.
An Aadhaar official will then click your photograph and then record your fingerprints and take your iris scan
You then need to submit the necessary proofs for validation
After processing the form, you will get an Enrolment ID number or EID
UIDAI will issue you an Aadhaar card with a Unique Identification Number or UID which will be your Aadhaar number and will be used for authentication purposes
UIDAI has given the facility of an online platform from where you can obtain your Aadhaar card easily and effortlessly. Here, we will take you through how to know Aadhaar card status by name and date of birth. While it is important to keep handy your physical Aadhaar card, UIDAI also permits you to download a soft copy of your Aadhaar card so that you can store the same as per your convenience and use it as and when required.
Previously, it was possible to know Aadhaar card status by name and date of birth, however, UIDAI has revised its rules for downloading Aadhaar online. At present, you will not be able to know Aadhaar card status by name and date of birth. Your Aadhaar number or a virtual ID number enrolment ID number will be needed to download your Aadhaar card. But, if by any chance, you misplace your Aadhaar card, then you have the option to retrieve your lost Aadhaar number or the enrolment number online by filling in your name and cell number. The procedure to get your lost Aadhaar number or enrolment ID number is stated as below:
Visit https://uidai.gov.in/.
In the home page, you will see 'My Aadhaar' option from where you need to go to the section of 'Get Aadhaar' and select 'Retrieve Lost or Forgotten EID/UID' as shown below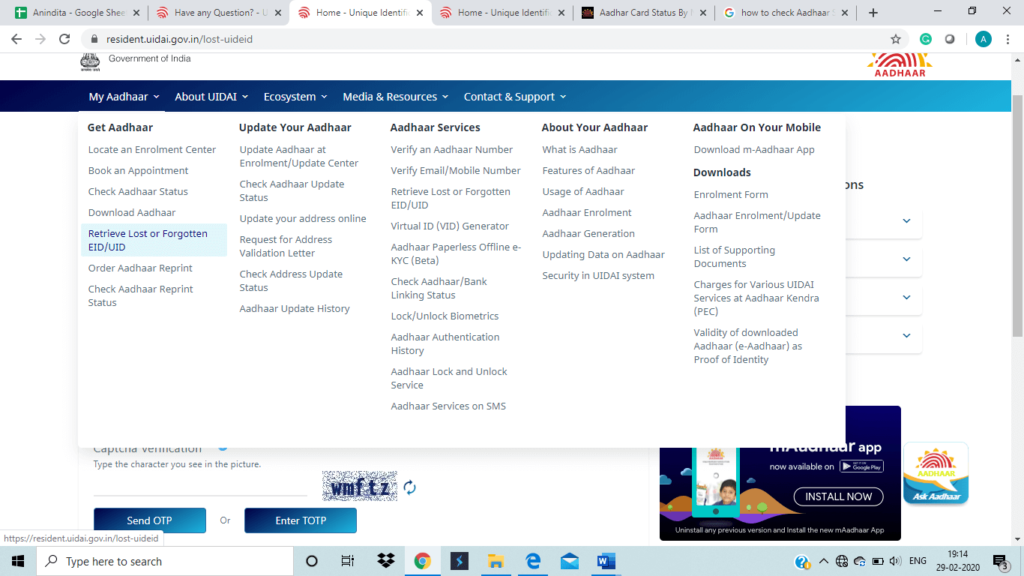 You will see a new window where you will need to select if you want to recover your Aadhaar Number or UID or your Enrolment ID Number or EID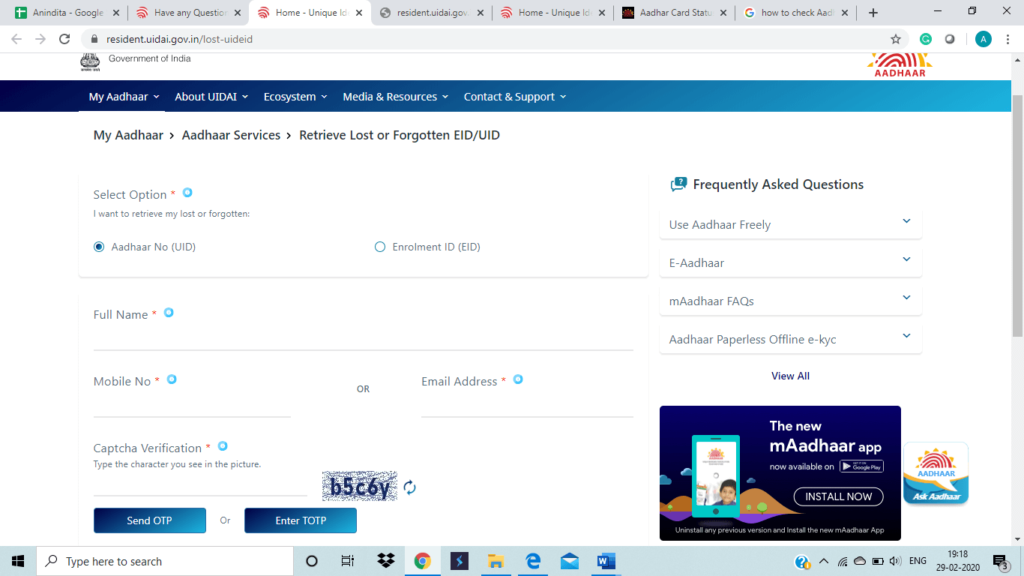 Enter your full name and your cell number or your email ID as shown above.
Complete the captcha code verification process and then select 'Sent OTP'
An OTP will be sent to your registered mobile number or email ID
Enter the OTP and you will be allowed to obtain your Aadhaar number or your Enrolment ID number online by your name
How to retrieve EID or UID?
By following the above process, you will be able to recover both your Enrolment ID number EID or Unique Identification Number or UID easily and without any hassle. UIDAI has provided a strong online platform through which you will be able to retrieve your UID or the Aadhaar number and the 14-digit EID.
A very important point to remember is that your mobile number must be registered in the Aadhaar database so that you can download your Aadhaar card online. Unless your mobile number is not registered, you will not be in a position to obtain and enter the OTP needed to complete the procedure of downloading your Aadhaar.
So, get your Aadhaar which is not at all a difficult process to follow and be a responsible citizen and help in progressing towards the thought of "Being Digital".
FAQ's
No, there is no cost of downloading your Aadhaar card online and its absolutely free.
No, the printing of Aadhaar is not essential and hence you can have it as a soft copy in your mobile, laptop or desktop.
No, you cannot as you will have to personally visit the Aadhaar enrolment centre for getting Enrolled as you will need to give your Biometrics details along with your demographic data.
You need to bring along with you all the original copies of your supporting documents for Aadhaar enrolment as these will be scanned and given back to you after completing the process.
Aadhaar enrolment process comprises many quality checks and hence there could be a situation where your Aadhaar can be rejected for the quality issue or other technical reasons. Hence, if you have got a message confirming that your Aadhaar is rejected, it is suggested to go for re-apply for Aadhaar.