Aadhaar, the most popular 12-digit unique identification number issued by the UIDAI- Unique Identification Authority of India to the Indian residents. Irrespective of gender and age any person can enroll to get an Aadhaar number as a resident of India. The person has to provide his or her demographic and biometric data during the enrolment process and is entirely free of charge. Applying and getting an Aadhaar is a one-time activity that will remain valid for the entire life.
Aadhaar has become a convenient authentication tool to validate your identity. It provides you with the selection of biometric substantiation like your fingerprints or iris scan, which is an innovative method and a transparent technique of verification of identity. It is the easiest and safest linkage of recording a financial transaction in our country. During Aadhaar enrolment, you will be required to give a valid contact number that belongs to you or your email id. These will be recorded as your permanent contact details linked to your Aadhaar card. Hence, verifying these contact details is equally a vital step, as all applicable messages and important notifications concerning your Aadhaar card will be delivered to these contacts and are particularly significant for you to help you complete the KYC authentication process, enabled by almost all banks and insurance companies.
Now that you have understood the importance of Aadhaar mobile number verification, Let's understand how to enroll for an Aadhaar Card?
How to enroll for an Aadhaar Card?
You can enroll for an Aadhaar card free of cost. You need to visit any authorized aadhaar enrolment Centre with your proof of identity and address documents. You can refer to the UIDAI site to know the list of supporting documents that are accepted for aadhaar enrolment. You need to fill in the aadhaar enrolment form along with providing your proofs. Your demographic and biometric data will be captured. Once the process of enrolment is done, you can collect the acknowledgment slip containing the enrolment ID. You will receive your aadhaar card within 60 to 90 days of enrolment. You can check the status of your aadhaar card with the enrolment ID that is given to you.
What is Aadhaar verification? and why is it important to verify?
You can verify the existence of your aadhaar card and the process is known as Aadhaar verification. You can submit the 12-digit unique identification number i.e., aadhaar number online to do the verification. Online verification of aadhaar is an easy process that can be done through the official website of UIDAI. To ensure that your aadhaar card is issued and to know its validity, it's important to do the aadhaar verification. You can ensure all information recorded in the aadhaar is correct and accurate. In case of any inaccuracy in the information like name, gender, date of birth, and address, you can get them changed. Verified aadhaar ensures hassle-free identification.
How to verify an Aadhaar card online?
Here is a simple process to follow to verify your aadhaar online:
Login to the UIDAI website
Go to ''Aadhaar services'' under ''My aadhaar'' tab and then click on 'verify an aadhaar number'
Enter your 12-digit aadhaar card number and then enter captcha code for verification
Click on the ''proceed to verify'' tab
If your aadhaar is valid, the message saying – ''Aadhaar Number ___________ exists'' will display on the screen.
Your gender, age group, mobile number, and state is also shown under the displayed message. If the information displayed is correct, go ahead and verify. If there is any error, you can get them rectified.
Along with verifying your aadhaar card number, you can also verify your mobile number. We will take you through the process of Aadhaar mobile number verification for you to understand the same.
The step-by-step process of Aadhaar mobile number verification via the UIDAI website
The UIDAI has provided many facilities online by which you can do several activities in your Aadhaar. One such option is Aadhaar mobile number verification, through which you can easily verify your mobile number. An important point to note which you must keep in mind is that before verifying your mobile number, the same needs to be registered in your Aadhaar records. Let us now see the steps as below:
Visit the official website of UIDAI at https://uidai.gov.in/
On the home page, under the section 'My Aadhaar', select 'Aadhaar Services" and then choose "Verify Email/ Mobile Number" as shown below in the screenshot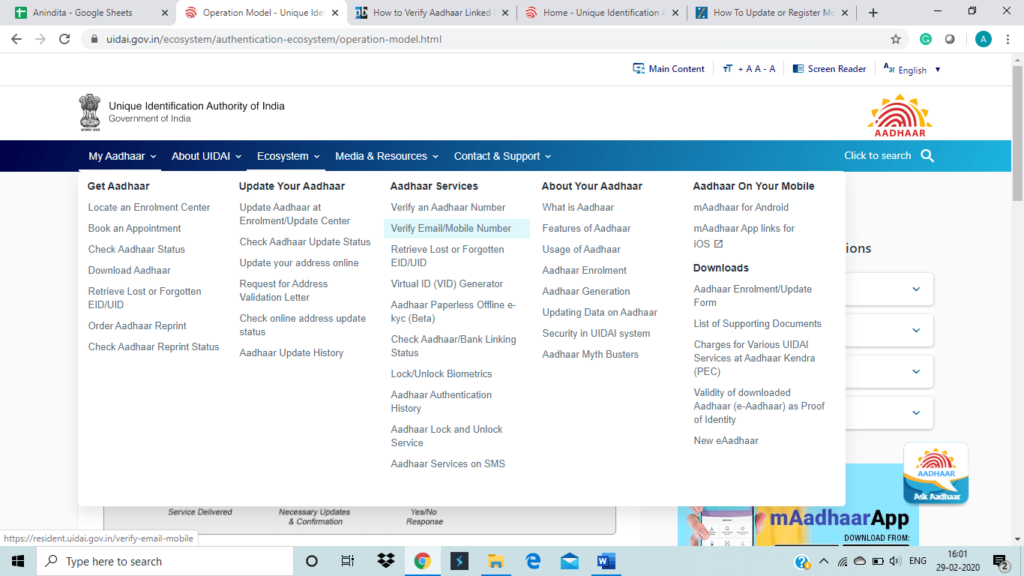 You need to fill in your 12-digit Aadhaar number in the relevant space provided as below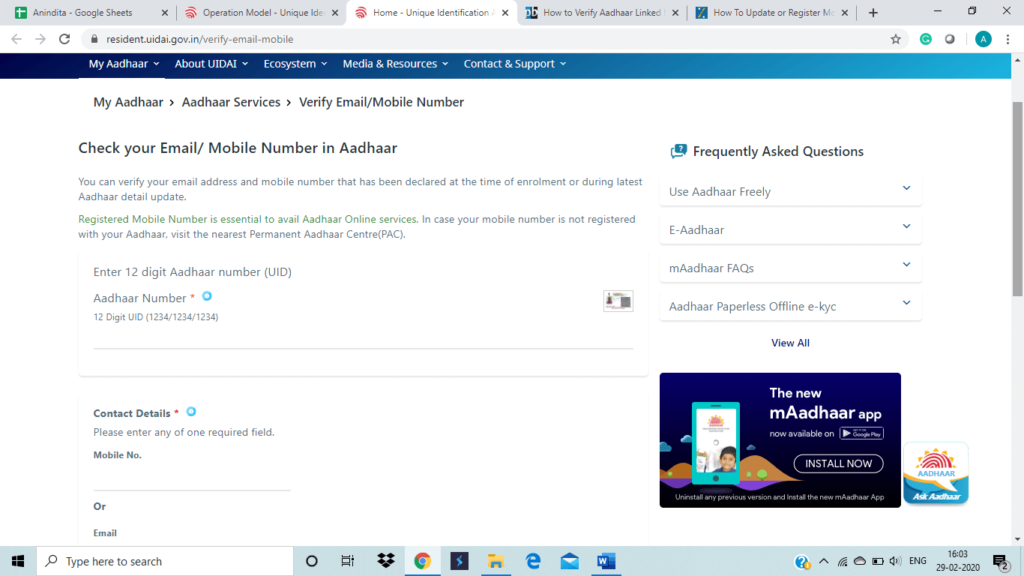 You need to enter your mobile number in the space shown below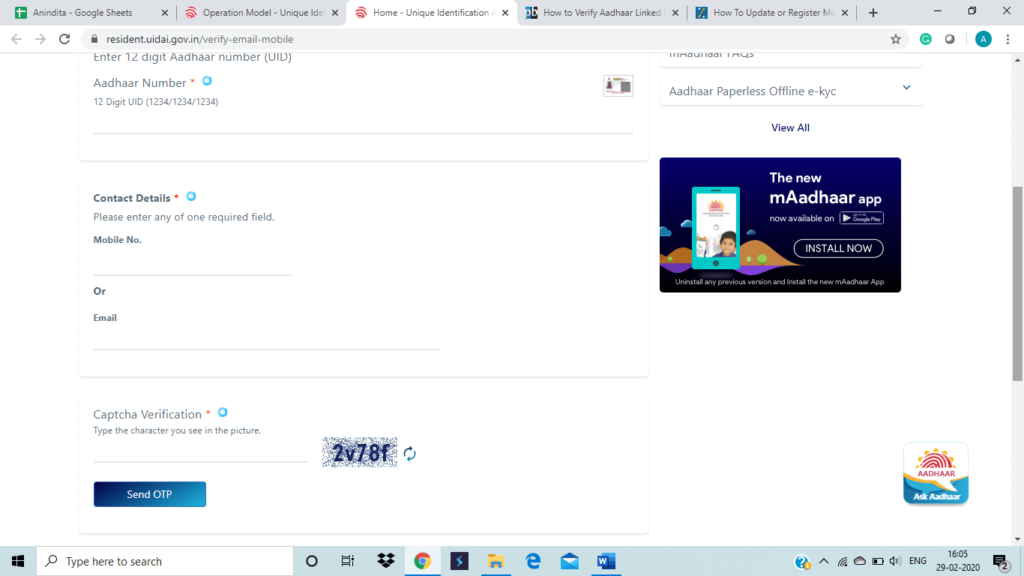 Enter the security code and complete the captcha verification process
You will receive an OTP which you would be required to fill inappropriately
After the above step, click on "Verify OTP" and then submit
Once the verification is successful, you will receive a message stating "Your mobile number is successfully verified"
In the same way, you can verify your email address as well
The total process of Aadhaar mobile number verification does not have any human interference thereby reducing its complication and also making the procedure instant and speedy. The interface as provided by the UIDAI gateway is user-friendly and is specially crafted enabling individuals in getting a comprehensive experience irrespective of the fact that whether they are comfortable in using the computer or not, as the process is so easy.
Why is Aadhaar mobile number verification necessary?
Keeping in mind the above discussion, it can be said that Aadhaar mobile number verification is a must and you must abide by this rule. Aadhaar enables various financial and non-financial services like opening of a bank account, filing your ITR or Income Tax Return, buying a mutual fund, applying for a PAN -Permanent Account Number or even several savings plan like the PPF- Public Provident Fund, or applying for your passport or maybe a driving license. Most of the service providers including banks and other financial institutions require your Aadhaar number as well as your mobile number to carry out many vital transactions and if you do not verify the same, availing many services and getting benefits may become very difficult. Therefore, it is absolutely necessary to do Aadhaar mobile number verification for you to get all those advantages.
Knowing the importance of having an Aadhaar card and the importance of Aadhaar mobile number verification, you must go ahead and do all these critical activities if you have not done already. Be safe and enjoy the benefits of having an Aadhaar to the fullest extent.
FAQ's
Verifying and linking your mobile number is necessary for the below reasons:
Other than the idea of getting various benefits by verifying and linking your cell number, it is also essential to confirm identity of all cell subscribers & link them with Aadhaar for your own safety as well as for the security of our country and to wipe out the unwanted mobile numbers being used by the impostors, criminals, money-launderers, etc.
It has been observed that criminals and terrorists obtain SIM cards which are issued in the name of false people and also genuine individuals without their notice and utilize them for committing crime and frauds
When all mobile number will be substantiated and linked with the Aadhaar, then impostors, criminals, as well as terrorists who are using mobiles can be recognized and punished as per the law
No, no mobile company or anyone is allowed to or use your biometrics details taken during Aadhaar verification. The biometric details are encoded the moment you place your finger on the fingerprint sensor and this coded data is being sent to the UIDAI for further verification. Also, Regulation 17(1)(a) of the Aadhaar (Authentication) Regulations 2016, stringently forbids any requesting organization including any mobile phone companies, banks, etc from storing, publishing or distributing the finger-prints for any reason and neither will it hold a copy of any fingerprints. Any violation of this rule is a punishable offence under the Aadhaar Act 2016.
Yes, your Aadhaar card data is completely safe and secure in the hand of UIDAI
No, UIDAI will not do any such activity. UIDAI database has only the minimum information that you give during enrolment or correction/update which has your name, address, gender, date of birth, your fingerprints, 2 iris scans, and a photograph.
UIDAI does not have any data or information about your bank accounts, mutual funds, shares, mutual funds, financial and any property details, etc and also will never possess this information. Section 32(3) of the Aadhaar Act 2016 explicitly forbids UIDAI from controlling, gathering, possessing or preserving any data for authentication neither by itself nor through any requesting entity.
You can register your mobile number with your Aadhaar by visiting the nearest Aadhaar Service Center.