Every Indian resident must be issued an Aadhaar card. An individual who is residing in India for 182 days, from the Aadhaar application date, is considered as a resident. Foreigners staying in the country for more than a year are also entitled to get an Aadhaar. You, as a resident would need to provide your photograph, iris scan, fingerprint which contains the biometric details and name, date of birth and address are typically the demographic information for you to get this unique identity named 'Aadhaar'. let us understand in brief what is an aadhaar.
What is an Aadhaar Card?
Aadhaar is a 12-digit identification number assigned to Indians citizens based on their biometric and demographic data. The 12-digit number will be exclusive for each and every individual. The Aadhaar card number is issued and governed by the UIDAI-Unique Identification Authority of India. It supports in providing a well-controlled administration by removing wrong practices and corruption to a good extent. This is possible as each resident is offered a unique identification number. It is now mandatory to have an Aadhaar knowing the ever-increasing importance and presence of many government-based arrangements today.
Background and importance of SBI aadhaar link
Aadhaar is normally used to get and authenticate the details of an individual who wants to avail of any government subsidy. In the absence of the card, no benefits will be given under government-based subsidies. The unique feature of your Aadhaar card not only makes it an important identity proof, but also it is used in practically all kinds of services like bank account opening, investment, LPG gas connection, and the list continues. Also, linking your Aadhaar number to all the financial instruments and vital documents has been strongly recommended to prevent frauds and duplications and also to get the facilities or ease of any financial transactions. And hence, SBI- India's largest bank has also provided the facility of doing an SBI aadhaar link. Before we go to the details of how to link aadhaar with the SBI bank account,
And it is in this line of thought, SBI Bank has come up with an easy process of SBI aadhaar link, by which the account holders will be able to link their SBI account with their Aadhaar number.
What is the SBI aadhaar link process?
SBI aadhaar linkis a technique in which any person having an SBI bank account can link his or her details of the card to his or her Aadhaar Card. Hence, by doing the SBI aadhaar link, all the details for that person will be stored in one single storehouse.
SBI provides you with several ways to do an SBI aadhaar link. Here, we will talk more about the SBI aadhaar link process and understand the process as a whole.
How to link aadhaar with the SBI bank account?
SBI aadhaar links can be done both online and offline and are very simple to follow. Here are the below steps mentioned for your reference:
1. Online Methods:
SBI Internet Banking
The online method of aadhaar card link to SBI bank account can be via SBI Internet Banking. You need to log simply to SBI Bank official website and do this exercise. An important point for you to remember is that you need to register yourself for internet banking to avail of this facility. In case you are a new user, you can complete the registration process by visiting https://retail.onlinesbi.com/retail/newuserreg.htm and then go ahead with the SBI aadhaar link. Here are the steps as below:
Step 1: Visit the official site or e-portal of SBI Bank- www.onlinesbi.comand log in with your id and password under the "Personal Banking" option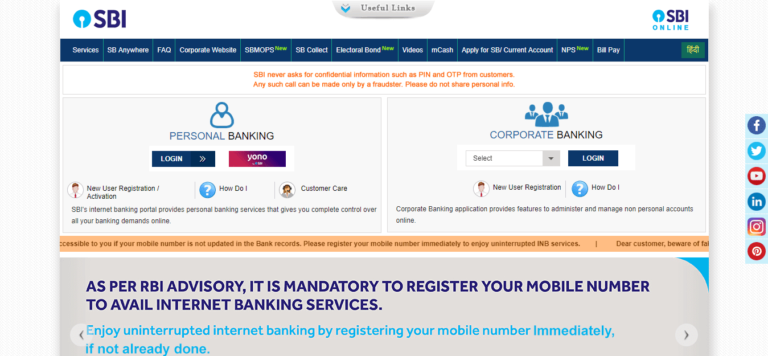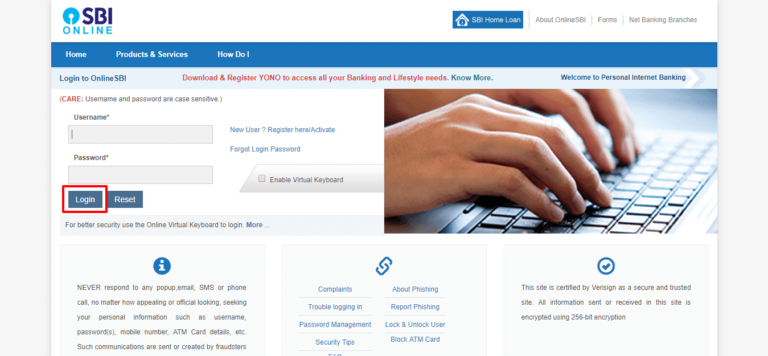 Step 2: Go to the option of 'My Accounts' on the left-hand side of the page
Step 3: You will see the option 'Link Your Aadhaar Number'
Step 4: Choose your SBI account number that you would to link with your Aadhaar
Step 5: Enter your Aadhaar Card Number and then submit your request
Step 6: The last two digits of your registered mobile number which is not editable will be shown to you
Step 7: You will get a final confirmation through a message and an email after SBI aadhaar link happened successfully
SBI Official website
Initially, SBI has given the facility to doSBI aadhaar link through its websites, however, currently, this is functional any more. Let us see the steps as below:
Step 1: Visit the official site or e-portal of SBI Bank- www.onlinesbi.com
Step 2: You will see an option 'Aadhaar linking for all SBI customers" under "Announcement" section
Step 3: You need to enter your SBI account number and also the captcha code
Step 4: Enter your OTP that will be sent to your registered cell number
Step 5: Enter your 12-digit aadhaar number
Step 6: The status of the linking will be sent to your registered mobile number
2. Other Methods:

Via SBI ATM Card
SBI has also given the facility to people who do not have access to the internet or maybe a smartphone. You can still add your Aadhaar number to your account using the nearest SBI ATM. Follow the process detailed below:
Step 1: You may visit any SBI ATM which is near to you
Step 2: Insert your SBI debit card that is linked to your account, that you would want to add your Aadhaar number
Step 3: Enter your debit card PIN
Step 4: From several menus available, choose the option 'Service – Registrations'
Step 5: The, you need to select 'Aadhaar Registration' which you will see in the subsequent screen
Step 6: Now, you can choose the Account type, a Savings or a Current or Checking
Step 7: Then, you will be required to enter your 12-digit Aadhaar number
Step 8: You will need to re-enter your aadhaar number once more
Step 9: An SMS will be sent to your registered mobile number with confirmation.
3. Offline Method of aadhaar card link to SBI bank account
In case you want to visit any SBI branch and do the SBI aadhaar link, you do the same as well. Here is what you need to do:
Step 1: Visit any nearest SBI branch. Carry your Aadhaar card or e-aadhaar which is the electronic version of your physical aadhaar card and will have the same importance as the physical aadhaar
Step 2: Take help from a bank official and fill in a Letter of Request or Aadhaar seeding form
Step 3: Submit Aadhaar seeding form to the bank together with a self-attested photocopy of your Aadhaar card or an e-Aadhaar
Step 4: The details submitted by you will be authenticated and after which the necessary linking will be done by the branch official
Step 5: After the successful completion of the linking process, you will get a message confirming the linking. Update on the status of your Aadhaar-account linking would also be sent to you through an SMS
Pros and Cons of SBI aadhaar link
Pros:

Direct Benefits Transfer or DBTL: The LPG cylinder grant amount is straight credited in your Aadhaar linked SBI account after you link the LPG consumer number. The variance between the market cost and subsidised amount is credited by way of the subsidy amount
Advantage of easy Aadhaar Enabled Payment Systems or AEPS
Mahatma Gandhi National Rural Employment Guarantee or MNREGA: Salaries under this scheme also gets credited directly to bank account of the labours, as appropriate
Welfare Schemes for Tribal: Outflows from these schemes is also credited to the linked account
Subsidy for goods products: Also, the grant for several commodity products like sugar, kerosene, rice, pulses and various other primary products whose prices are sponsored will also be transferred to your linked SBI account
Scholarship: Students who get scholarships from the respective government may get the money only if the bank account in their name is linked with their Aadhaar number. And in case, they have an SBI account they can easily do so to get the allowances directly credited to their SBI account. However, this is applicable only for the students from selected States in India
Country wide access: You can access your linked SBI accounts from any part of India and hence you will also be able to access via net banking, ATMs, etc.

Cons:

Probability of misuse in banking Details and the related transactions
Too much of disclosure of bank account details
Important points to remember under SBI aadhaar link
Ensure to have your cell number registered with your aadhaar
If you are doing this process via ATM, ensure that you are carefully entering your aadhaar number
Always carry a self-attested aadhaar if you are visiting any SBI
Now that you know how to link aadhaar with the SBI bank account, go ahead and do the same without any delay. If you are having an SBI bank account, it is sensible to link the same with your Aadhaar card. Without this linking, you will not be in a position to do banking related transactions like a cash deposit, ATM withdrawals, passbook update, or a fund transfer. Hence, link your SBI bank account with your aadhaar card at the earliest and enjoy the benefits.
FAQ's
If you have linked your Aadhaar card with your SBI account already, your SBI PPF account will be automatically linked with your aadhaar.
This means an SBI application that you can download anywhere- a personal mobile app and can seed your Aadhaar number with the support of your CIF number
Aadhaar seeding is the procedure by which the Unique Identifications are involved in the service providers' database for permitting de-duplication of the central database and also Aadhaar based authentication during any delivery of service.
CIF or Customer Information File is a digital number that has crucial banking details of any account holder. The CIF number may be found in your Passbook or your bank account statement.
You may link your Aadhaar number with your SBI credit card by logging into your SBI Bank- Card Section and choose the Aadhaar update option.
You need to go to 'Bank Account and Aadhaar Linking Status' on UIDAI's official website under the 'Check Aadhaar and Bank Account Linking Status' section on the homepage.
Yes, you as a retail Internet Banking client and with an active ATM cum Debit card and your account being mapped with the internet banking username, you will be allowed to change your cell number online from the official website retail.onlinesbi.com/sbijava/mobilenochange.html