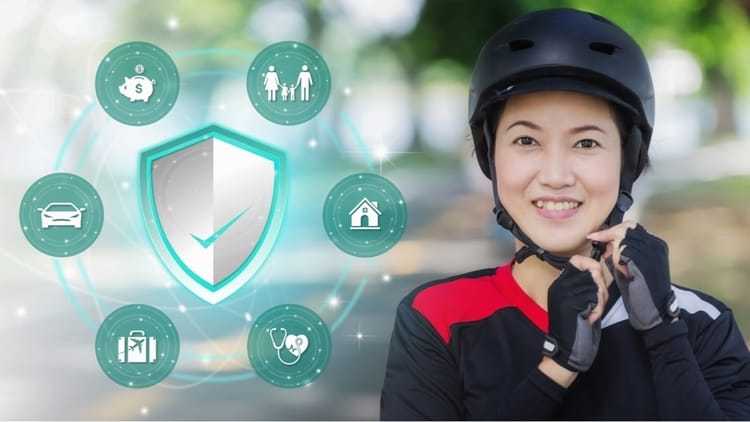 What do you do when you buy a new bike? You check its features, fuel efficiency, mileage, power, colour, price and other aspects ensuring that you select the best. Do you pay so much attention to the bike insurance policy which is also bought along with your bike?
As per the provisions of the Motor Vehicles Act, 1988, your bike should have a valid two wheeler insurance cover on it if you want to drive it around. While the requirement of two wheeler insurance is common knowledge, the coverage that is available under the plan is not so commonly known. Many bike owners are clueless about the instances which would be covered by their bike insurance policies. This lack of knowledge is largely because of the technical concepts of insurance which escapes people's understanding. So, let's simplify the coverage aspects of two wheeler insurance policies.
Coverage under two wheeler insurance plans depends on the type of policy that you buy. There are, essentially two types of policies, third party liability only plans and comprehensive plans. Moreover, there are also additional riders, called add-ons, which are available with comprehensive policies. Let's, therefore, understand these policy types and the available add-ons –
What is a third party liability only policy?
A third party policy is the policy which fulfils the legal mandate of owning bike insurance. It covers third party liabilities which you face in case of accidents due to your bike.
Coverage
Third party plans cover the following instances –
Death or physical injury caused to a third party (any individual other than yourself)
Damage caused to third party property
In case of either of these instances, the financial loss caused to the third party is paid by the two wheeler insurance policy. Moreover, third party plans also have a personal accident cover wherein if you suffer accidental death or permanent disablement, a lump sum benefit is paid to you.
What is a comprehensive plan?
Under a comprehensive plan, there are two coverage aspects. The policy covers the mandatory third party liability as described earlier. Moreover, it also covers the damages which your bike suffers which are not covered under third party plans.
Coverage
Under comprehensive plans, therefore, coverage is allowed for third party injury, death and property damage as well as for the damages suffered by your bike due to the following instances –
Natural calamities like earthquakes, lightning, storm, tempest, hailstorm, floods, typhoon, hurricane, storm, tempest, inundation, cyclone, frost, landslide, rockslide, etc.
Man-made calamities like fire, theft, burglary, housebreaking, explosion, collision, malicious acts, self-ignition, terrorist activities, riots, strikes, accidental external means, etc.
Damages suffered when the bike is being transported by air, water, elevator, lift, road or rail
Furthermore, just like in a third party liability policy, personal accident cover is also available in comprehensive plans. Under the cover, accidental death or accidental permanent disablement of the owner/driver of the bike is covered.
What are add-ons?
As the name suggests, add-ons are additional coverage options which are available with comprehensive two-wheeler insurance plans. You can choose one or more add-ons by paying an additional premium for each add-on selected. Add-ons increase the scope of coverage and are, therefore, advised. Some commonly available add-ons include the following –
Roadside assistance which ensures 24*7 assistance by the insurance company in case your bike breaks down in the middle of the road
Zero depreciation wherein depreciation on the bike's parts is ignored and a higher claim amount is paid
Consumables cover wherein the cost of consumables like engine oil, lubricants, nuts, bolts, etc. is covered
NCB protect wherein the no claim bonus is kept intact even if you make a claim
Personal accident cover for passenger which extends personal accident cover to the pillion rider as well
Medical cover wherein the hospitalisation costs are covered in case of accidental injuries
So, the basic coverage under two wheeler insurance policies can be listed under four main heads –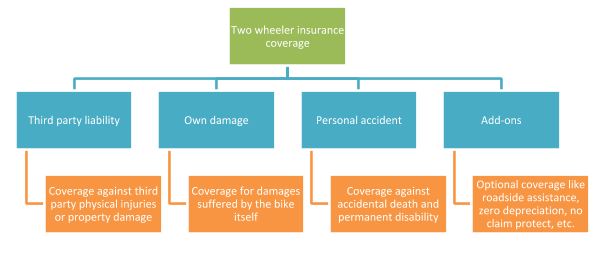 Understand the coverage details of each of these coverage heads when you buy or go for two wheeler insurance renewal online. An insurance policy for bike is necessary and it's wise to know exactly what the policy promises to cover so that when you suffer an accident, you can make a claim for the coverage promised under the policy.
Read more about Car insurance terminologies you should know
Read more about How to choose the best car insurance company
Read more about How much car insurance do you really need?