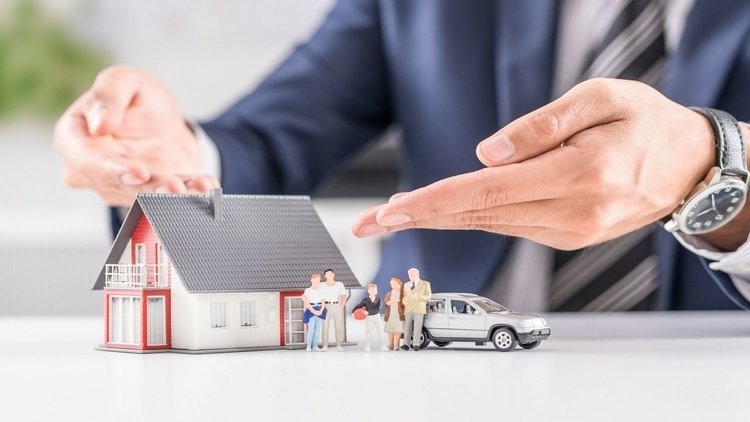 Life Insurance and Health Insurance are the two major requirements in everyone's life. Both provide financial security against unavoidable contingencies. While life insurance provides security in event of death, a health insurance policy secures your finances in a medical emergency. Since both death and illness are unavoidable contingencies, a life and a health insurance plan should feature prominently in your financial portfolio.
Yet not convinced? Here are the major reasons why life and health insurance policies are a must:
Top #3 Reasons to buy Life Insurance
A life insurance plan pays your family a lump sum amount in the event of your death. This corpus helps in securing your family's financial obligations even when you, the breadwinner, are not around and thus provides financial security.
Fulfilment of life's financial goals
All of us have several life goals. We want to secure our family's financial future in case of an emergency, secure our child's future, build our assets and plan for our retirement. Life insurance plans, besides fulfilling the primary need of creating an emergency fund, also help in fulfilling our other life goals. We can secure our child's future through a child plan, create assets through savings and unit-linked insurance plans and also build a retirement fund through pension plans. Thus, life insurance provides us an all-around solution for planning our life's financial goals.
Yes, this is another reason which might prompt you to buy a life insurance policy. The premiums paid for your life insurance plan are exempt up to Rs.1.5 lakhs under Section 80C of the Income Tax Act. Moreover, the benefits you receive from your life insurance policy, whether on death or on plan maturity, are also tax-free. Isn't it great?
Do you know the "7 Things you absolutely need to know about Life Insurance ?"
Top #3 Reasons to buy Health Insurance
Combating large medical expenses
Medical expenses are becoming very expensive. As an average middle-class individual, it becomes difficult for us to handle these high expenses. A health insurance policy pays our medical bills and thus helps us in combating large medical expenses.
Safeguarding our finances
In case of any medical emergency when the hospital bills rack up to huge amounts, we turn to our savings to pay them. High medical expenses put a strain on our savings and threaten to wipe them out. Having a health insurance plan helps us safeguard our savings from such medical expenses as the health policy itself pays for such expenses.
Like life insurance premiums, health insurance premiums are too exempted from tax under Section 80D. The maximum exemption you can claim is as high as Rs.60, 000 annually if you are a senior citizen and also cover your senior citizen parents under a health insurance plan.
Now we know that both life insurance and health insurance are important. But, do we know when should these plans be bought? Though both life and health insurance plans should be bought at the earliest, here's a look at their applicability at different stages of our life.
To get a clarification on the above mentioned points, you may also read 4 Reasons Why Health Insurance is an Important Investment
Best time to buy Life and Health Insurance:

This is the age when we set our life goals and experiment new things in life. As we are young, we tend to avoid insurance. But an early start can be of more significant value. We should have a term insurance plan for creating a contingency fund and also invest in a basic health insurance policy.
For instance, Manisha, 25, working in a leading Finance company is a young individual with limited responsibilities. Given her limited income, she should first opt for a term insurance plan. This is because a term insurance is the cheapest amongst the life insurance plans and also the premium would be lowest if purchased early.
Then, she should buy a health plan with a smaller cover which would be affordable and also sufficient if her employer already covers her in a group health plan. She should look for a health coverage with Maternity Benefit so that the basic waiting period is over well before she plans a family!
At this age you not only have responsibilities of your parents but also of your wife and kids. While earlier a term plan was enough, a child plan comes into the picture in your 30s if you have kids and want to secure their future. In case of health insurance, you should increase the coverage amount as more members would be covered in your family floater plan.
As said in previous case, Manisha, when she is in her 30's should add a child plan to her term plan. Moreover, if the coverage under term plan is not sufficient, she should increase the same.
In case of health insurance, she should opt for a Family Floater plan covering herself, spouse and her children. It will be beneficial for her as well for her family. She can also convert her existing health plan to a family floater one and either increase the coverage or opt for a Top-Up Plan for additional health coverage.
At this age you should focus on creating assets. A term plan is a must and should be continued (if bought before) or bought anew. You may also opt for an endowment plan for creating sufficient savings. Retirement planning should also start from early 40s and so, a pension plan is also advised.
In case of health insurance, your Family Floater Plan is good enough but you can increase the coverage amount by a top-up health plan due to rising medical expenses and inflation. Furthermore, you can take an add-on cover for Critical illness as to protect against the rising probability of such illnesses.
So, Manisha in her 40's can choose to buy an endowment Plan for wealth creation along with insurance protection, buy a pension plan for her retirement as well as choose a Critical Illness Plan.
Now, the time has come to think about your spouse and your future after retirement. In your 50's, you must have a pension plan to ensure that you receive monthly income after your retirement.
Also, you should still continue your existing comprehensive health insurance plan that covers any medical emergency.
So, Manisha can proactively continue her insurance plans and if she had not opted for a pension plan earlier, it is high time to buy the same.
At this age, it is usually difficult to buy a new insurance policy, as your income would soon dry up. However, you should still consider buying a term insurance or continue your existing term plan cover for uncertain death.
In case of health insurance, you can opt for senior citizen health insurance plan. If you already have a health insurance plan, renew it religiously for comprehensive health coverage.
So, Manisha in her 60's should continue her existing health and life insurance plans lifelong. If she finds her health coverage is inadequate or not purchased earlier, she can opt for Senior Citizen health plans with pre-existing ailment coverage as well.
Conclusion
Life and health insurance plans are important for us. You may also read the Reasons to buy a Life Insurance Now.
They have unparalleled benefits and demand a place on our portfolio. Though buying young is ideal, life insurance and health insurance plans are also governed by your life stage. So, understand which life stage you are in and then buy the plans.
Read also An anatomy of an health insurance plan
Read more about Dejargonizing health insurance terms
Feel free to share your comments below: