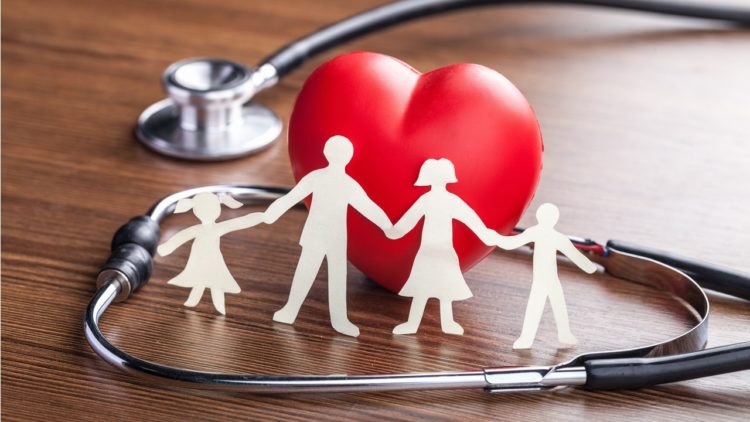 Health insurance plans provide coverage for medical expenses which you incur in case of medical expenses. They, therefore, help you cover the high medical expenses that you incur in medical emergencies. Since medical costs have become expensive, you need a health insurance plan to cover the heavy expenses that you incur.
There are different types of health insurance policies to cover different types of health contingencies. A family floater health insurance plan is one such plan which is available for covering your whole family. Let's understand the concept of family floater health plans and their benefits –
What is mediclaim policy for family?
Mediclaim policy for family, also called family floater health insurance is a health insurance plan which covers the whole family under one umbrella policy. The policy would cover you, your spouse, dependent children, as well as dependent parents and some plans even cover dependent parents-in-law. If any member of the policy falls sick, he/she can make a claim up to the sum insured. The policy, therefore, provides an umbrella coverage for your whole family.
Most important #4 Features of mediclaim policy for family
Here are some of the unique features which are relevant for family floater health insurance plans –
A single sum insured covers all the members of the family insured under the plan. Any member can claim up to the sum insured
Once a claim is made by any member, the sum insured is reduced by the amount of claim. If subsequent claims are made, they would be covered up to the reduced sum insured
The premium for the coverage of all the members is aggregated and paid in one instalment
The premium is calculated based on the age of the eldest member of the family and the total number of dependents
List of common #7 coverage under mediclaim policy for family
Coverage under family mediclaim plans differs from policy to policy. However, every mediclaim for the family has some common basic coverage benefits. These coverage benefits include the following –
In-patient hospitalisation expenses which include expenses incurred on

Room rent,
ICU charges,
The treating doctor's fees,
Surgeon's fees (if any),
Nurse's fee,
Cost of medicines required for treatment, oxygen, blood, etc.

Expenses incurred before and after hospitalisation called pre-hospitalisation and post-hospitalisation expenses for the specified tenure. All medical tests for diagnosis, medicines needed, etc. during the pre-hospitalisation and post-hospitalisation tenure is covered under this
Daycare treatments which do not require 24-hour hospitalisation like a cataract operation, angiography, chemotherapy, etc. are also covered. In fact, each policy has a specified list of daycare procedures that it covers which do not require a minimum of 24-hour hospitalisation
Ambulance charges incurred in going to the hospital and coming back from the hospital
Domiciliary treatments incurred at your home for which patient cannot be transferred to the hospital or there are inadequate medical facilities in the periphery
Organ donor expenses incurred when an organ is harvested for transplant surgeries
Free health check-ups, coupons and other benefits after a specified number of policy years
Most common #10 exclusions under mediclaim policy for family
Family mediclaim plans also have common exclusions where a claim is not paid. These exclusions include the following –
Pre-existing illnesses in the first few years of buying the policy like piles, joint replacement, etc.
Cosmetic treatments which are not necessary for the recovery
Maternity related costs unless they are covered specifically under the policy
OPD expenses unless such expenses are covered specifically under the policy
HIV, AIDS and other types of sexually transmitted illnesses
Suicides, deliberate injuries, alcohol and substance abuse or criminal acts
Mental disorders unless they are covered specifically under the policy
Congenital defects and illnesses unless they are covered specifically under the policy
Dental treatments, spectacles, etc.unless they are covered specifically under the policy
Illnesses and injuries which arise due to war or nuclear threats
Top #5 Most-Important reasons to opt for a mediclaim policy for family
A health insurance plan for your family is very important. If any family member falls ill you would have to bear the cost of treatment. But when you have a family floater health plan, the family would be covered under the plan. If any member falls ill the mediclaim policy for the family would cover the costs incurred in their treatments. Your finances would, therefore, be protected and you won't face any economic dilemma.
Besides allowing coverage to your family, a mediclaim policy for family also gives you the following benefits –
Since each member can claim up to the entire sum insured, the policy allows good coverage for all family membersExpert Tip: Opt for a high sum assured keeping the medical inflation in mind and the age of all the dependent members.
The premiums for family floater policy are usually low and affordable as it provides umbrella coverage to all the members. Buying a mediclaim policy for family proves to be a cheaper alternative than buying independent health insurance plans for all membersExpert Tip: Check the regular coverage features as well as additional options that can be taken to enhance the coverage.
Family floater plans allow comprehensive coverage benefits. You can choose a plan as per your coverage needs and get coverage for most of your medical expensesExpert Tip: Try and opt for separate health plans for yourself, spouse and children and another one for your parents, especially if they are senior citizens. This is the way you can save your no-claim bonus even if you have to claim for your parents.
The premiums that you pay are also allowed as a deduction from your taxable income. You can claim a maximum deduction of up to INR 25,000 which increases to INR 50,000 for senior citizens under section 80D of the Income Tax Act.Expert Tip: Try making the most of your tax deduction limit.
Age <60 years
Age <60 years
Age >=60 years
Age >=60 years
Self, Spouse, Children
INR 25,000
INR 25,000
INR 50,000
Dependent Parents
INR 25,000
INR 50,000
INR 50,000
Total Tax Deduction
INR 50,000
INR 75,000
INR 1,00,000
Mediclaim policy for family gives you complete peace of mind as you know that the policy would cover the medical emergencies faced by any family memberExpert Tip: Choose a comprehensive coverage plan for you and your family.
Different types of mediclaim policies for family
While you might know that family floater health plans cover your medical costs, do you know that there are different types of family mediclaim plans?
Here are the types of mediclaim policy for a family that you can find –
Indemnity health insurance plans:
These plans are the normal health plans which cover the costs incurred when you or your family members are hospitalised and require treatments
Top-up or super top-up health insurance plans:
These plans cover claims which exceed the deductible limit mentioned in the plan. Under these plans, you have to choose a deductible and a sum insured. If the claims exceed the deductible, you get covered for the excess claim. The claim is paid on an indemnity basis which means that your actual hospitalisation expenses would be covered
Senior citizen health plans:
The option to avail mediclaim for family is available in senior citizen health insurance plans too. Under these plans, both the married couple can be covered on a floater basis if they are senior citizens
Reasons to buy mediclaim for family
A family floater mediclaim policy gives you complete coverage for all your family members under one plan. You don't have to spend different premiums on buying independent health insurance plans for each family member. A family floater plan can be bought instead with a higher sum insured to provide optimal coverage to your family members. Moreover, since there is only one plan, you don't have to manage different policies for your family. You can easily remember the policy due date and service your policy timely when you have only one plan to service. So, a family floater plan is a must if you want to cover your family members and protect your finances from being exposed to medical contingencies.
Difference between a family floater and individual health insurance plans
Both individuals as well as family floater health insurance plans are available in the market. Let's understand how these plans differ from each other –
| | | |
| --- | --- | --- |
| Difference | Mediclaim for family | Individual mediclaim plan |
| Nature of plan | This plan covers all the family members under a single plan | This plan covers only one individual under the plan |
| Sum insured | The sum insured is shared jointly by the family members. Any member can make a claim up to the chosen sum insured | The sum insured can be used only by the individual covered under the plan |
| Premium | Premium is calculated based on the number of members covered. The age of the eldest member is considered when calculating the premium amount | Premium depends on the age of the individual who is insured under the plan |
| Affordability of premium | Family floater plans prove to have lower premiums than individual plans for each member of the family | Aggregate premiums of individual health plans for all family members prove expensive |
| Suitability | Families which have a low health risk should invest in a family floater plan. Young families can buy family floater plans for cheaper cover | Older individuals and individuals having high health risks should buy individual health insurance plans |
| Renewability | There is a maximum coverage age for dependent children. Adults can, however, enjoy lifelong renewability | Lifelong renewability is promised for every individual |
Top #7 Things to consider when buying mediclaim policy for family
If you are thinking of investing in family floater coverage, keep the following points in mind to choose the best mediclaim policy for family –
Choose an optimal sum insured amount which would be sufficient to cover all your family members
If your dependent parents are old, it is better to buy separate floater coverage for them. This would help keep your premiums low as premiums depend on the age of the oldest member. Moreover, there won't be frequent claims in your family floater policy allowing you to earn no claim benefits
Some family floater plans do not allow coverage for dependent parents. If you want to cover your dependent parents, choose a plan which allows coverage for them
Some plans allow coverage for your extended family too. So, if you have dependent relatives living with you for whom you want coverage, you can choose such plans where extended relations are covered
Dependent children are usually covered from 91 days to up to 23/25 years. After the maximum coverage age, they are considered to be financially independent and an independent health insurance policy would be required for their coverage
Newborn babies can be included mid-way during your existing family mediclaim policy. You would have to pay a prorated premium for getting them covered
Always compare and buy to get the best mediclaim policy for family. Comparing lets you choose the best plan in terms of coverage and premium rates. When you compare you can buy the most comprehensive plan at the least expensive premium rate.
If you want to compare, choose Turtlemint. Turtlemint is an online website which allows you to compare the best mediclaim policy for family and then make a choice. Turtlemint is tied up with all the leading names in the health insurance industry and allows you to buy the best policy. So, visit https://www.turtlemint.com/health-insurance, enter your coverage details and get to choose from the best health insurance policies available in the market.
All of us love our families and do everything we can to provide for them. Buying a health insurance policy is also one act of showing your family members that you care. The policy would cover them against medical eventualities and help you meet the rising costs of medical treatments. Your family members would be able to access quality healthcare and you can get peace of mind knowing that your financial position would not be threatened by a medical condition. So, invest in a health insurance plan for family and secure them and also yourself.
Frequently Asked Questions:
Can I cover my dependent siblings under mediclaim policy for the family?
No, siblings are usually not allowed to be covered under mediclaim for family. However, there are some plans which allow your extended relations to be covered and such plans would allow coverage for your dependent siblings.
Can I add another family member during the term of the policy?
Yes, a family member can be added during the coverage duration of an existing policy by paying a pro-rated premium for the member.
What is the coverage tenure for family mediclaim plans?
The coverage tenure depends on the plan that you are buying. While annual coverage is offered by every plan, many plans also allow coverage for two or three continuous years.
What is no claim bonus?
If you do not make a claim under the policy in a policy year, you earn a no claim bonus. This bonus can be in the form of an increase in the sum insured or a discount on the renewal premium.
What is the co-payment clause under family floater plans?
If any of the insured members are aged 60 years and above, almost all family mediclaim policies have a co-payment clause for such members. As per the clause, a part of the claim would have to be paid by you and the insurance company would pay the rest.