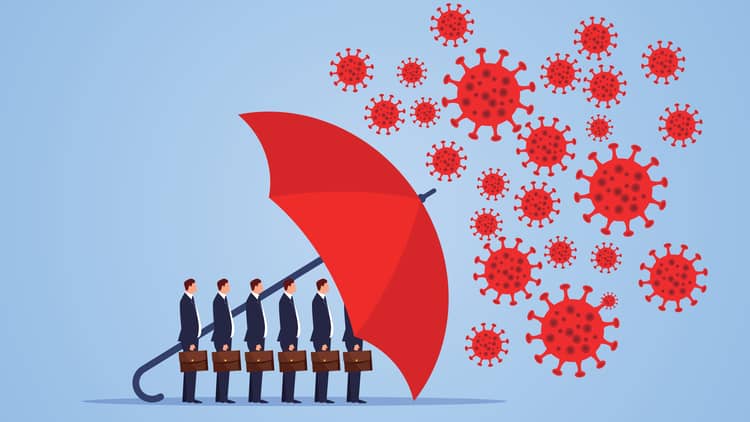 Health insurance has always played a very important role in everyone's lives. However, with the outbreak of the pandemic last year, its importance has increased manifolds. Prior to 2020, having health insurance was important, but now the amount of coverage has superseded all other requirements. People have not only understood the need for health insurance, but also having adequate coverage is well understood!
Most people have started re-assessing their health insurance requirement again, especially with the outbreak of the new Covid-19 variant, Omicron. It was discovered in South Africa in November 2021 and is rapidly spreading to all corners of the world. The second wave witnessed many people spending lakhs on hospitalization and oxygen supply out of their own pockets. Are you prepared this time? Learn your lesson from the second wave of the pandemic and review and upgrade your health insurance to cover Omicron covid 19 variant.
What we know about Omicron till 8-Dec-2021:
Since the covid variant, Omicron, is still in its nascent stages, there is limited information on it. The World Health Organisation (WHO) is still researching and new information is emerging every day. The Omicron variant has a greater risk of reinfection because of the number of mutations it can have. Knowing the risk and the medical expenses associated with it, ensure that you have adequate health cover. Answers to the following questions will decide whether you have sufficient cover against the new variant.
What we know thus far includes:
Transmissibility As per the latest reports from WHO, there is no clarity on the actual transmissibility power of the Omicron variant. While there has been a surge in cases in places like South Africa after the variant was found, there is no conclusive evidence yet to prove that Omicron gets transmitted at a faster rate than the other variants such as Delta.
SeverenessWHO says that at present, there is no conclusive study to show that Omicron causes more serious infections than the other variants. Though there has been a rise in the number of hospitalisations, it is still too early to say Omicron is causing severe covid infections among the patients. Research is still going on and the severity is yet to be established by virologists!
SymptomsAll the studies done thus far have shown that the symptoms of the Omicron variant are quite like the other known covid symptoms. These include a fever, cough, body ache, headache, weakness, etc. There have been no known new or aggravated symptoms yet that the Omicron patients face.
TreatmentThe course of treatment used to treat the older and existing covid patients remains the same. The WHO has not specified any new line of treatment yet, though research is still underway.
Recurrence As per the latest report by WHO, there's a possibility of a recurrence of Covid due to Omicron in patients who have previously had the infection. However, there is limited information on this and WHO is working very closely with experts around the world to get greater clarity on this.
Efficacy of vaccinesMost of the vaccines, including the AstraZeneca and the Pfizer Vaccines, are understood to provide sufficient protection against all the variants of covid. A person who is fully vaccinated is at a lower risk of getting severely infected with the covid virus and this reduces the death risk as well.
This is the data officially available from the WHO. However, there are many rumours doing the rounds that you should stay away from. Governments and authorities around the world are urging people not to panic. Getting vaccinated is a good way to stay protected as well, so ensure you get inoculated if you haven't done so yet.
Net net, Omicron is expected to be a milder variant of the Covid-19 virus. But given that it is a super spreader, the chances of contracting the virus is high. Hence, it is important to step up your health insurance coverage to the optimum so that you are adequately protected!
Health insurance and Omicron
As stated, Omicron is very new and no one really knows what threat it actually poses. This is why one cannot say with conviction that either a fully-vaccinated person or someone who has recovered from Covid is safe from the variant or not. In such a scenario, it becomes important to take all the necessary precautions. Along with following the Covid safety protocols, you should prioritise getting a good health insurance policy. Health insurance is very important and more so when the threat of the pandemic looms over. Fortunately, all the comprehensive health insurance plans available in India offer a covid protection cover.
Is Omicron covered in your policy?
First, check whether your existing policy covers the Omicron variant. Most of the health indemnity plans cover hospitalisation expenses so they automatically cover covid-19 no matter what the variant is. Since Omicron is nothing but a variant of the covid sars virus, all the complications relating to it are covered under the health insurance plans.
Whether you choose to get a standalone covid protection plan or a comprehensive health insurance plan, you will be assured of getting the coverage you need even if you end up being severely ill with Omicron. Thus all existing health insurance plans cover all hospitalisation expenses due to all infectious diseases including Covid-19 and all its variants, including Omicron. Even covid-specific health insurance plans cover all complications relating to the Omicron variant.
Health insurance cover for Covid 19
The IRDAI has made it compulsory for all the health insurance companies in India to offer a covid 19 cover along with comprehensive health insurance plans. So, if you have a comprehensive plan, whether individual or floater, you will have a covid cover too. There are also standalone covid plans available with every insurance provider. Here are the covers you get under the covid health insurance policies:
In-patient careIn both the first, as well as the second waves, it was seen that a large number of people required hospitalisation due to covid. The health insurance plans offer comprehensive in-patient covers if you need to spend a few days in the hospital due to this disease. The covers include the room rent, the ICU charges, the physicians' charges, nursing charges, pharmacy expenses, etc.
Home health careIf the doctor prescribes home care due to lack of space in the hospital, or due to mobility issues, you can get compensation for the expenses incurred while recovering from Covid at home. This is available with Covid Specific health insurance plans as well.
Consumables coverThese include the PPE kits, oxygen cylinders, nebulisers, ventilators, masks, gloves, etc.
Cashless treatmentAt a critical time when saving one's life becomes important, thinking about paying the bill and running around to complete the formalities may seem like a daunting task. This is why the cashless treatment facility proves to be highly beneficial.
Ambulance coverSimilarly, getting to the hospital in a fragile state can be difficult, as well as hazardous as you may spread the virus on the way. This is why travelling in a covid ambulance is important. The health insurance plans offer an ambulance cover too which allows you to safely and quickly reach the hospital.
These are the effective ways in which a health insurance plan helps if you or a family member gets affected by the Covid virus, including the newer variants. The covid specific health insurance plans have been extended till September 2022, according to the latest circular.
Questions you need to ask yourself:
A low sum insured might not be sufficient if multiple family members are hospitalised at the same time. Although preliminary reports say that Omicron is not extremely dangerous, pre-existing ailments can make conditions worse.
Is your existing health insurance coverage enough?
To avoid dents on your savings, review your sum insured. Your health insurance plan should have a sum insured sufficient enough to cover the costs of hospitalisation and after-effects or post-treatment complications also. It should be enough to meet all the demands of the treatment. If the sum insured in your existing plan is not enough, invest in an additional comprehensive cover to avoid paying out of your own pocket.Tip: Good health insurance coverage reduces the out-of-pocket expenses of individuals. The current out-of-pocket expenses of India is currently at 70%. (Source: New India Express)
Is your family floater plan enough?
We are aware that Covid-19 is an infectious disease that could lead to multiple people being hospitalised at the same time. So, if you have a family floater health insurance plan, you need to evaluate if the same is enough to provide adequate coverage to all.You can have a separate policy for elderly parents. In case your family floater has a low sum insured you can have a super top-up plan to cover the costs in case of simultaneous hospitalizations or prolonged complications.

Tip: You can choose to step up your health insurance coverage with a super top-up health insurance cover with the deductible as your base plan.

Does your plan have co-payment and sub-limits?If your existing plan has a co-payment, make sure it is the minimum otherwise upgrade even if you have to pay a higher premium. Similarly, if it has sub-limits, you can opt to port the same to plan without any sub-limits.

It is better to be prepared for a medical emergency than to deplete your savings for treatment purposes.

Do you need a Covid-specific plan?
These are plans specifically covering covid-19 treatment costs and pre and post-hospitalization costs. If your existing plan has a low sum insured, you can urgently purchase a covid specific plan for additional coverage as there is no waiting period and it covers you from day 1.Also, you can also invest in a covid-specific plan if you don't already have a health plan and you are at risk of getting a covid infection. There are two types of covid-specific plans:

Corona Kavach Plan:
It is a single premium indemnity plan covering both individuals and families for periods of 3.5 months, 6.5 months and 9.5 months. It covers homecare treatment costs, pre and post-hospitalization costs, and ambulance costs.
Corona Rakshak
It is a fixed benefit plan only for individuals and pays the lump-sum amount of the sum insured. It does not cover the costs of home care and hospitalisation of 72 hrs minimum is required to get a claim.
To sum it up, important things to keep in mind while buying a covid health insurance plan or upgrading your existing health plan are the sum insured, it should be enough to cover all your expenses, coverage of all pre and post-treatment costs for you and your family, quick and hassle-free claim settlement and a good network of hospitals to avail of cashless treatment.
Conclusion
Invest in a good health insurance plan and stay covered in a wholesome and well-rounded manner. The last two years have shown us just how unpredictable life can get. While no one can control the circumstances, you surely can stay prepared for the worst. Get a health insurance plan and stay covered against Omicron and all the other deadly covid variants that can cause havoc to your health and also to your finances. Thankfully, there are many good health insurance plans to choose from. Go online, compare, and find the best policy at the best price today!