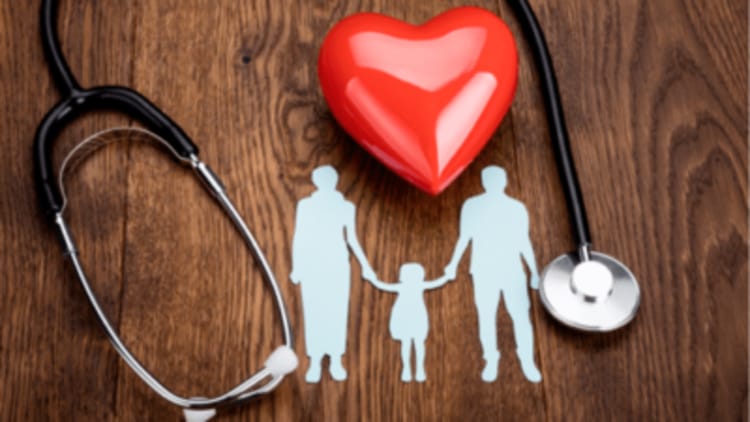 A health insurance policy has become a necessary requirement in today's times when medical costs have become too expensive to afford. The middle-class man finds himself in a financial crisis if a medical emergency strikes himself or his family members. Meeting the expensive medical costs puts a dent in his finances and a health insurance policy is needed to avoid this dent.
Given the need for health insurance, people are increasingly becoming aware of the importance of having health insurance coverage and are investing in a comprehensive policy to cover their medical emergencies. However, insurance is a technical concept and each health insurance company promises to offer something better in its health insurance plan compared to its competitors. This confuses a layman in choosing a comprehensive yet affordable health insurance plan for himself and his family. Keeping this dilemma in view, the Insurance Regulatory and Development Authority of India (IRDAI) proposed a standard health insurance plan to be offered by all insurance companies. Therefore, in accordance with IRDAI's proposal, the Arogya Sanjeevani health insurance policy was launched and currently, almost all insurance companies are offering the policy to individuals. Let's understand what this policy is all about and its features –
What is the Arogya Sanjeevani policy?
The Arogya Sanjeevani health insurance plan is a standardized health insurance plan which offers uniform coverage benefits and has the same features across all insurance companies. The policy is an indemnity oriented health insurance plan which covers the medical costs incurred when you are hospitalised. Though all insurance companies offer the same uniform features and coverage benefits under the Arogya Sanjeevani policy, the premium of the policy is not the same across insurers. The premium is determined by the insurance company according to its pricing policies.
Salient features of Arogya Sanjeevani
The Arogya Sanjeevani plan is the first-ever standardized health insurance plan which is being offered in the Indian health insurance market. Here are some of the salient features of the policy which you should know about –
The Arogya Sanjivani policy is issued for a tenure of one year after which you can renew it for continued coverage
The policy is offered both as an individual plan and a family floater plan
There is a no claim bonus offered by the policy if you don't make a claim in a policy year. The bonus is a 5% increase in the sum insured without any additional premium. This bonus is cumulative in nature and it continues increasing the sum insured for each subsequent claim-free year up to a maximum of 50% of the original sum insured.
There is a waiting period of 4 years for pre-existing illnesses, joint replacement surgeries and age-related osteoporosis and osteoarthritis. For other specified illnesses, the waiting period is 2 years.
The premium of the policy varies across insurers. It depends on your age, medical history, number of members covered and the sum insured chosen
No pre-entrance health check-ups are needed until 45 years of age
Eligibility criteria for Arogya Sanjivani
To be able to buy an Arogya Sanjeevani policy, the following eligibility criteria should be fulfilled –
Age criteria
Adults aged between 18 and 65 years can buy the plan

Dependent children aged between 3 months and 25 years can be covered under the family floater variant

Independent children aged 18 years and above cannot be covered under the family floater plan

Members covered
Individual plan – self

Family floater plan – self, spouse, dependent children, dependent parents, dependent parents-in-law

Sum insured
INR 1 lakh to INR 5 lakhs
Renewability
Lifelong renewability is allowed
Co-payment
5% of each and every claim amount
Coverage benefits of Arogya Sanjeevani plan
The Arogya Sanjeevani policy covers basic medical costs and also the costs incurred on new-age treatments in keeping with the development in medical science. The coverage benefits of the policy are as follows –
Pre and post hospitalisation expenses
Expenses incurred before being hospitalized are called pre-hospitalization expenses. Such expenses are covered for 30 days before hospitalization. Similarly, post hospitalization expenses are those which are incurred on recovery after you are discharged from the hospital. Such expenses are covered for up to 60 days after discharge.
Inpatient hospitalization
Inpatient hospitalization expenses are those expenses which are incurred when you are hospitalized for 24 hours or more. These expenses include room rent, nurse's fee, doctor's fee, surgeon's fee, blood, medicine, oxygen, etc. Such expenses are covered up to the sum insured. However, there is a sub-limit on room rent and ICU room rent. The limit on room rent is 2% of the sum insured subject to a maximum of INR 5,000 per day and for ICU room rent it is 5% of the sum insured subject to a maximum of INR 10,000 per day.
Ambulance expenses 
The charges incurred in hiring an ambulance to take you to the hospital are covered under the policy. The maximum coverage limit is INR 2,000 per instance of hospitalization.
Daycare treatments
Treatments which do not require 24-hour hospitalization due to advanced medical techniques are called daycare treatments. Such treatments are covered under the Arogya Sanjeevani plan for up to 50% of the sum insured.
AYUSH treatments
Non-allopathic treatments like Ayurveda, Unani, Homeopathy and Siddha are covered under the policy for up to a specified limit of the sum insured.
Dental treatments and plastic surgery
If due to an illness or injury, you are required to undergo dental treatments or plastic surgery, the cost of such treatments would be covered by the policy. Coverage would be allowed up to the sum insured of the plan.
Cataract treatment
Treatment for cataract would be covered for up to 25% of the sum insured subject to a maximum of INR 40,000 per eye.
New age treatments
To make the Arogya Sanjeevani policy suitable for the modern times, coverage for new-age treatments is extended under the scope of the plan. The coverage for such treatments is restricted to 50% of the sum insured. The treatments which fall under the category of new-age treatments and are covered by the plan include the following –
Uterine Artery Embolization and High intensity focused ultrasound (HIFU)
Balloon Sinuplasty
Deep Brain Stimulation
Immunotherapy
Oral Chemotherapy
Vaporization of The Prostate
Intra Operative Neuro Monitoring (IONM)
Intravitreal Injections
Stem cell therapy
Robotic surgeries
Stereotactic Radio Surgeries
Bronchial Thermoplasty
Exclusions under Arogya Sanjeevani
Although the scope of coverage of the Arogya Sanjeevani plan is quite extensive, the policy does have exclusions in which case claims are not paid. Common exclusions under the plan are as follows –
Diagnostic costs
Medical costs incurred due to activities which breached common law, participation in hazardous activities and due to substance abuse
Any type of cosmetic surgery or gender change treatments
Weight control treatments
Treatments for vision correction
Infertility treatments
Medical emergencies suffered due to war
Rehabilitation expenses
Maternity expenses
Expenses incurred on dietary supplements
Medical treatments taken outside India and the associated medical expenses
Sample premium rates of Arogya Sanjeevani
Though the premium rates of the Arogya Sanjeevani policy vary across insurers, the rates can be compared. Here are the sample rates of leading insurance companies for individual health insurance coverage taken by a 35-year-old man for a sum insured of INR 5 lakhs.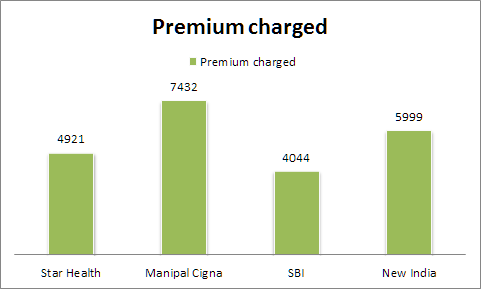 Name of the company 
| | |
| --- | --- |
| Name of the company  | Premium rate  |
| Star Health Insurance | INR 4921 |
| Manipal Cigna | INR 7432 |
| SBI General Insurance | INR 4044 |
| New India Assurance | INR 5999 |
Benefits of Arogya Sanjeevani
Arogya Sanjeevani health insurance policy offers the following benefits to policyholders and is therefore recommended –
If you are looking for an affordable yet comprehensive health insurance plan, you can opt for Arogya Sanjeevani and get yourself and your family members covered
The plan also covers new age modern treatments which might usually not be covered under other basic health insurance plans
Since the coverage features are standard, you can buy the policy online through any insurance company after comparing the premium rates charged
The premium paid for the Arogya Sanjeevani policy is eligible for deduction under Section 80D. The maximum deduction which you can claim is INR 25,000 which increases to INR 50,000 if you are a senior citizen.
The Arogya Sanjeevani health insurance plan is a basic and comprehensive health insurance policy which allows you coverage against medical expenses. If you are looking for affordable health insurance coverage which does not compromise on the coverage features, you can choose the policy and get yourself and your family members covered under the plan.