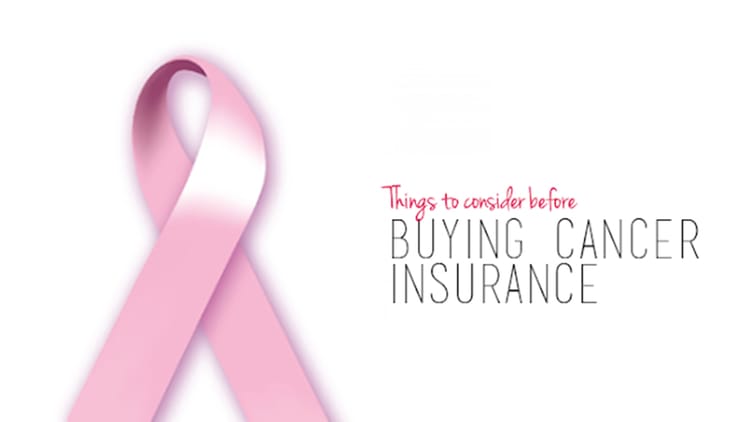 Cancer in India has become a dreaded illness and a very common occurrence. Though new treatments are being invented to fight cancer, the disease is becoming more rampant. In fact, as per the estimates suggested by the Indian Council of Medical Research (ICMR), there would be more than 17 lakhs cancer cases in India and more than 8.8 lakh deaths by the year 2020 (Source: https://www.dailypioneer.com/2018/india/over-17-lakh-new-cancer-cases-in-india-by-2020-icmr.html ).
Cancer not only wreaks physiological havocs, it puts a strain on your finances too. Cancer treatments are quite expensive which threaten to wipe out your savings in a single strike. That is why cancer insurance plans are a must. Cancer insurance plans cover cancer and pay a lump sum benefit if you are diagnosed with the illness. This benefit can be used for taking treatments or for fulfilling other financial obligations that you have. Premiums are low and so these plans are a boon in the face of cancer. However, before you think of buying cancer insurance, there are some important facts about the plan which you should know so that you can buy the best cover. Here's what these facts are –
Cancer insurance plans are fixed benefit plans. A lump sum benefit is paid on diagnosis of cancer. The benefit depends on the sum insured that you have selected and not the actual cost of treatments.
These plans cover cancer in all its stages. Whether you are diagnosed with a minor stage or major stage cancer, you would get coverage.
Companies selling cancer insurance
Cancer insurance plans are sold both by life insurance and health insurance companies. Life insurance companies offer a long term plan where coverage is for 5 years or more while health insurers offer plans with a term of one, two or three years. Life insurance companies pay a lump sum benefit on diagnosis of cancer. In case of plans by health insurers, there might be coverage for treatments and hospitalisation too besides the lump sum benefit paid on diagnosis.
Cancer insurance can be taken either as a rider or as a standalone plan. There are critical illness riders available with life and health insurance plans. Cancer is covered in almost all critical illness riders besides other illnesses. A standalone plan, on the contrary, covers only cancer. No other illness is covered under it. Standalone plans are a better choice as they offer a wider scope of coverage and cover all forms of cancer.
Since cancer insurance is a form of health insurance, the premiums you pay for the plan qualify for tax deduction under Section 80D up to INR 25, 000.
These are the main aspects of cancer insurance plans which you should know about. Moreover, there are some additional pointers too which should be kept in mind. These include the following –
Cancer insurance plans are suitable for all individuals. You should invest in a plan at a young age to get early coverage and also for the benefit of low premiums.

The sum insured of the plan should be sufficient enough to cover the high medical costs associated with cancer. Since premiums are low, you wouldn't have to worry about the affordability of the plan

Many of you believe that if you have life and health insurance plans, cancer insurance cover is not needed. This is a misconception. If you have a critical illness rider attached to your life and health insurance policies, you can give standalone cancer insurance plans a miss. However, if you don't have critical illness rider, buying a cancer cover is advised. Your health insurance plan or the rider coverage might not be enough. Having an additional coverage is better.
Though you cannot ensure protection against the incidence of cancer, you can definitely prepare to deal with the financial implication that the illness brings. Buy a cancer insurance plan and secure your finances.