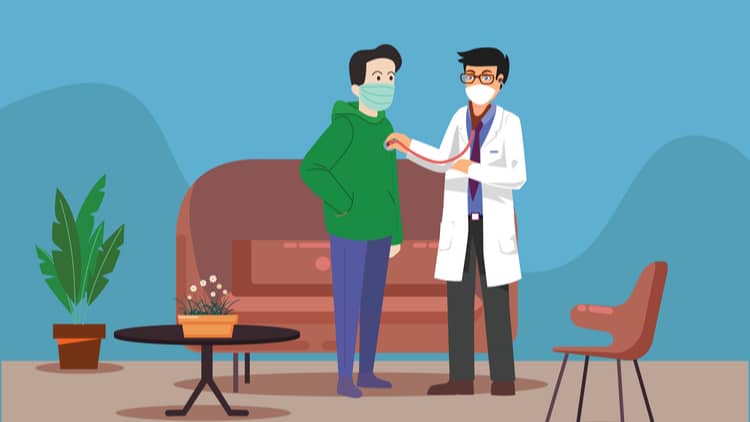 With over 4 lakh people being diagnosed with Covid every day, Indian healthcare is crumbling. Hospitals and healthcare clinics are sending desperate messages that they are running out of oxygen and other necessary resources, which is putting the lives of hundreds of patients at risk. With the crisis deepening hospitals and healthcare experts are advising people with mild symptoms to treat covid at home.
With the system unprepared for such a massive disaster, treating covid at home may help in subduing the havoc created by the second wave.
Important:
Senior citizens, people with a medical history, pregnant women, children, who are at a greater risk for becoming seriously unwell, must consult their doctor as soon as the symptoms start to show, as they may require hospitalisation. These symptoms are:
Fever
Shortness of Breath
Cough
Chills/ Shivering
Muscle Pain
Headache
Loss of taste/ and smell
Congestion/runny nose
Diarrhoea
Sore Throat
Nausea/ Vomiting
What are asymptomatic cases of Covid-19?
A patient who gets a laboratory confirmation of being Covid positive but does not experience any symptoms or does not have any oxygen saturation at room air over 94% is an asymptomatic patient.
Who Can be Treated at Home?
As per experts the patients who are asymptomatic, which means a person who is laboratory-confirmed covid infected but does not experience any symptoms can take treatment at home. Along with them, people with symptoms such as cough, fever, nausea, loss of taste and smell, muscle pain also fall in this group.
The Government of India Ministry of Health & Family Welfare, consider the following patients to be eligible for treatment at home:
A medical officer should ensure that the patient is clinically assigned as an asymptomatic or mild case
These patients should have the required resources at home that allows self-isolation and also for quarantine of other family members
A 24×7 caregiver should be present on a regular basis
The caregiver should be able to monitor the patient's health and be in touch with the hospital
Senior citizens and people with diabetes, hypertension, chronic liver/ lung disease must only be allowed self-isolation after an evaluation by a medical officer
It is recommended that HIV, Cancer patients, Transplant recipients do not undertake home isolation. However, it may be allowed after an evaluation by a medical officer
Hydroxychloroquine prophylaxis as prescribed by the treating medical officer should be taken by the caregiver as well as other members who are in contact with the patient
More guidelines are available at Ministry of Health & Family Welfare
How to Treat Covid at Home?
When you are treating coronavirus at home, you need to keep a healthy mental attitude. Dr Praveen Chandra, Medanta Hospital Gurugram said, "First of all understand, even if you have COVID – do not panic. Once you are diagnosed with COVID, do a lot of breathing exercises to keep your lungs healthy and take a lot of steam. You can do normal activities as well unless you have the warning signs like shortness of breath and low oxygen levels."
The following points must be kept in mind when treating yourself/ a patient for Covid at home:
Patient should be isolated from all other household members and pets
One room should be allotted where he/she should stay alone. The room should be well-lit, well ventilated
The patient must always wear a triple layer mask and discard it after 6-8 hours
Respiratory etiquettes must be followed at all times
Patient and the other members in the house should wash their hand with soap and water for 40 seconds
Symptomatic management of symptoms such as fever, cough, running nose etc must be followed
Make use of a pulse oximeter and thermometer every 4 hours to monitor the patient's health
Do not go out of the house, unless in an emergency to the hospital
You can take steam inhalation or do gargles with warm water
The patient must drink lots of fluids such as water, soups, coconut water, fresh fruit/ vegetable juice
The patient should take ample rest
The surfaces that are frequently touched must be disinfected frequently
Patients can indulge in light exercises and yoga
Allow cross ventilation in rooms, keep windows open
No sharing of utensils, drinks, bed sheets, towel and linen items must be done
If fever cannot be contained with the dose of Tab. Paracetamol 650mg, 4 times a day at an interval of 6 hours, the nearest doctor must be contacted
A Metered-dose of Inhalational Budesonide should be given if fever or cough goes beyond 5 days, best after consulting the doctor
You Must Not attempt to procure or administer Ramdev Shivir at home
Seek consultation immediately in case:

The oxygen saturation falls
Shortness of breath

Do not use an oxygen cylinder unless advised by the doctor
In case the symptoms persist for over 2 weeks or if the patient's condition deteriorates, consult the doctor at once
The medicines must not be stopped without consulting the physician
When Can Home Isolation be Discontinued?
When 10 days pass from the first days of experiencing the Covid symptoms, and the patient does not have a fever for the past 3 consecutive days. Once the home isolation period is over, there is no need for testing.
What Precautions should be taken by the Caregivers?
Along with the patient, it is imperative that the caregiver also follows all protocols carefully'
Mask

Wear a triple-layer mask. When in the same room with the patient wear an N95 mask
Do not touch the mask when using it
Change the mask immediately if it gets wet or dirty with secretions
Dispose-off the mask in a closed dustbin after use
Avoid touching your face, mouth and nose

Hygiene of the Hands

When you are in contact with an ill person make sure to wash your hands properly afterwards
Be regular in washing hands before and after cooking, before and after eating, after using the washroom, and whenever your hands look dirty
Wash your hands with enough soap and water for 40 seconds at least
Try using disposable paper towels. If you can't make sure to use clean towels to wipe your hands dry
Wash your hands after removing your gloves as well as your mask

When in Contact with the Patient

When in close contact with the patient make sure to avoid any direct contact with the body fluids of the patient, especially oral or respiratory secretions. Wear disposable gloves
Do not share utensils, drinks, bed sheets, towel and other linen items
The patient should be given food in his room. Wash the utensils separately using detergent and water. Wear gloves when washing
Wear a triple mask and use disposable gloves when cleaning or handling surfaces, items of clothing or linen
Remember hand hygiene

Disposal of Medical Waste

To prevent further expanse of the infection it is very important to dispose of the waste effectively.

You need to collect and store biomedical waste separately before you hand over the same to CBWTF
Use a dedicated collection dustbin labelled as "COVID-19 Waste" to store all the waste and keep it separately in a temporary storage room
For more info on Disposal of Covid-19 Medical Waste, visit Central Pollution Control Board.
When Should a Covid Patient be Admitted to a Hospital/ Healthcare Centre?
The patient's health must be monitored regularly and under a doctor's guidance. In case any of the following symptoms develop, you must seek medical guidance immediately:
Shortness of breath/ difficulty in breathing
When oxygen saturation dips (SpO2 < 94% on room air)
Pressure or pain in the chest that persists
Slurred speech
Inability to arouse or mental confusion
The CT Scan shows an increase in patching in the lungs
Pale or blue coloured skin, nail beds or lips
Conclusion
If you or some family member is covid positive and requires care at home, follow these guidelines and protect yourself as well as the ones around you. These guidelines should be followed when the patient may not be showing any symptoms or is a mild case. In case the symptoms persist for over 15 days or the patient experiences too much discomfort, consult a doctor as soon as possible.
Ref: