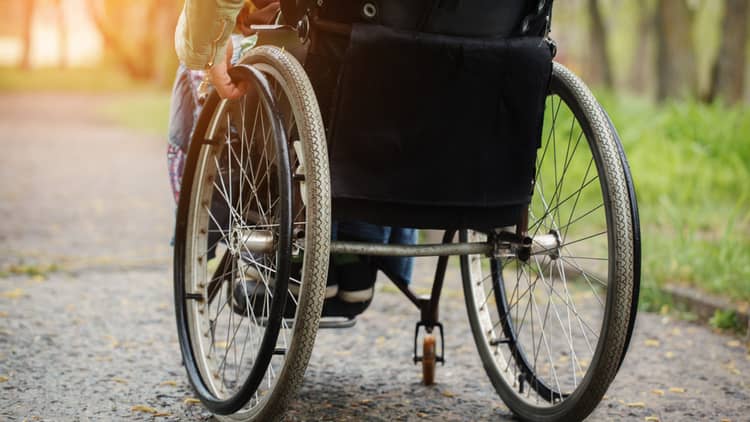 Chris Burke said, 'It's not our disabilities, it's our abilities that count'. A wonderful line that shows that being differently-abled is not a disability.
According to WHO's estimates, there are about 600 million individuals across the world who suffer from one or the other form of disability. In India, as per the last Census conducted in 2011(Updated in 2016), about 26.8 million people or 2.21% of the Indian population suffered one or the other form of disability. (Source:NHFDC).
Specially abled individuals might face different challenges in life. Health insurance is not one of them. With the latest developments in the health insurance segment and insurers offering more inclusive plans, there are different coverage options for the differently-abled. Before we explore the available options, let's, first, understand the different types of disabilities that individuals might suffer from.
Types of disabilities
Congenital disabilities

Congenital disabilities are those that persist in an individual from birth. Down's syndrome, spina bifida, and Fragile X syndrome are some examples.

Mental disabilities

Disabilities that pertain to the brain and psychological development of an individual are called mental disabilities. Some such disabilities might be present from birth while some might develop at a later stage in life. Mental impairments, bipolar disorder, etc. are some examples of mental disabilities.

Accidental disabilities

Accidental disabilities are those which occur due to an accidental injury. Loss of limbs, loss of eyesight, loss of hearing, etc. are some common examples. Accidental disabilities can be partial (loss of sight in one eye, loss of one hand or one foot, etc.) or total (loss of both eyes, both legs, both hands, etc.)
Health insurance options for the differently-abled
When it comes to health insurance schemes, there are two options that you can explore. These are as follows –
Health insurance schemes offered by the Government

The Government offers two distinct types of health insurance schemes for individuals suffering from disabilities. These schemes are as follows –

Nirmaya Health Insurance Scheme

This scheme covers individuals suffering from autism, cerebral palsy, and other disabilities covered under the National Trust Act, 1999. It is administered by the National Trust. The coverage is allowed up to Rs.1 lakh and does not require any pre-entrance health check-ups. The coverage benefits include the following –

Hospitalisation expenses
OPD treatments
Complications of an ongoing therapy
Alternative medicine cover
Transportation costs

The premiums are extremely affordable at Rs.250 for BPL (Below Poverty Line) families, Rs.500 for non-BPL families and free coverage for individuals enrolling with a legal guardian.

Swavlamban Health Insurance Scheme

The Swavlamban scheme was launched by the Ministry of Social Justice and the Department of Empowerment of Persons with Disabilities in association with the New India Assurance Company Limited. The scheme covers individuals suffering from loco-motor disabilities, blindness, low vision, mental retardation, etc. Some salient features of the scheme are as follows –

A flat premium of Rs.375 for coverage of Rs.2 lakhs on a family floater basis
The family floater plan covers one adult and up to 3 children any of whom can be differently-abled
The age limit is 0 to 65 years
Pre and post-hospitalisation expenses, OPD treatments, inpatient treatments, etc. are covered
No pre-entrance health check-ups are needed to buy the policy

Health insurance schemes offered by health insurance companies

Besides the Government-backed health insurance plans, differently-abled individuals can also buy a policy from independent health insurers operating in the market. Many insurance companies allow coverage for the differently-abled. However, when availing of coverage from health insurers, the following points should be kept in mind –

Not all insurance companies allow coverage for the differently-abled. You would have to find an insurer that specifically allows such coverage
Mental and congenital disabilities are usually excluded by most insurers allowing coverage for the disabled. However, many new-age insurers are extending coverage for such individuals, albeit with coverage restrictions on the disability
Even though you can get the policy, there might be permanent or temporary exclusions for the disability. Permanent exclusions mean that coverage would not be granted throughout the policy tenure. Temporary exclusions, however, might restrict coverage for a short term after which the coverage might be allowed
You would have to disclose the disability and its severity when buying the policy. Complete transparency is needed to avoid claim rejection
The premiums might be higher and the sum insured might be restricted
The issuance of the policy would depend on the severity of the disablement, the capacity to pay the premium and the insured's age
A disability certificate is an important document that is needed to avail of coverage
The bottom line
Given the increasing medical expenses, a health insurance policy becomes a must in today's age. So, even if you are differently-abled, ensure that you are covered under a suitable health insurance scheme, whether offered by the Government or by health insurers. Check out the companies that allow health insurance coverage for the differently-abled and then buy comprehensive coverage so that medical emergencies do not blow a hole in your pockets.