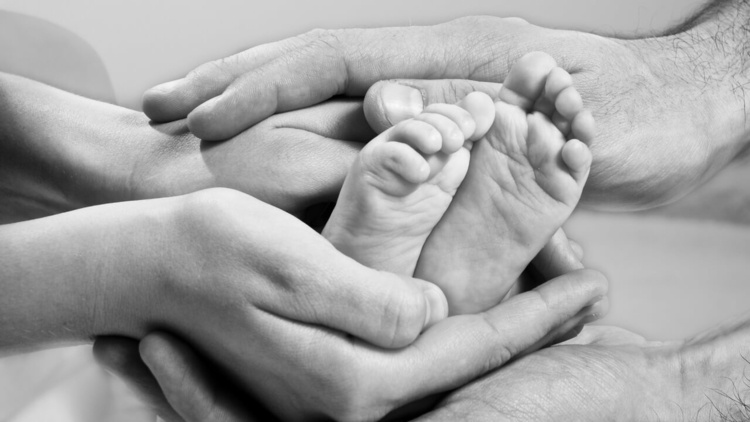 The healthcare costs in India are very high. And if you decide to start a family, there is no denying the fact that your expenses are about to double. Child birth is an expensive affair. To ease the burden many young couples are opting for health insurance plans with maternity benefit.
Occurrence of maternity in a person's life is almost certain. It is unlike any other unforeseen medical emergency. This is one cost which the insurance companies would surely have to pay for. Thus, when you add maternity benefit to your health plan your premium will be much higher.
For most of the employees, maternity cover is provided under the group insurance plan of their employers. However as mentioned there are certain exceptions and an individual may look at buying maternity insurance in the health plan.
As of now maternity benefit offered by various companies comes as an add-on in the comprehensive health plan.
Adding maternity benefit for such individuals in their health plan will depend upon various factors. These factors include age of the person, marital status, and number of deliveries covered (usually 2) and waiting period for the benefit to be claimed.
Having said that, let us look at the premium calculations of some the most popular insurance plans which offer maternity benefit.  Let us see the impact on the premium amount on the policy if you add maternity benefit. For example, let us consider the premium for a 30 year old woman with and without maternity cover for a sum assured of Rs. 5 lacs. This is with the assumption of  no group insurance.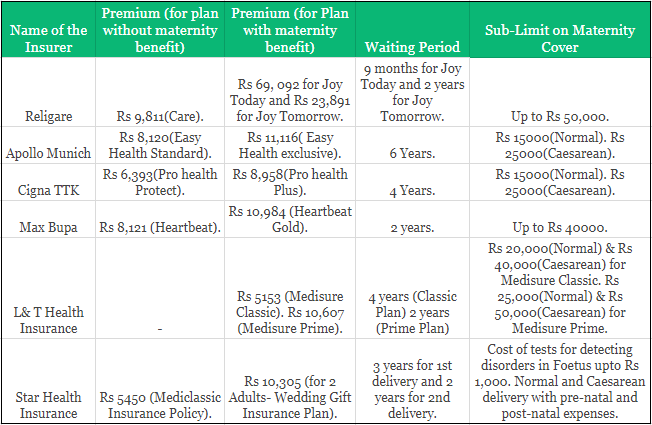 Now, if we look at the above calculations the premium difference with and without maternity benefit mostly increases for policies with lower waiting period. And that is the reason one really needs to be certain about the time horizon to evaluate the actual benefit of such a plan.
Here, if we look at the Apollo Munich plan the difference in premium is Rs 3,000 roughly per annum with a waiting period of 6 years. So, if you have a normal delivery after 6 years, you are effectively paying a premium more than the cover benefit. Even worse if you get pregnant before the completion of waiting period then this excess premium is just a wasted expense for you. However, this comparison is valid only till a sum assured of Rs 5,00,000. Because beyond that only the Exclusive and the Premium variant is available wherein the maternity benefit is built in!
The Religare Joy Today has the lowest waiting period in the industry. But this policy needs to be purchased for 3 years and the cap for maternity is only Rs 50,000. Thus all this must be very carefully evaluated before adding maternity benefit to the plan as the premium is too high.
The entire difference in premium is not solely attributed to maternity benefit as there are other criteria like room rent sub-limit and waiting period. However, on an average, if you add maternity benefit to your policy the cost can go up anywhere between Rs2,500 to Rs. 5,000 per annum.
However if you have recently gotten married and have 3 to 4 years to plan a family, you can look at L&T Medisure Classic , which has a waiting period of 4 years. This is a cost effective plan with loads of other benefits as well, other than only maternity.
Thus, when you wish to purchase a Health Insurance Policy, you need to opt for a comprehensive plan where maternity can also be a part of the plan. However, maternity benefit should not be the sole cause for selecting a particular health plan. A comprehensive plan should be taken by weighing the overall benefits and premiums accordingly. Also, opting for a family health plan reduces premium per person. So, what are you waiting for? Opt for the best health plan with the overall benefits for you and your family.
Read more Does it makes sense to by a maternity insurance benefit plan?
Read also An anatomy of an health insurance plan
Read more about Dejargonizing health insurance terms