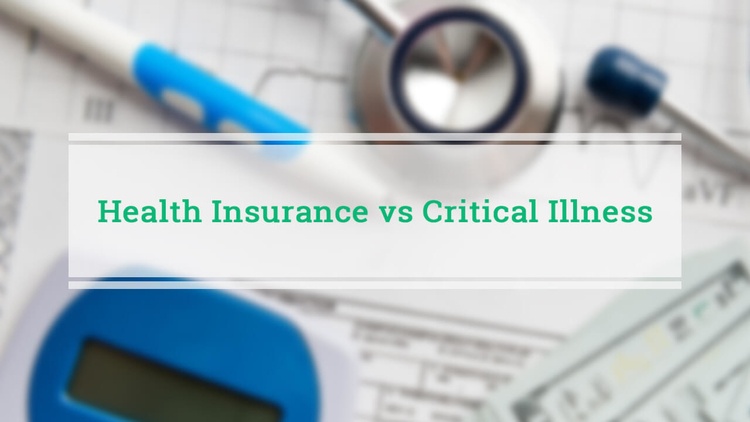 Last week I was reading the newspaper when an article caught my attention. Apparently, more and more Indians were becoming a victim to various types of non-communicable diseases. Hypertension, diabetes, pulmonary disorders, cancers of different organs, etc. were becoming alarmingly common according to the article. While the article highlighted the burden of diseases on the Indian population, another thought ran parallel in my mind – medical inflation. The cost of medicine is touching the roof and given the increasing probability of illnesses, a financial crisis is evident. A health insurance plan becomes important to combat this financial crisis. Moreover, there are critical illness plans too which prove beneficial in major illnesses. But, most of us consider health plans and critical illness plans same and interchangeable. Are they?
They are not and if you have any doubt, here is a brief understanding of a health insurance plan and a critical illness plan along with the differences between the two. Read on:
Health insurance plans
Health insurance plans offer an exhaustive scope of coverage. Some common expenses covered in all health plans include in-patient hospitalization, pre and post hospitalization, day care treatments, ambulance costs, organ donor expenses, etc. A health plan is designed to cover all expenses related to a medical emergency which requires hospitalization.
Critical illness plans
Critical illness plans provide coverage for a specified list of illnesses mentioned in the policy contract. If you get diagnosed with any illness covered by the plan a lump sum benefit is paid which is equal to the Sum Insured selected.
Difference between health insurance and critical illness plans
Though a critical illness plan is a type of health insurance plan, it has major differences when compared to a health insurance plan. Let's understand the differences:
A health insurance plan has a list of coverage features. It covers all your medical expenses right from being transported to the hospitalization through an ambulance, to being treated and recuperating at home after being discharged. Moreover, coverage for AYUSH treatments, domiciliary hospitalization, restoration of Sum Assured, maternity expenses, etc. is also provided by various plans. These coverage features are absent in a critical illness plan. The plan only covers specified illnesses and nothing more.
Health insurance plans allow a higher coverage amount compared to critical illness plans. There are health plans where the allowed Sum Insured goes as high as Rs.5-6 crores. However, critical illness plans do not have such high coverage. Under critical illness plans, the maximum Sum Insured levels range between Rs.10 lakhs and Rs.25 lakhs.
Health insurance plans are indemnity plans which pay the actual cost of hospitalization. In case of a claim, you have to submit your medical records and all relevant bills. The insurance company then pays the costs incurred subject to a maximum of the Sum Insured. Critical Illness Plans, on the contrary, are fixed benefit plans. These plans pay the Sum Insured if you are diagnosed with any covered illness. The benefit payout doesn't depend on the actual expenses incurred. The money received from a critical illness plan can be used to meet any expenses whether you want to pay off your liabilities or receive the best treatment. However, the claim received under a health plan is solely for the medical costs incurred and cannot be used for any other purposes.
Since health insurance plans offer a more exhaustive coverage, the premiums they charge are, naturally, higher. Critical illness plans, on the other hand, are cheaper than health plans in terms of premiums.
Now you see how a critical illness plan and a health insurance plan are different from each other? So which one should you buy?
Read more about – Suffering from Hyper tension – Should I opt cardiac plan or regular health insurance
A health insurance plan is imperative given its coverage features. It provides an all-round coverage for your medical contingencies and is a must. A critical illness plan can be taken as an additional coverage option. It would give you an additional coverage against the financial crisis faced in case of a critical illness. However, a health plan cannot be substituted for a critical illness plan. It is a necessary cover and should be given first preference. Read more why choosing a right policy is essential.
Read also What is insurance and how does it works?
Read also An anatomy of an health insurance plan
Read more about Dejargonizing health insurance terms
Feel free to share your comments below