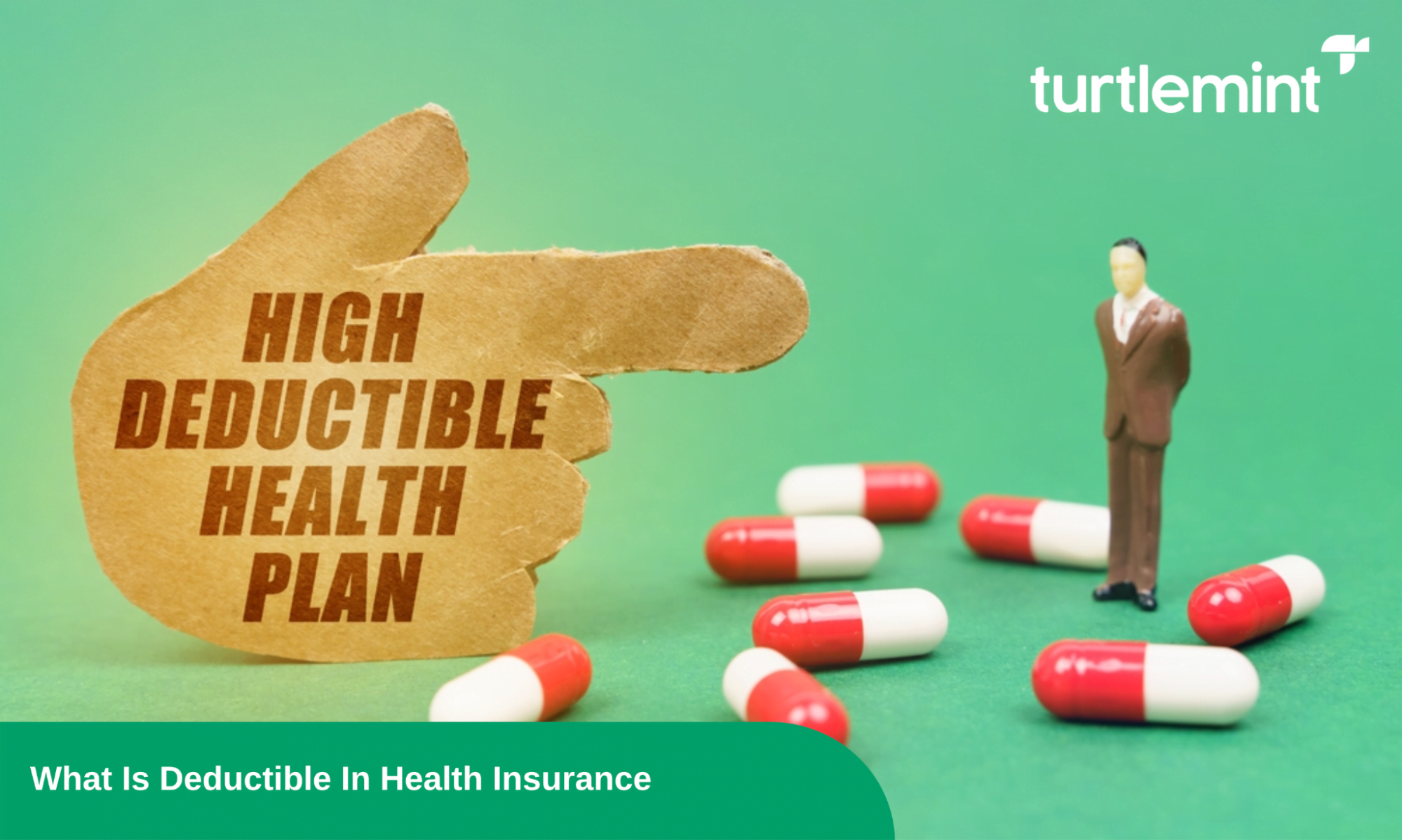 Introduction : Deductibles in health insurance policies
The long literature of "terms and conditions" that accompanies your health insurance policy papers, is often the most neglected aspect of the purchase. However, it can be rather consequential, and thus it is imperative that you know every component of a health insurance policy before you purchase one. Ignoring these aspects of health insurance could cause several complications while filing the claims.
Deductible health insurance is one of these terms that you can encounter when buying health insurance coverage. It's essential to know about the deductibles in health insurance. Read on to know more about the deductible amount in health insurance, medical billing, and much more!
What deductible means in health insurance?
It is the amount that is paid to your health insurance provider before it proceeds with your claim. This shows that once the claim amount surpasses the deductible level, the insurer is required to pay the claim amount. The primary benefit of a deductible is that it lowers premiums, as the larger the deductible amount, the lesser your premium would be.
Lets us see this example, Ravi Kumar has a health insurance plan with a sum insured of INR 4 lakhs, where the deductible is INR 50,000. After a motor accident Ravi was hospitalised for 4 days. The total bill was INR 3 lakhs. Now, Ravi will make a payment of INR 50,000 and the remaining INR 2.5 lakhs will be covered by his insurance company. Let's take a different situation, suppose Ravi Kumar is admitted to a hospital and his hospital bill is INR 35,000. In this case, because the claim is less than the deductible (INR 50,000), the entire bill is to be paid by Ravi and the insurance company will not pay anything.
Factors impacting the deductible amount in the health insurance policy
The following considerations can ‌determine the insurance deductible:
Any pre-existing medical issues, such as diabetes, asthma, etc., (before you get a health plan)
Your age, and your present health status
Any previous illnesses or concerns
Your current way of life and practices, such as smoking and drinking
Types of health insurance deductibles
Voluntary deductible

Here, the insurance deductible is optional. You, as the policyholder, can choose whether you want to pay the deductible or not. You also have the freedom to choose an amount that suits your budget. A higher deductible reduces the premium. This is more useful if you do not have a serious sickness running in the family that could require financial help.

Compulsory deductible

The insurance provider is in charge of this required deductible. It is a set sum that the policyholder is required to pay mandatorily while filing a claim. Even after the deductible, the premium amount will remain the same.

Comparative deductible

Comparative deductibles are only available for family health insurance plans. All family members, including the spouse, kids, parents, and mother and father, are covered under family floater policies.
Why should you opt for a health insurance deductible?
The benefits of a health insurance deductible are given below:
When you choose deductibles, it decreases the premium applied to your health insurance policy.
It discourages you from making small/ insignificant claims, which helps you earn a claim bonus (NCB). This can further be used to increase the coverage provided by your primary health plan.
It reduces the frequency of filing claims unnecessary, which keeps the insurance money intact which you can use later when in actual need.
Benefits of deductibles in health insurance
Disadvantages of deductibles in health insurance
Deductibles in medical billings can surely help lower the cost of health insurance premiums. However, they also have some drawbacks. Keep these in mind when you opt for a deductible:
If your filed claim is less than your deductible amount, then you will have to bear the medical billing and more charges.
While filing the claim, if it is larger than the deductible amount then you will have to bear the cost and pay out of your pocket.
Deductible and copay in health insurance
Every time you use medical care services and file a claim with the insurance provider, you pay a fixed amount in the form of a co-payment. The insured/policyholder agrees to pay a part of the claim amount, which can either be a fixed amount or a set percentage. Co-payment is a scheme applied by insurance providers to reduce the financial burden and also avoid the unnecessary filing of frequent claims.
How to choose a health insurance deductible?
Even though you might think that picking a higher deductible results in a reduced premium, doing so might not be a good idea, especially when purchasing health insurance. In the event of a medical emergency, health insurance provides financial protection. As a result, before selecting the ‌coverage, you must make an informed decision. You might choose a higher deductible if you can pay more out of pocket while increasing the claim. However, even if you must pay a higher premium, choose a lower deductible if you want your insurance to pay for most of your medical costs.
Conclusion
A health insurance deductible is frequently viewed as a drawback of your health insurance policy, but it has several advantages. Thus, this clause should not be a concern. You must, however, pay attention to the deductible type and determine whether it serves your needs. After carefully assessing your insurance requirements, anticipated medical costs, and affordability, decide on the deductible's size and kind.
FAQs
What happens if I don't reach the deductible amount?

The insurance provider will withhold payment of the claim amount until you have reached the deductible sum specified in the health insurance policy. Following the payment of the deductible, the insurer will cover the remaining costs if the medical bill is greater than the deductible.

Is having a low deductible for health insurance a good thing?

Customers who expect frequent medical treatment owing to a protracted sickness or who believe they may not ‌ cover the whole cost of the treatment may benefit from a health insurance policy with a low deductible.

Can deductible amounts vary for different health plans?

Yes, the deductible amount can vary from insurer to insurer. It also depends on some other factors such as age and medical condition of the insured.
DISCLAIMER
This article is issued in the general public interest and is for educational purposes only. The blogs should not be used as a substitute for competent expert advice from a licensed professional to best suit your needs. Insurance is a subject matter of solicitation. For more details on policy terms, conditions, exclusions, limitations, please refer/read policy brochure before concluding sale.