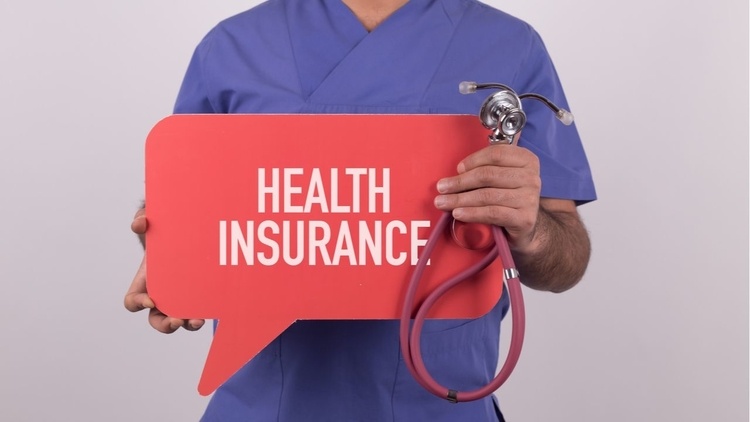 A health insurance plan has become the quintessential part of every individual's financial portfolio. It pays for the medical bills which threaten to wipe out your savings. Given the fact that illnesses have become very common and their treatment entails a very high expense, every individual secures his finances through a health insurance plan.
While a health insurance plan is important and is increasingly becoming popular, do you know how you can buy a plan easily?
The answer is simple – through the online medium. Yes, the online medium allows you to buy a health insurance plan easily and that too from the comfort of your own home or office. No more running around agents or visiting the branches of insurance companies, you can find a plan right at your fingertips. Turtlemint is one such online platform which gives you access to various types of health insurance plans. You can provide your details and get tailor-made health plans which suit your need. If you have queries, Turtlemint provides you the help of its executives in solving them. Even at the time of claim, Turtlemint promises you assistance through its claim management department. So, buying a health insurance plan from Turtlemint is one of the best and the easiest ways of getting yourself insured under a health plan. Here is the 4-point process of buying insurance through Turtlemint –
Though the 4-point step is the easiest way of buying health insurance, here is a detailed step-by-step guide for beginners and those of you who are slightly hesitant –
Actually, the health insurance buying process on Turtlemint is quite easy. If you need help, here is how you can buy a policy through Turtlemint's website –
Go the company's website at

www.turtlemint.com

You would land on the home page of the website –
3.On the home page, select 'Health' to be redirected to a new page.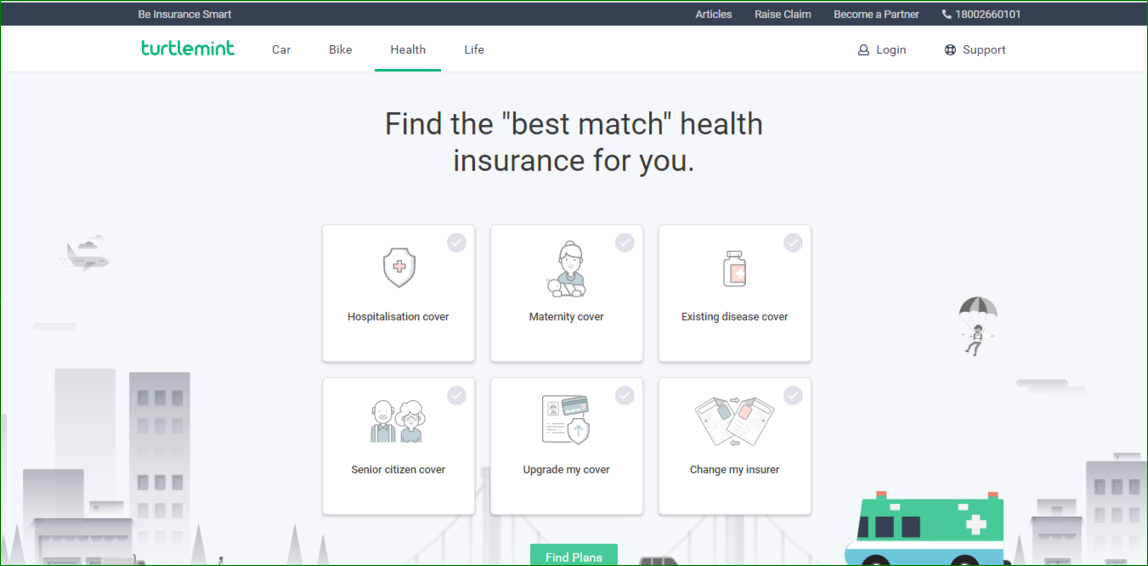 4. When you click 'Find Plans', your health insurance buying process would start. You would have to provide your details to create a health profile.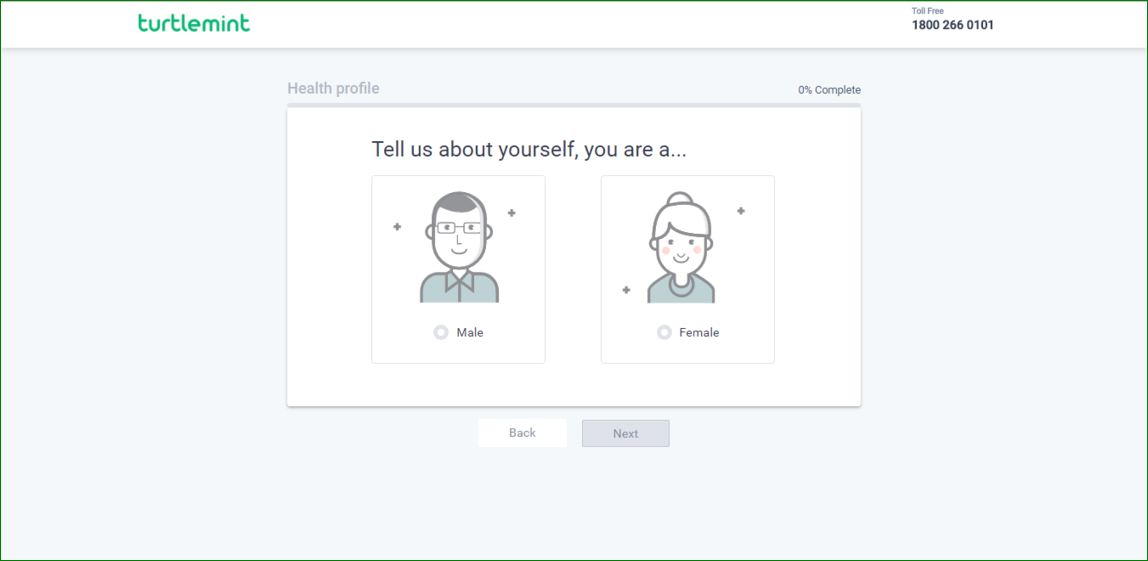 5. When you enter all your details, a new page pops up which requires your name, mobile number and email id. These details are required for sharing the quotes via SMS and email. You can either provide your details or skip this step to view the plans and their premium rates.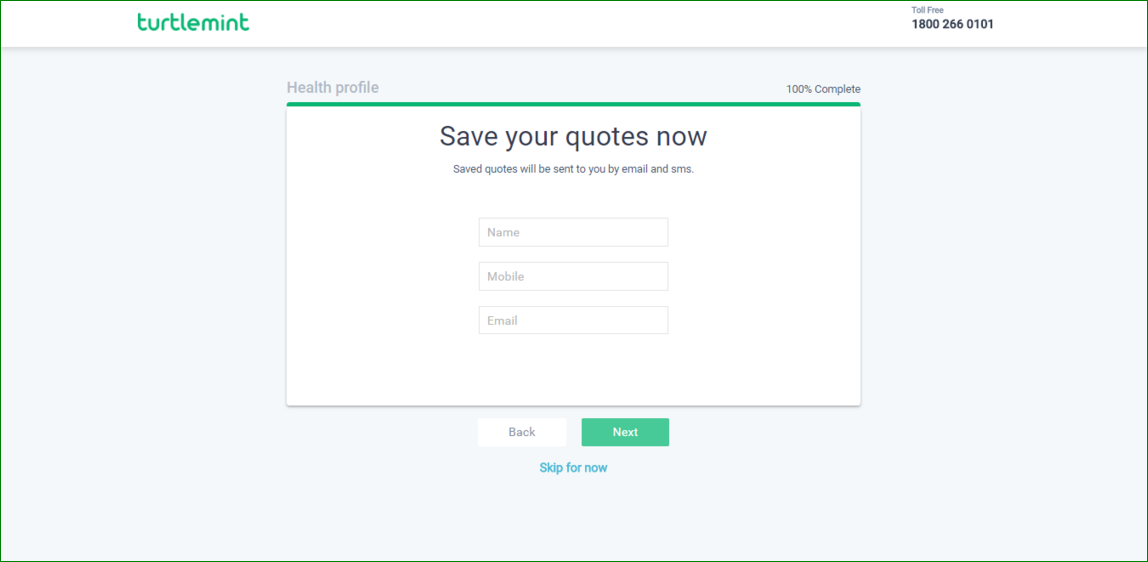 6. After you enter 'Skip' or provide the details and hit 'Next', you would be directed to a new page which would show you the available plans with their details and premium rates.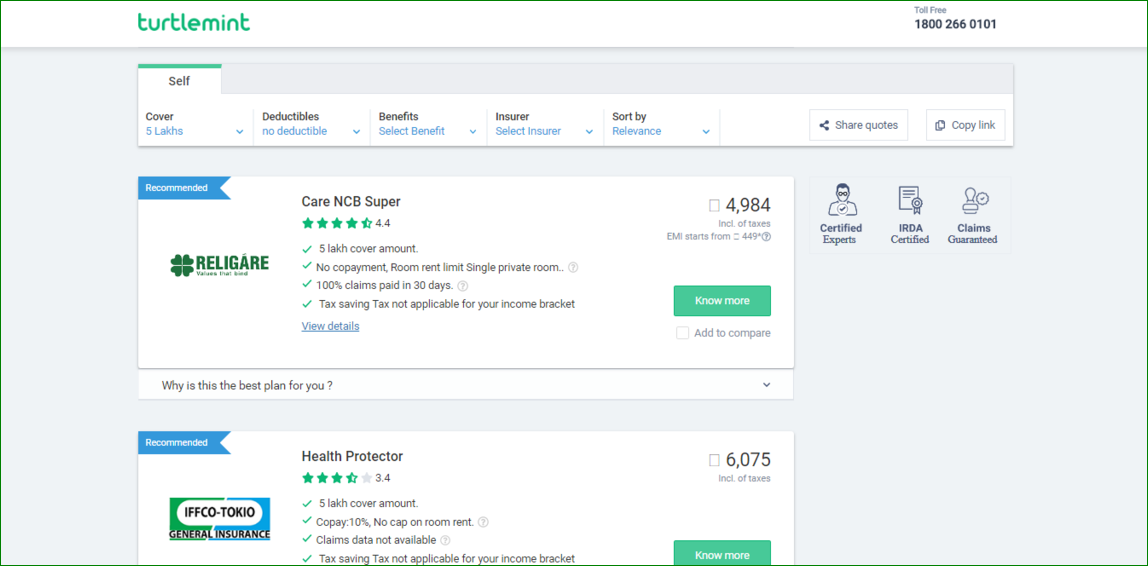 7. When you see the plans, you can choose to 'Compare Plans' available in the left-hand side tab. Under this feature, the plans would be displayed side-by-side for you to make a comparative analysis.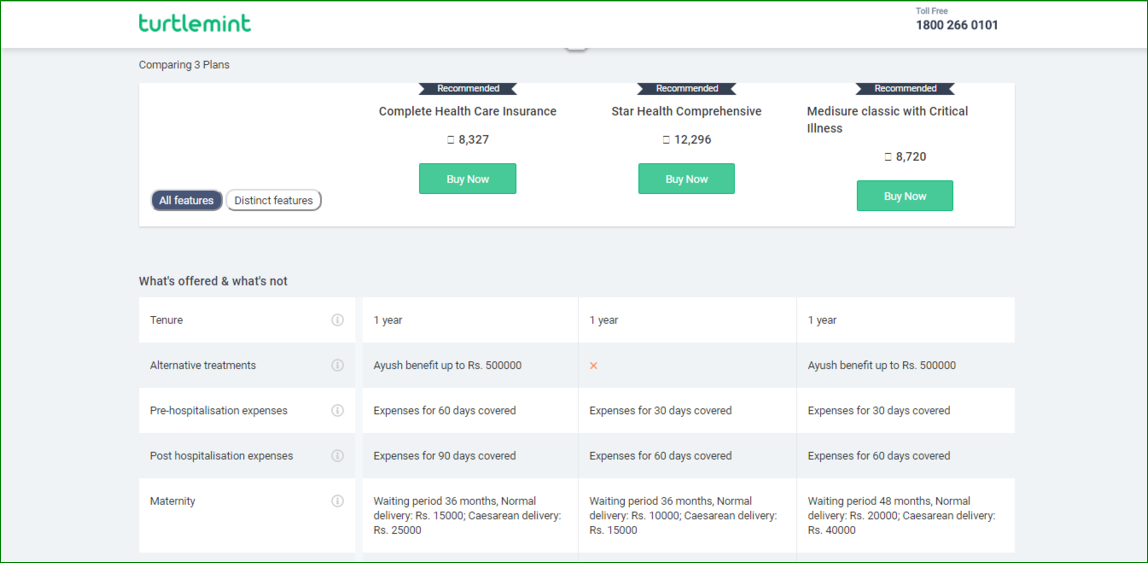 8. When you choose the plan you want to buy, click on the yellow tab which states 'Buy' and the premium amount. When you hit 'Buy', you would be taken to a new page wherein the details of the proposer are to be entered.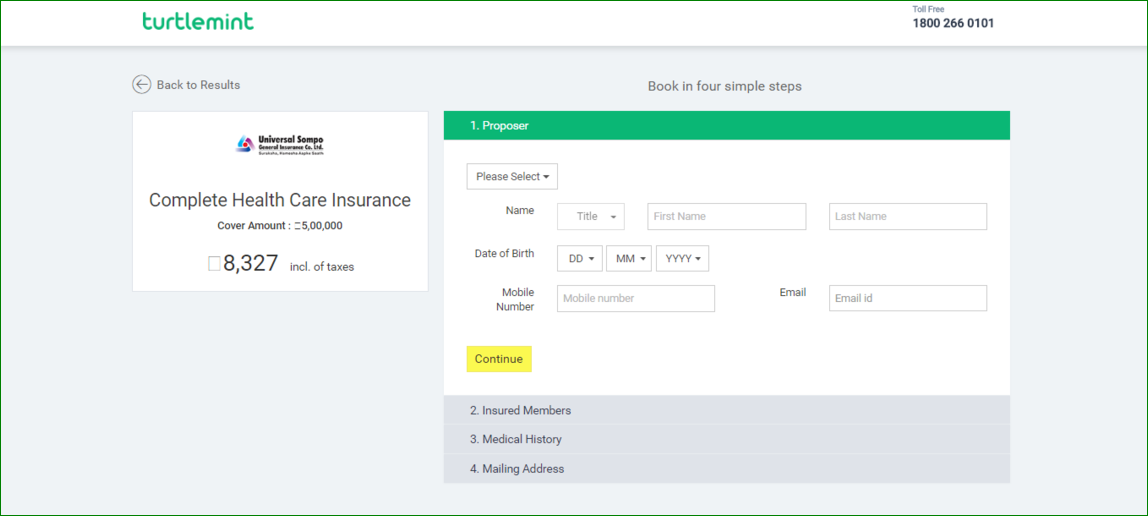 9. After providing the relevant details hit 'Continue' to provide the details of the insured members.
10. After the insured member's details are provided, medical history would be required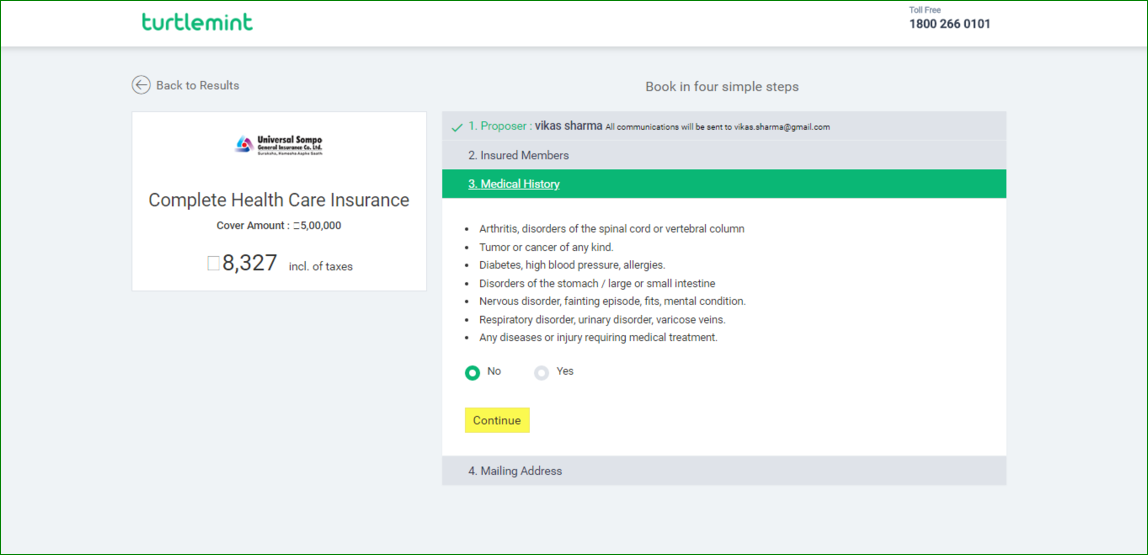 11. After providing the medical history, you have to furnish your address for all communication purposes.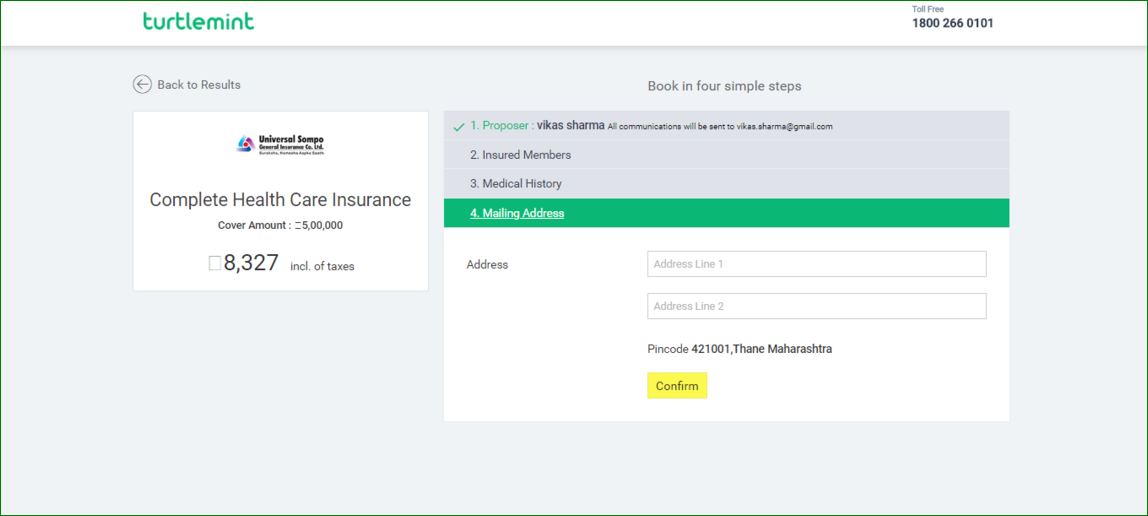 12. Once the address is confirmed by you, you can review the plan you have selected. You would see two options – Buy Online and Assisted Buying. Buying online is easy and can be done in easy steps. If you choose Assisted Buying, Turtlemint's executive would get in touch with you and help you buy the plan.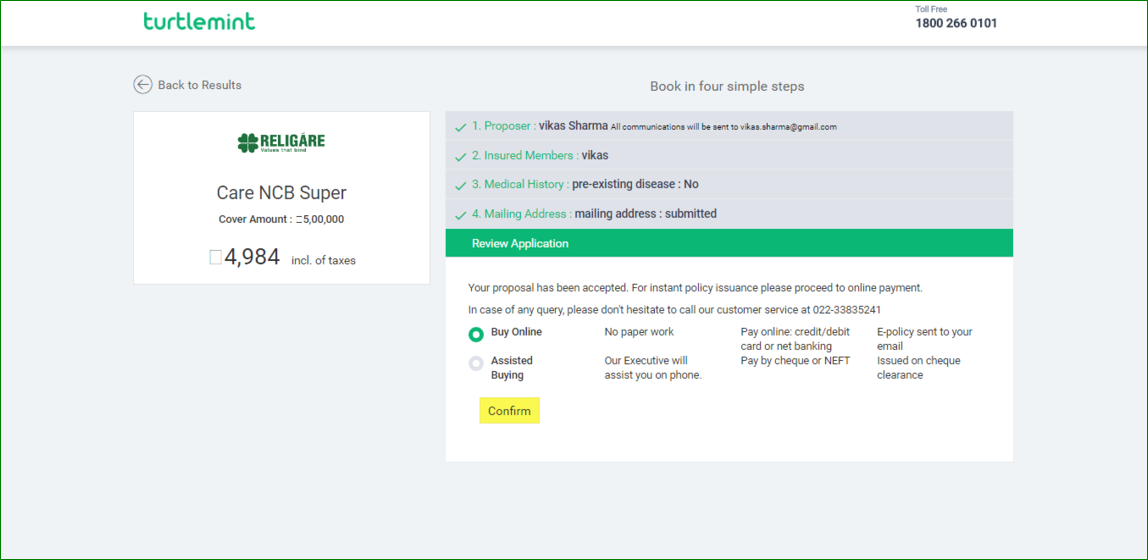 13. When you choose 'Buy Online', you would be taken to the payment page of the insurance company. You can choose to pay the premium online through any of the available modes and the policy would be issued.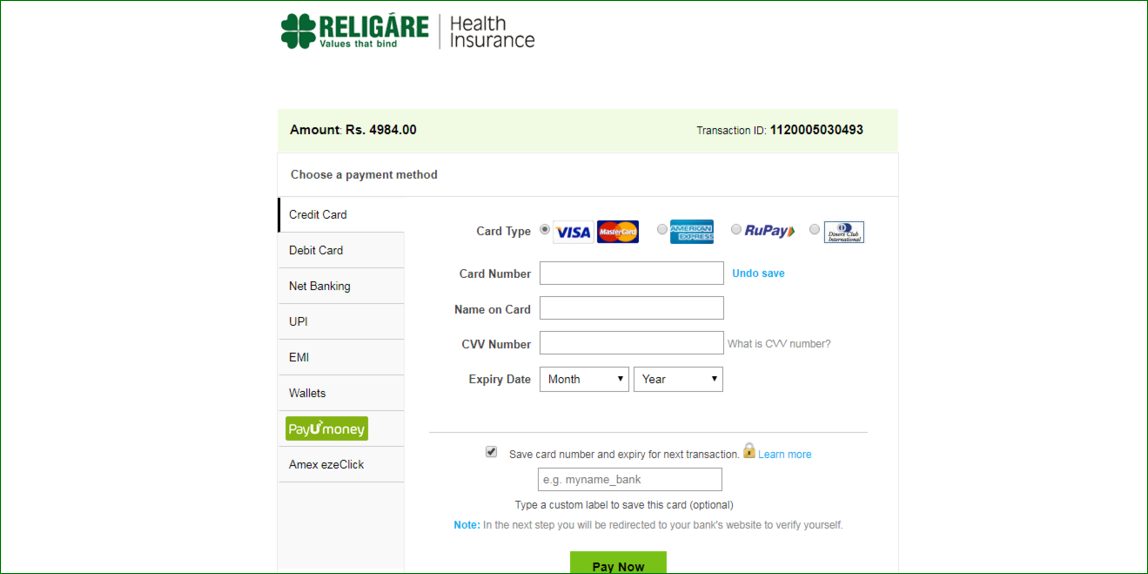 Payment done and policy sent to your mail id as well as your address. Wasn't the process simple?
[xyz-ihs snippet="health-insurance-best-plan"]
It is. Turtlemint allows you to buy a health insurance plan simply after comparison. One-on-one assistance is also given if you face any problems or have queries. So, choose Turtlemint's buying process and buy a health insurance plan today.
Read more about Dejargonzing health insurance terms
Read more about How to choose an health insurance plan
Read more about An anatomy of health insurance plan