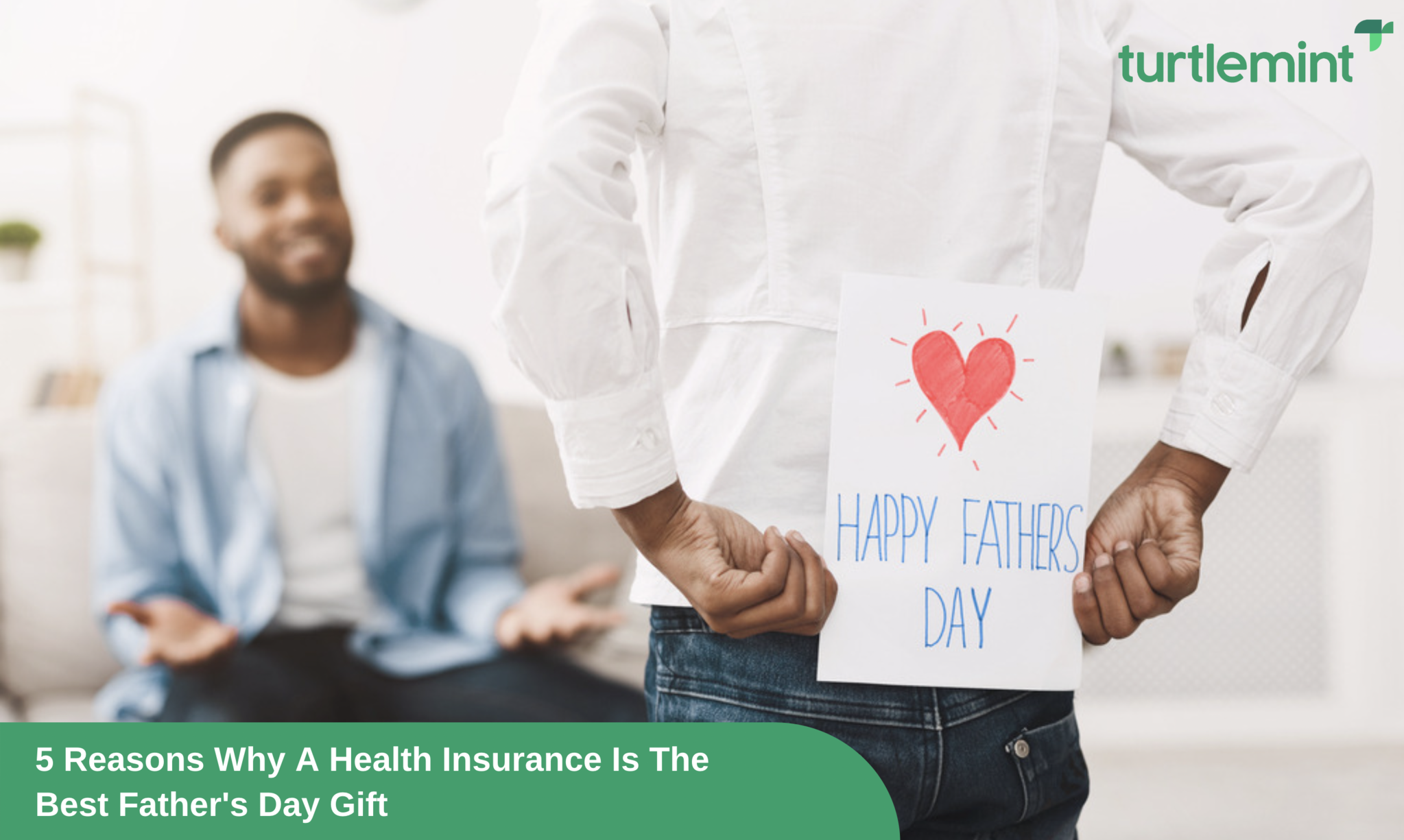 Fathers have always been the silent pillars of the family, protecting and fighting against all odds to support us. In fact, his endeavour has always been to safeguard the interests of the family much before his own. Now, with Father's Day round the corner on 19th June 2022, most of you must be wondering what is the best Father's Day gift to show your love.
There are many traditional gifting ideas including chocolates, flowers, greeting cards, and personalized items; but how to make this year unique? Why not try and safeguard your father's retired life so that his health can be protected just the same way as he has been protecting your life forever?
The simple solution to this could be gifting a Health Insurance Plan to your dad this year which could be utilised by him forever. In fact, this could be your best Father's Day gift to your dad, ever! Don't just take our word for it. Here are five reasons that show why health insurance proves useful and fits the bill –
1. It offers a wide scope of coverage
Health insurance plans offer a wide scope of coverage against possible medical expenses. They cover hospitalisation costs, pre and post-hospitalisation costs, ambulance expenses, daycare treatments, organ donor treatments, and the like.
Thus, in the case of a medical emergency, the health insurance plan would cover most of your father's medical bills. This would help him avail of quality medical treatments without worrying about their costs.
2. It would cover both existing and potential illnesses
In their middle age, parents tend to develop various lifestyle illnesses like diabetes, hypertension, etc. These ailments can cause further medical complications for which health insurance coverage becomes important. Health insurance plans cover these existing ailments after a waiting period and provide an inclusive scope of protection.
Furthermore, health plans also cover unexpected illnesses or injuries giving your father the security of affordable healthcare in unforeseen situations too.
3. The plan offers lifelong renewals
One of the best parts about health insurance is lifelong renewability. Your father can enjoy coverage even in his golden years when illnesses become all the more common and frequent. All he has to do is renew his policy timely and the coverage would continue, uninterrupted, for as long as your father lives providing him with a comprehensive scope of protection.
4. It has tax benefits
When talking about health insurance how can one forget the tax benefits?
Health insurance plans prove tax-saving in nature. If your father pays the premium for his health insurance plan, he can enjoy a tax deduction of up to Rs.25,000 (Rs.50,000 if he is aged 61 years or above). This deduction can help him save a tax of up to Rs.7500 (Rs.15,000 if he is a senior citizen) if he falls in the 30% tax bracket.
Alternatively, if you pay the premium, you can claim this deduction over and above the deduction that you can claim for the health insurance plan for your family. In this case, thus, you can give your father comprehensive coverage and also save your tax in the process. A win-win!
5. It gives your father financial security
Lastly and most importantly, health insurance gives your father financial security in the face of a medical emergency. It is no secret that medical costs are increasing day by day. In such cases, a medical emergency might put an immense strain on your father's finances. By taking care of the medical bills, health insurance can alleviate this strain and give your father the financial security that he needs.
So, go a little unconventional this Father's Day and choose a gift that would actually make a difference to your father. Opt for a health insurance plan and gift him financial security against unforeseen medical emergencies.
Some tips to buy the right health insurance coverage for your father are as follows –
Opt for a sufficient sum insured so that most of the medical costs get covered
If your father has a pre-existing condition, choose a policy with a lower waiting period
Opt for a comprehensive scope of coverage complete with sum insured restoration, annual health check-ups, OPD cover, etc. so that your father can enjoy a 360-degree protection
Nudge your father to renew the coverage for lifelong protection
Compare and pick the right health plan for your father who has always been the knight in the shining armour and make this Father's Day the best one.
Disclamer
This article is issued in the general public interest and is for educational purposes only. The blogs should not be used as a substitute for competent expert advice from a licensed professional to best suit your needs.