Aadhaar has developed into a recognized and valid proof of ID and address acknowledged across the country and many service providers. Once you enrol yourself for Aadhaar, service providers will not face any problem of execution of Know Your Customer or KYC repeatedly before providing any services. They will not disagree to provide services to residents, who are without any identification documents. Residents would also be now getting rid of the hassle of constantly proving identity through documents every time they want to access any services like opening a bank account, getting a passport, or driving license, etc and many more. More importantly, you can easily get government subsidies and other benefits as well if you have an aadhaar. Let us see what is an aadhaar.
What is an Aadhaar Card?
Aadhaar Card is a 12-digit unique numeric identification issued to Indian citizens by the Unique Identification Authority of India or UIDAI. The uniqueness of this card is that it encompasses your demographic and biometric information and is used for all necessary authentication purposes. The government has taken this initiative of issuing the Aadhaar card free of cost for everyone and also applying for aadhaar is voluntary and not a rule as of now.
With the growing importance of aadhaar day by day, it is our responsibility to give correct details as required during aadhaar enrolment. These details are very crucial as these will not only be authenticated when you apply for Aadhaar but also will get stored in the government-owned central database. It may happen that you see that some details in your aadhaar are incorrectly captured, and therefore require a correction or an update, etc, UIDAI has provided the facility of doing such aadhaar card update wherein you will be allowed to change or update your aadhaar details. UIDAI has both the online as well as offline facilities to make corrections or updates in your Aadhaar. Changes in life events like marriage, death, etc. may result in changing your basic demographic details like your name and address. You may also need to change your address as well as mobile number due to moving to a new location or you may have personal reasons also to change your mobile number, email address, etc.
You are allowed to correct any error or update any of your data in your Aadhaar by filling up the Aadhaar card update/ correction form. No need for you to incur any expense for doing this if you are doing any update or change within 96 hours or 4 days from the enrolment date. But, after 4 days, you need to pay a minimal charge of INR 50 for any update or change request.
Here we will take you through the process of aadhaar card name change in detail.
Aadhaar card name change-online
Aadhaar card name change can be done in two ways – online and offline. Aadhaar card name change online is the most beneficial and convenient mode as it offers a hassle-free process to update your demographical data without having to visit any Permanent Aadhaar Centre PEC or Aadhaar Kendra Service. You can enter the relevant details and upload the relevant documents for updation of demographics data such as name, date of birth, address, and language on the official website of Unique Identification Authority of India (UIDAI) by following the easy process.
Here are the simple steps to follow for updation of name in the Aadhaar Card online:
Step 1: Visit the official website of the Unique Identification Authority of India.
Step 2: Click on the ''Update Demographics Data Online'' option listed under the ''Update Your Aadhaar'' section of the ''My Aadhaar'' tab.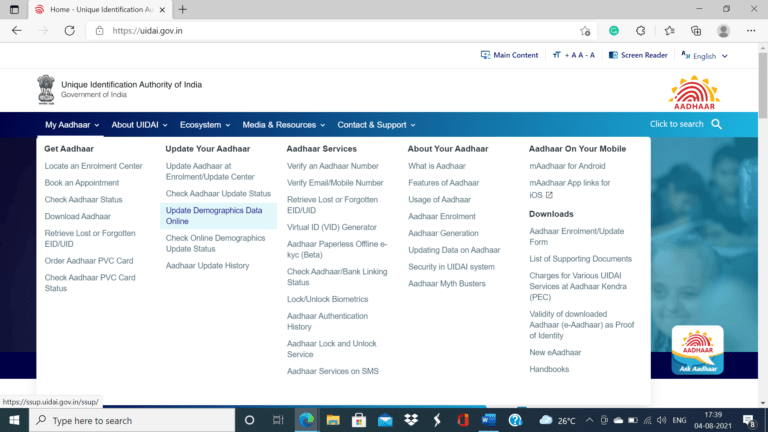 Step 3: As the new tab opens, click on the ''Proceed to Update Aadhaar'' option.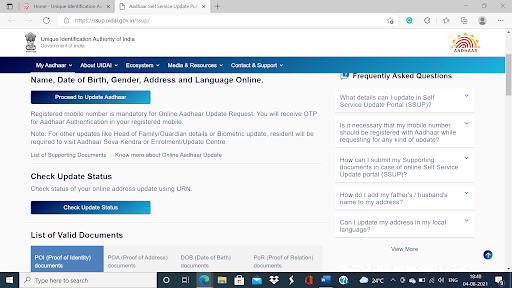 Step 4: You need to enter your 12-digit Aadhaar number and captcha code for verification. After entering the valid credentials, click on the ''Send OTP'' button.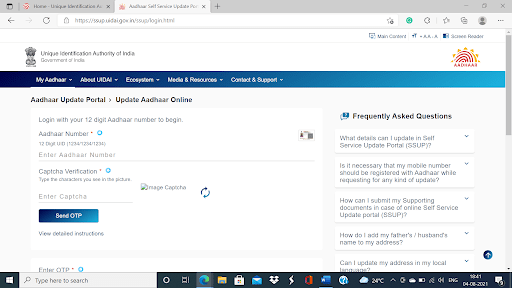 Step 5: Six-digit OTP will be sent to your registered mobile number. Once you enter the OTP, you are allowed to update your demographics data online.
Step 6: Make the relevant changes in the ''Name'' section and click on ''Proceed'' to submit the data. Similarly, you can update your date of birth, address, or language using this option.
Step 7: In the next step, you are required to upload the relevant supportive documents/valid identity proofs related to the name update. Do remember to follow the instruction on file size, file type and ensure to upload both sides of the document.
Step 8: Upon submitting the data and the documents, you are redirected to make the payment for the update of your name.
Step 9: Once the payment is successful, an update request number or URN will be generated. Acknowledgement copy can be downloaded for reference.
Aadhaar card name change-offline:
You can do an aadhaar card name change by visiting the Permanent Enrolment centre or ASK as well. You may search for the nearest enrolment centre by visiting the UIDAI website link- https://appointments.uidai.gov.in/easearch.aspx?AspxAutoDetectCookieSupport=1. You can download the Aadhaar Enrolment/Update Form the official website of UIDAI and Follow the below steps for doing an aadhaar card name change offline.
Step 1: Fill the Aadhaar Enrolment/Correction Form cautiously
Step 2: Mention your name properly and accurately in the form
Step 3: Submit the form with the appropriate Proof of Identity -PoI
Step 4: The Aadhaar officer will register your aadhaar card correction request
Step 5: You will get an acknowledgement receipt for the update request
Step 6: You need to pay INR 50 to avail this facility
Under this method, you can do an aadhaar card name change easily. In this situation, the evidence is gathered by the officer during the time of receiving the request. UIDAI presently has planned three modes for Supported Updates:
Update Client Standard or UCS
Fields: All biometric and demographic fields with local language may be updated
Identity Authentication: Back-end Biometric check
Document Verification
Verification for fields needing documentary proof
Authentication is completed by the verifier, appointed by the UIDAI or the Registrars present at the Enrolment or the Update Centre
Verification procedure followed in line with DDSVP Committee Recommendations
Form Filling and Acknowledgement
Done by an officer, responsible for handling language issues, spelling, translation, etc on update client as requested by you as the resident. The officer will give biometric sign off for each update request. You will get an acknowledgement stating the Update Request Number -URN with which you can track your request. This whole process can be shown in the below figure for your better understanding:

2. Update Client Lite or UCL

Fields: All demographic fields with Photo with local language may be updated

Identity Authentication: Biometric Confirmation of the resident

Document Verification: Similar as mentioned under UCS as above

Form Filling and Acknowledgement: Similar as mentioned under UCS as above
3. Update through AUA-Authentication User Agency Point of Presence
Used by a particular Registrar who will be acting as AUA's to whom UIDAI may provide an application for all updates. The Registrars are known to collect or create or own the exact demographic field and is a custodian of all data.
Fields: Demographic fields
Identity Authentication: Your biometric authentication on the AUA device; UIDAI may select to use more authentication aspects if essential.
Document Verification: UIDAI will agree to take the request for the update, based on the Registrar's confirmation process and your authentication as a resident.
Turnaround time for Aadhar Card Name Correction
The turnaround time for any update in details in your adhaar card is 90 days. In case of name correction, you can update it online or from your local Aadhaar service centre. The name in the adhaar card can be updated only twice, not more than that. The submitted update details are first verified by the UIDAI officer. The changes can be seen online after 90 days. You can download the soft copy of the updated Aadhaar Card from the official UIDAI website. The official Aadhaar update letter will be sent to you at your registered address after 90 days. If in case your update request is denied, check the details submitted and apply again. Have the Update Request Number safe with you, to check the update status. To change your name at an offline centre, there are some things you'll have to do:
Carry the original documents for verification with you
You'll need to fill out a correction form with all the details that need to be changed. Please fill it out carefully
There will be a biometrics verification along with a retina scan verification. All of this will be for verification purposes
Make the payment, and submit the form along with copies of original documents
The officer will give a receipt along with a copy of your application form that will have your Update Request Number
Now you will have to wait for 90 days, till then you can track your application status through your Update Request Number
Documents required for aadhaar card name change
You can visit the UIDAI website link https://uidai.gov.in/images/commdoc/valid_documents_list.pdf for a complete list of POI- Proof of Identity documents. There are 32 PoI approved documents as per the UIDAI list. Refer to the below list:
Passport
Voter ID
PAN Card
Driving License
Ration or PDS Photo Card
Government Photo ID Cards or Service photo identity card issued by PSU
NREGS Job Card
Photo ID issued by Recognized Educational Institution
Photo Bank ATM
Photo Credit Card
Arms License
Freedom Fighter Photo Card
Pensioner Photo Card
Kissan Photo Passbook
Address Card with Name and Photo issued by Department of Posts
CGHS or ECHS Photo Card
Marriage certificate with photograph
Gazette notice for a name change
Bhamashah Card
ID Card for Disability or medical certificate of handicapped issued by the particular State or Union Territory Governments or Administrations
Certificate from Superintendent or Warden or Matron or the Head of Institution of certified shelter homes or orphanages etc. on UIDAI format
Certificate of Identity with photo issued by Village Panchayat head or Mukhiya
RSBY Card
SSLC book with a photograph of the candidate
School Leaving Certificate or SLC, School Transfer Certificate or TC
Certificate of Identity with photo and issued by an MP or MLA or MLC or Municipal Councillor on UIDAI format
Certificate of Identity with name and photo issued by Recognized Educational Institution signed by the Head of Institute on UIDAI format
Extract of School Records issued by the Head of School
Bank Pass Book
Certificate of identity with name, date of birth and photograph issued by Employees' Provident Fund Organisation or EPFO on UIDAI format
ST or SC or OBC certificate with photograph
Fee chargeable & expected completion time for aadhaar card name change
For doing aadhaar card name change, or any Demographic or Biometric field, you need to pay INR 50 (inclusive of taxes) to the respective service provider every time you get your details updated. You can also refer to https://uidai.gov.in/images/akr_policy_on_pricing.pdf for a complete fee structure.
Aadhaar card name change may take till 90 days for completion from the date of placing the request.
Important things to remember while doing Aadhaar card name change
As per UIDAI's website, the following are the important points:
You can only change your name twice in the aadhaar record during your lifetime.
You can change/update your name in the Aadhaar card only for the following instances:

Name changes after marriage
Sequence change
Update from short form to full form
Spell correction (It should be phonetically the same)

For any rejection in your aadhaar card name change, dial 1947 to know the proper reason and the way forward.
There are no restrictions on the number of times your address, email address, mobile number, fingerprints, and photographs can be updated. However, your gender and date of birth can be updated only once in a lifetime.
Updation of name in Aadhaar Card after marriage
It is a common custom and cultural practice in India for women to change their name (usually the surname) after marriage. Name updation after marriage can be done in all the important documents including the Aadhaar card. Now that, Aadhaar is mandatory for filing the income tax and to receive many other benefits of government schemes, it is important to know the process for name change post marriage in the Aadhaar card. However, the process for updating names via online and offline mode remains the same as mentioned above, there are some key points to remember. Here are the important points to remember and the documents to be kept handy:
Keep your marriage certificate (proof of marriage) ready to change your name from maiden name to married name. you can get the marriage certificate from the office of the Sub-Divisional Magistrate of your jurisdiction.
With the help of a marriage certificate, you can get the name changed in various other documents like PAN card, Passport, Driving License and Voter ID, etc. which can also be produced as a supporting document along with your marriage certificate for name updation in Aadhaar Card.
Do's and Don'ts while doing Aadhaar card name change
Certain Do's and Don'ts for doing Aadhaar card name change are needed to be kept in mind
A Must Do
Use of capital letters while filling Aadhaar card name change form is a must
Submit the correct proof for identity
Link your mobile number with your Aadhaar and then place a request for correction
In absence of the original documents with you for authentication, get all the photocopies certified by a gazetted officer or a public notarized officer
Use any language to fill up the details on the Aadhaar enrolment form and not necessarily the local language
A Must Not Do
Do not give untrue information
Do not fill old data unnecessarily
Never use initials like A.K. Gulati, instead, write as Anand Kumar Gulati
Do not use greetings like Mr./Mrs./ Dr./ Col etc.
Now, you know how to change the name in aadhaar card and UIDAI has given all necessary platforms and facilities to perform an aadhaar card name change, without any hassle. Hence, go ahead and do the same if needed without any trouble
FAQ's
No biometrics are captured for kids below 5 years. Their UID will be managed on the basis of their parent's or guardian's demographic information and photograph linked, with the UID of their parents. And when they attain 5 years and 15 years, they would need to update their biometrics of ten fingers, iris, and photographs
No, if you are submitting any request for data change or update in your aadhaar doesn't mean that the same will be updated in your Aadhaar records. The information which you have submitted is subject to authentication and validation. And, therefore, furnishing improper data or suppression of any data or information will lead to a rejection of your aadhaar application.
The approved list by UIDAI has 31 Proof of Identity or POI, 44 Proof of Address or PoA, 14 Proof of Relationship or PoR and 14 Proof of Date of Birth documents. And, hence you can choose accordingly and provide the correct supporting documentation.
Filling your husband's name in your aadhaar is purely voluntary. In case, if you wish to do so, there is a part under details of relationships in the address section of the Aadhaar enrolment form and is being standardized to Care Of or C/o. And, therefore you can add your husband's name accordingly.
Yes. There is a structured process for family enrolments. The Head of the Family should always bring the original POI or POA documents for authentication and only those particular family members will be enrolled, based on the family entitlement document, whose names & rest of the details are documented. It is needed that the family must come together for aadhaar enrolment to the best possible extent. In case if all the members are unable to come on the same day, then the head of the family should escort the other family members every time he or she goes for their aadhaar enrolment.