We have often heard about the word "Aadhaar" in our daily lives, a most popular 12-digit unique identification number, that is issued by the UIDAI- Unique Identification Authority of India to the Indian residents. The first of its kind, the government of India has introduced the concept of an online and digital form of identification which is accepted universally. You just need to provide your demographic and biometric data during the aadhaar enrolment process and it is given without any charge.
Scope of an Aadhaar and its information
Applying and obtaining an Aadhaar is a one-time exercise that will remain in force for your entire life. Aadhaar has become a significant and appropriate confirmation tool to validate your identity. It provides you with the selection of biometric authentication like your fingerprints or iris scan, which is completely different from the traditional method of providing identity proof. It is a convenient and secure linkage of recording any financial transaction as well. Also, possessing an aadhaar not only helps as an identity proof, but also will help you in obtaining the subsidies from various government programs, in the income tax return, the opening of bank accounts, authentication through e-KYC, and many more. And hence it is absolutely necessary for you to give your details correctly and accurately so that it is easy for you to complete all the process suitably.
During Aadhaar enrolment, you will be needed to update the email id in aadhaar that belongs to you along with your mobile number. These will be stored as your permanent contact details and the same will be linked to your Aadhaar card. Hence, verifying these contact details is important as all-important communications about your Aadhaar card will be sent to your email address.
Now that you have understood the importance of update email id in aadhaar, we will take you through the process of how to update email id in aadhaar for you to understand the same.
The step-by-step process of how to update email id in aadhaar using SSUP
The UIDAI has provided numerous online facilities by which you can complete certain crucial activities in your Aadhaar. One such option is update email id in aadhaar, through which you can easily verify your email address. An important point which you must note is that before verifying your email address, your mobile number must be registered in your Aadhaar card. Now, let us now see the steps as to how to update email id in aadhaarvia SSUP portal- Self Service Portal as below:
Visit UIDAI official website at https://uidai.gov.in/
On the home page, under the section 'My Aadhaar', select 'Aadhaar Services" and then choose "Verify Email/ Mobile Number" as shown below in the screenshot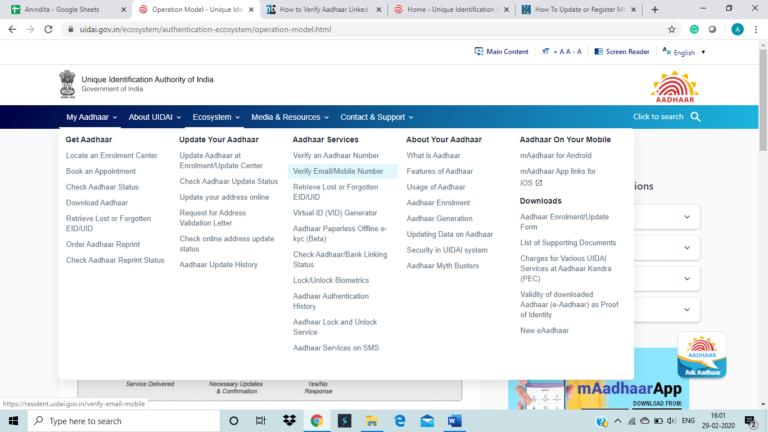 Fill in your 12-digit Aadhaar number in the relevant space provided as below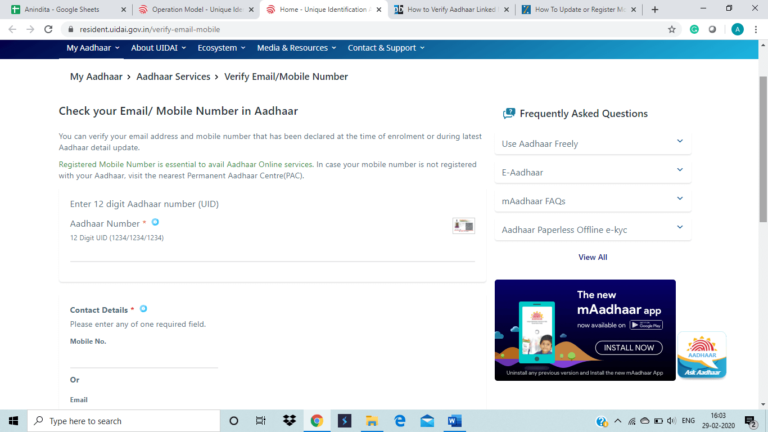 You need to enter the email address under the option of "Contact Details" in the space as shown below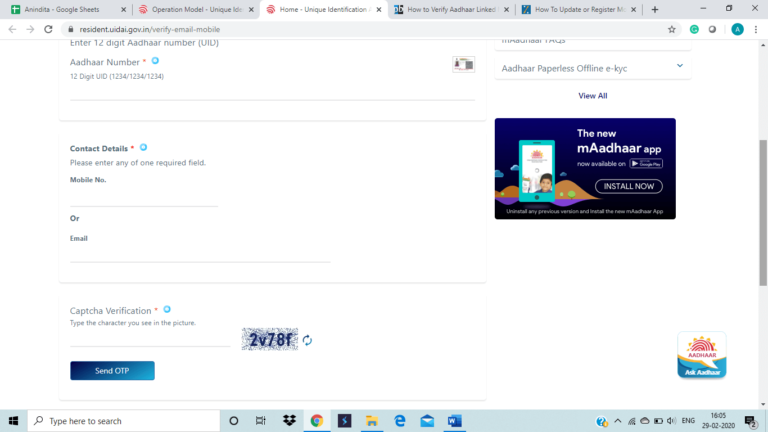 Enter the security code and go ahead with the captcha verification process
You will receive an OTP in your registered mobile number which you need to fill incorrectly
After the completion of the above step, click on "Verify OTP" and press the "Submit" button
Once the verification is successfully done, you will receive a message stating "Your email address is successfully verified"
The total process of update email id in aadhaar does not have a single human interfering thereby lessening its problem and also making the process prompt and fast. The interface provided by the UIDAI gateway is manageable, easy and is specially fashioned empowering you in getting a wide-ranging experience regardless of the fact that whether you are comfortable in using the computer or not since the procedure is so very convenient
Why do you need to verify your Email ID? OR Importance of verifying your Email id?
It is important that you must verify your email id and the reasons for doing so can be listed as below:
For security reasons, UIDAI has created the process of update and verify your email address so that there is no the right person receives the relevant messages by way of an email
If you misplace your acknowledgement slip, you will be able to recover your Aadhaar number or Enrolment number EID by using your verified email id as well as your mobile number
Verified email address or mobile number will be helpful in many situations which will enable you to receive important messages and other vital communications with respect to your Aadhaar
Strengths and Weaknesses of update email id in aadhaar
Strengths
By doing verification of your email address, you are securing your data and giving a confirmation to UIDAI that the email address belongs to the right individual
Update email id in aadhaar online helps you to receive your aadhaar related details
Weaknesses
Although giving an email address is not mandatory and you may choose not to disclose the same to UIDAI, however, you may miss out all the notifications, alerts and several updates that UIDAI may send to you
Important points to remember under update email id in aadhaar
Always given an active email address
Not everyone can avail this facility as this is online only
Now what you know that update email id in aadhaar is important, go ahead and update your mail address in your Aadhaar immediately. UIDAI's online facilities allow you to perform many important activities for your Aadhaar, thereby saving your time and the hassle of going physically and do all the formalities.
FAQ's
You can update your demographic details for your address. if you are using online Self Service Update Portal -SSUP for any update, you need to ensure that your mobile number is registered in your Aadhaar while you are using this online service.
It takes till 90 days for any updation in Aadhaar after placing the request.
No, it is not mandatory for you to provide your email address, however, if you do so you will receive important communications in your mail address. And an update in your email address or mobile number needs the verification process for security purposes. UIDAI wants to make sure that the right message is going to the right person.
You can update both your demographics details like Name, DoB Address, Gender, Mobile & Email & biometrics like your Finger Prints, Iris & Photograph, in case you are planning to visit any Aadhaar Permanent Enrolment centre.
While using online Self Service Update Portal -SSUP for any update, your mobile number must be registered with your Aadhaar. else you can visit any nearest Aadhaar Permanent Enrolment centre with the necessary supporting documents.
There are two different methods by which you can have your details updated: –
By going to any Aadhaar Permanent Enrolment centre. Search for the nearest enrolment centre by clicking on "Locate Enrolment Centre" on the official site of UIDAI https://uidai.gov.in/
By using the online portal of SSUP. Click "Update Your Address Online" on https://uidai.gov.in/
You may update Demographic details like your Name, Address, Gender, DoB, Mobile Number, Email as well as your Biometrics like Finger Prints, Iris & Photograph in your Aadhaar.