The Government of India has come up with a couple of identity documents which are considered as a proof of identity proof for Indian citizens. Aadhaar Card is one such document that is issued by the Government. From the time it has been introduced to date, the Aadhaar card has become an enormously important document and is used to authenticate or validate an individual's entity. Let us understand in short what an Aadhaar card is.
What is an Aadhaar Card?
Aadhaar Card is a 12-digit unique identification number issued to Indian residents by the Unique Identification Authority of India or UIDAI. The card captures your demographic and biometric information and is used for all essential authentications. The government has taken this initiative of issuing the Aadhaar card free of cost for all the segments of the society. India is a democratic country and keeping this point in mind, the government of India has made the aadhaar a voluntary one and has not implemented this as a rule or a legal process.
Why do you need a date of birth update in aadhaar and its Importance?
From account opening, taking an LPG connection to avail the government subsidies and many other benefits, the importance of aadhaar is increasing enormously day by day. It is our responsibility to give correct details as required during aadhaar enrolment. These details are very crucial as these will not only be authenticated when you apply for aadhaar but also will get stored in the government-owned central database. This will help the government also to remove fake users and beneficiaries. It may happen that you see that some details in your aadhaar are incorrectly captured like aadhaar card date of birth change, and therefore requires correction or an update, etc. Mistakes made during the enrolment process where it may be seen that your demographic data is being captured inaccurately. Changes to "Date of Birth or Age" as well as "Gender" fields are anticipated mainly due to enrollment errors.
UIDAI has provided the facility of doing update date of birth in aadhaar wherein you will be allowed to change or update your date of birth both online as well as offline.
Here we will discuss with you how to update the date of birth in aadhaar in detail.
How to change the date of birth in aadhaar card?
There were two different methods of online and offline, wherein you were allowed do update date of birth in aadhaar, however, at present, as per UIDAI directives, update date of birth in aadhaar can only be done offline, which would mean that you need to visit physically any next-door Permanent Aadhaar Centre PEC or Aadhaar Kendra Service or ASK to get this service in particular and you will not be allowed to change update date of birth in aadhaaronline. Additionally, you may book an appointment online and also download the aadhaar update/correction form and visit the centre, when needed.
Online Method: As stated above, you can book an appointment online which will be beneficial for you to avoid long lines and undesirable botheration. Here are the steps below for booking an appointment.
Step 1: Visit the official website of UIDAI https://uidai.gov.in/and click on "Book Appointment" below "Get Aadhaar" under "My Aadhaar" in the homepage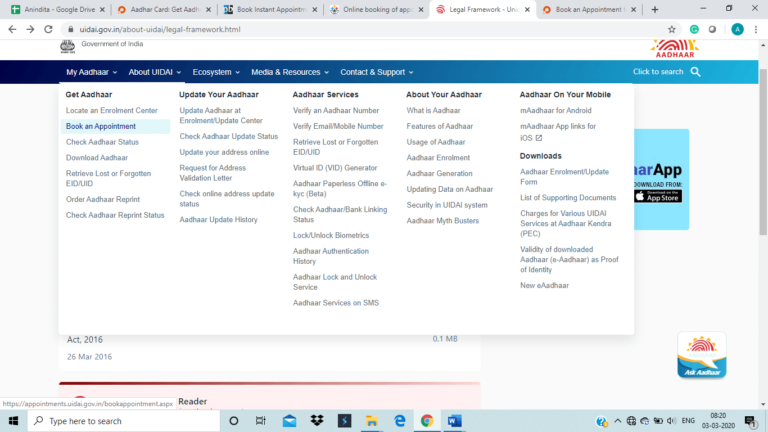 Step 2: Select the name of the centre as per your locational convenience and click" Proceed to Book Appointment"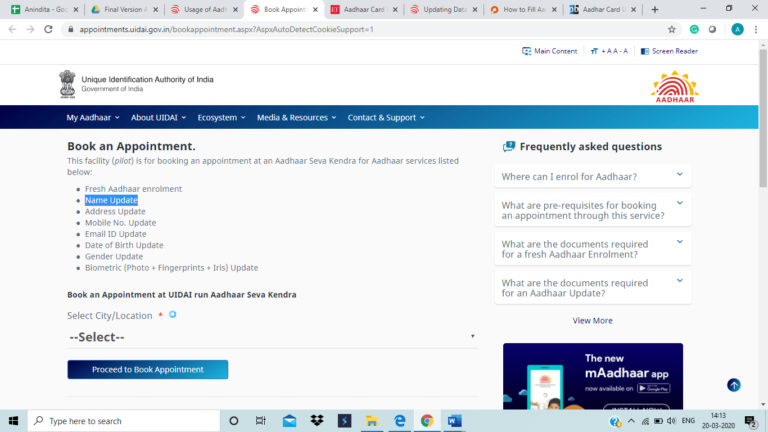 Step 3: Pick the option "Aadhaar Update" as shown below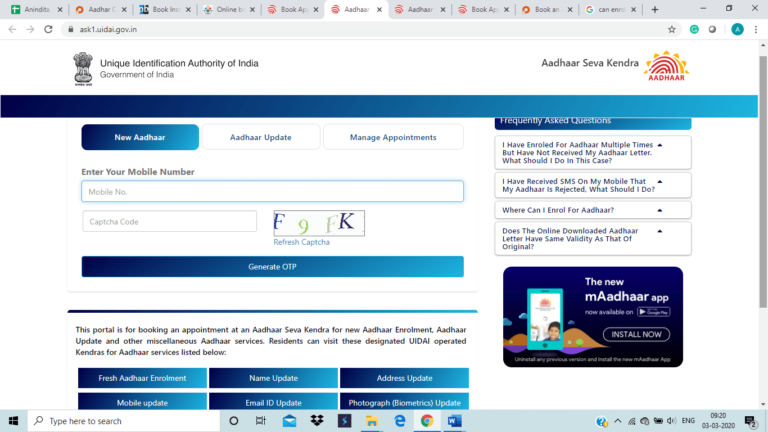 Step 4: Enter your mobile number and also the Captcha code
Step 5: Enter the OTP sent to your registered mobile number
Step 6: On successful authentication, you will a form that you to need to fill in with necessary details and submit the form
Step 7: Make the appointment by visiting the tab stating "Manage Appointment" tab
Step 8: Download the " Aadhaar Enrolment/ Update Form" from https://uidai.gov.in/images/aadhaar_enrolment_correction_form_version_2.1.pdf
Step 9: Visit the PEC or ASK as per the time slot and with the form along with required supporting documents to update date of birth in aadhaar
Offline:Permanent Enrolment centre or ASK: You can update the date of birth in aadhaar by visiting the Permanent Enrolment centre or ASK. You can search for the adjacent enrolment centre by visiting the UIDAI website link- https://appointments.uidai.gov.in/easearch.aspx?AspxAutoDetectCookieSupport=1and get the desired centre as explained above, book an appointment for your ease and then visit the centre. Download the necessary form as mentioned under the online method above. Simply follow the below steps to update the date of birth in aadhaar.
Step 1: Carefully fill the Aadhaar Enrolment/Correction Form
Step 2: State your correct date of birth exactly in the form
Step 3: Submit the form with the appropriate document as a Date of Birth Proof – we will discuss this in the next section
Step 4: The respective Aadhaar officer will register your aadhaar card date of birth update request
Step 5: You will get an acknowledgement receipt for the update request
Under this method, you can do the aadhaar card date of birth update easily. In this situation, the proof is collected by the aadhaar officer at the time of receiving the request. UIDAI has three modes for Supported Updates which we will discuss briefly as below:
Update Client Standard or UCS Fields: All biometric and demographic fields with local language can be updated Identity Authentication: Back-end Biometric check Document Verification:

Authentication for fields that need documented proof
Authentication is done by the verifier, appointed by the UIDAI or the Registrars' presence at the Enrolment or the Update Centre
Verification technique followed in line with DDSVP Committee Recommendations
Form Filling and Acknowledgement
Performed by an officer, accountable for managing language issues, spelling, translation, etc on update client as wished by you, as a resident. Aadhaar officers will provide a biometric sign off for every update request. You will get an acknowledgement mentioning the Update Request Number -URN with which you will be able to track your request. Here is below a pictorial representation of the process for your understanding:

2. Update Client Lite or UCL Fields: All demographic fields with Photo and in the local language can be updated

Identity Authentication: YourBiometric Confirmation 
Document Verification: Identical as mentioned under UCS above
Form Filling and Acknowledgement: Identical as mentioned under UCS above
3. Update through AUA-Authentication User Agency Point of Presence Used by a specific Registrar acting as AUA's to whom UIDAI has the authority to provide an application for all the updates. The Registrars under this are known to collect or create or own the exact demographic field and is an upholder of all data.

Fields: Demographic fields
Identity Authentication: Your biometric authentication on the AUA device; UIDAI can select to have more than one authentication if important. 
Document Verification: UIDAI will decide to take the request for the update, based on the Registrar's validation process and your authentication.
Documents required for aadhaar card date of birth correction
You may visit the UIDAI website link https://uidai.gov.in/images/commdoc/valid_documents_list.pdf for a complete list of Date of Birth Proof documents. There is a list of 15 Date of Birth Proof documents permitted by UIDAI. Refer the list as mentioned below:
Passport
Birth Certificate
PAN Card
SSLC Book/ Certificate
A certificate on UIDAI format or ID Card having photo and Date of Birth or DOB duly signed and issued by a Government authority
Photo ID card with Date of Birth, issued by Recognized Educational Institution
Certificate of Date of Birth issued by Group A Gazetted Officer on UIDAI format
Government Photo ID Card or Photo Identity Card issued by PSU with DOB
Central or State Pension Payment Order
Central Government Health Service Scheme Photo Card or Ex-Servicemen Contributory Health Scheme Photocard
Marksheet issued by any Government Board or University
Certificate of Identity with Name, DOB and Photo issued by Recognized Educational Institution signed by Head of Institute on UIDAI format
School Leaving Certificate or SLC, School Transfer Certificate or TC with Name and Date of Birth
Certificate of identity with Name, DOB and Photograph issued by Employees' Provident Fund Organisation or EPFO on UIDAI format
Extract of School Records issued by Head of School with Name, Date of Birth and Photograph
Fee chargeable & expected completion time for aadhaar card date of birth correction
For doing aadhaar card date of birth correction, or any Demographic or Biometric field, you need to pay INR 50 (this is inclusive of taxes) to the corresponding service provider for each update. You may also refer to https://uidai.gov.in/images/akr_policy_on_pricing.pdf to see the fees.
Aadhaar card date of birth correction may take till 90 days for completion from the date of placing the request.
Things that you must keep in mind to do an aadhaar card date of birth correction
Certain Do's and Don'ts for doing aadhaar card date of birth correction are there which you need to note and they are as follows:
A Must Do
Submit the correct and right date of birth proof
The documents provided by you for aadhaar card date of birth correction should be in the list of approved documents by UIDAI
Your Date of birth must specify day, month and year in the appropriate field.
You must link your cell number with your Aadhaar and after that, put your request for the correction or update
In absence of the original papers with you for authentication, get duplicates certified by a gazetted officer or a public notarized officer
You may use any language to fill up the details on the Aadhaar enrolment form and not essentially the local language
A Must Not Do
Never give untrue information
Do not fill old data unreasonably
Important points to remember for aadhaar card date of birth correction
If you, as a resident, are not able to give your exact date of birth and only age has been mentioned by you or approximate age is stated by the verifier then, only age is documented. The aadhaar software will, therefore, automatically compute your year of birth in this case
Any aadhaar update needs authentication by the aadhaar holder. This validation is done either by OTP verification or biometric authentication. For child below 5 years, the authentication needs to be done by his or her parents or guardians as appropriate
You as an aadhaar holder can only request for your aadhaar card date of birth correction and not anyone else, except for child below 5 years
If you provide documented evidence of Date of Birth, then your Date of Birth is treated as "Verified". When you declare your date of birth without any documented proof, then date of birth is treated as "Declared"
You are permitted to correct any error or update any of your data in your Aadhaar by filling up the Aadhaar card update or correction form. If you are doing any update or correction within 96 hours or 4 days from the enrollment date, you need not pay any charge. But then again, after 4 days, you need to pay a nominal charge of INR 50 for placing such request
If your aadhaar mentions as "Invalid", you can call 1947 for further support
There is a limit on the number of corrections or updates for aadhaar card date of birth correction as per the UIDAI guidelines and is given below. Also, note that there are no limitations set on the number of updates in like your address, email address, mobile number, fingerprints, iris scans or photographs
Date of Birth- One Update
Name update- Two Updates
Gender Update- One Update
8. For any denial in your aadhaar card date of birth correction, you may call at 1947 to know the exact reason and consequently, you can do the needful
Check your aadhaar details carefully and notify UIDAI if you see any mistakes or errors and make sure all your details are rightly updated. And now, you know the process of aadhaar card date of birth update and UIDAI has given all essential facilities and infrastructure to do an aadhaar card date of birth correction, without any issue. Thus, go ahead, follow the procedure and do an aadhaar card date of birth update seamlessly.
FAQ's
You are allowed to update your Date of Birth in your Aadhaar only on one occasion. In case you have an honest need to update your date of birth again, you need to follow an exception procedure as below:
If you are correcting your Date of Birth for the first time, you can check the reason for rejection of your correction request by calling 1947 and take remedial action, therefore.
UIDAI only mentions about two modes of any update, first being the SSUP which is applicable for address change and second is by visiting the aadhaar enrolment centre.
Aadhaar Authentication history service introduced in UIDAI Website provides details of authentication done by an individual previously.
Yes, you can download your e- aadhaar from the UIDAI website – https://eaadhaar.uidai.gov.in/#/ and get your aadhaar which is equally valid as your physical aadhaar is.