In this age of digitalization and online system, it is always a good idea to carry the soft copies of the important documents rather than carrying the physical copies of the same, especially when there is a provision of carrying the same in an electronic form. Thus, it is a great idea to keep the soft copies of your vital document like Driving License and your vehicle's Registration Certificate handy so that you can produce the same very easily without having to worry about carrying the physical documents at all points of time.
What is e-Driving License?
The Ministry of Road Transport and Highways has permitted the usage of the soft copies of your driving license named e driving license as a valid document as per the Motor Vehicles Act, 1998. You can avoid carrying the physical copy all the time if you have the soft copy of the same. Thus, you can access your driving license and vehicle registration certificates very easily accessible online or on your mobile phones using the DigiLocker.
What is DigiLocker?
Launching the combination of DigiLocker with your e driving license and your vehicle registration system has made it easy for you to use these as valid identification documents at various airports too and this will make sure the genuine and authentic on spot substantiation by several law administration authorities like the traffic department.
You are allowed to carry these documents using a certain application or an app named DigiLocker or mParivahan app on your smartphones. When you sign up for the DigiLocker account, you get a complete dedicated cloud storing space facility that you can use for keeping or storing your significant documents like your driving licenses, your vehicle registration certificate, and your voters' Identity card as well.
What is the main advantage of DigiLocker?
Once the documents are stored in the DigiLocker as "Issued Documents", they are considered as Original Documents as per the IT Act and can be claimed as ORIGINAL, unlike soft copies kept in any cloud drive.
How to register in the DigiLocker application?
Here is the step-by-step process on how to download driving license soft copy with screenshots for your ease of reference.
Step 1: You need to sign up on the DigiLocker application as given below from the link https://accounts.digitallocker.gov.in/signup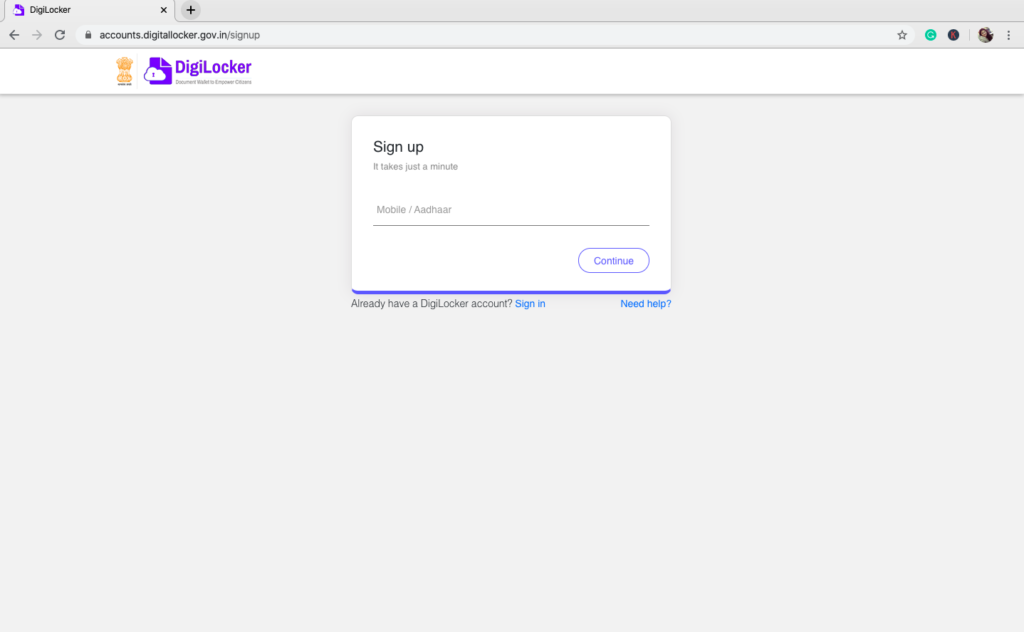 Step 2: You need to fill in your cell number. An important point to note here is that it is better that you give your registered number which is linked to your Aadhaar card
Step 3: You need to fill in your name, date of birth, gender and email id as below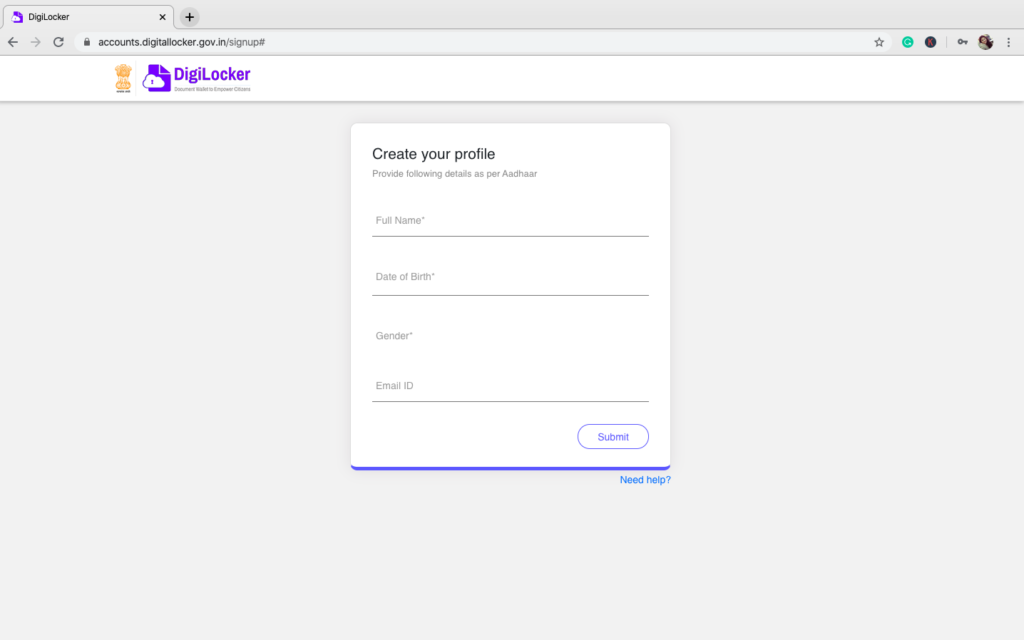 Step 4: The next action from your side is to create a username and password for yourself
Step 5: You will then need to fill in your Adhaar Card number (though not mandatory at this point) as shown below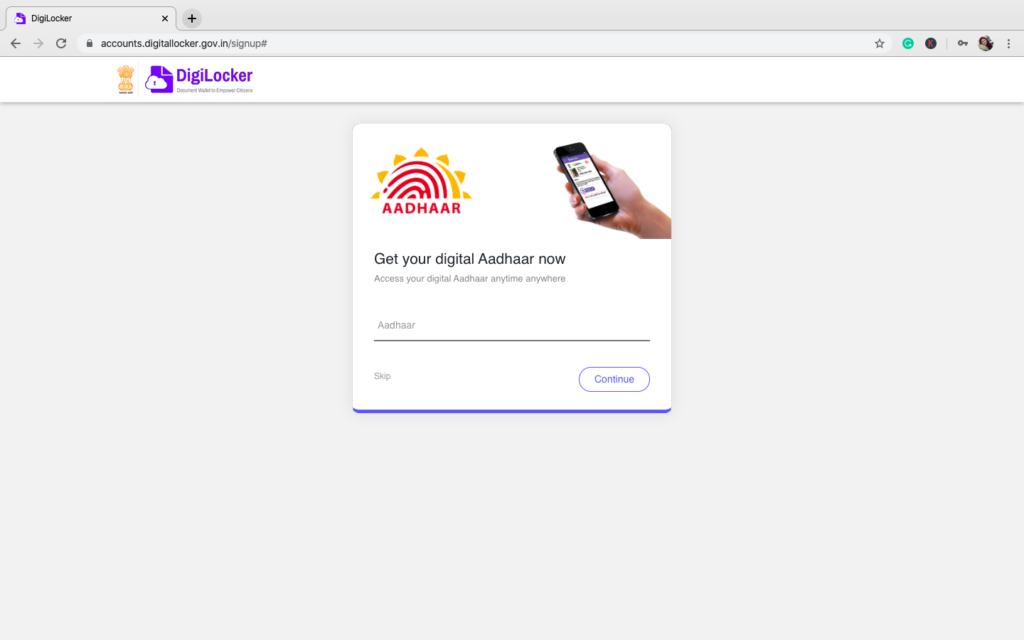 Step 6: An OTP (One-time) password will be sent to your registered number and you need to enter it to verify the details
Step 7: Then you are required to set your security PIN.
Step 8: This is the last and final step where after verifying as above, your DigiLocker account is set up and you can start using the same.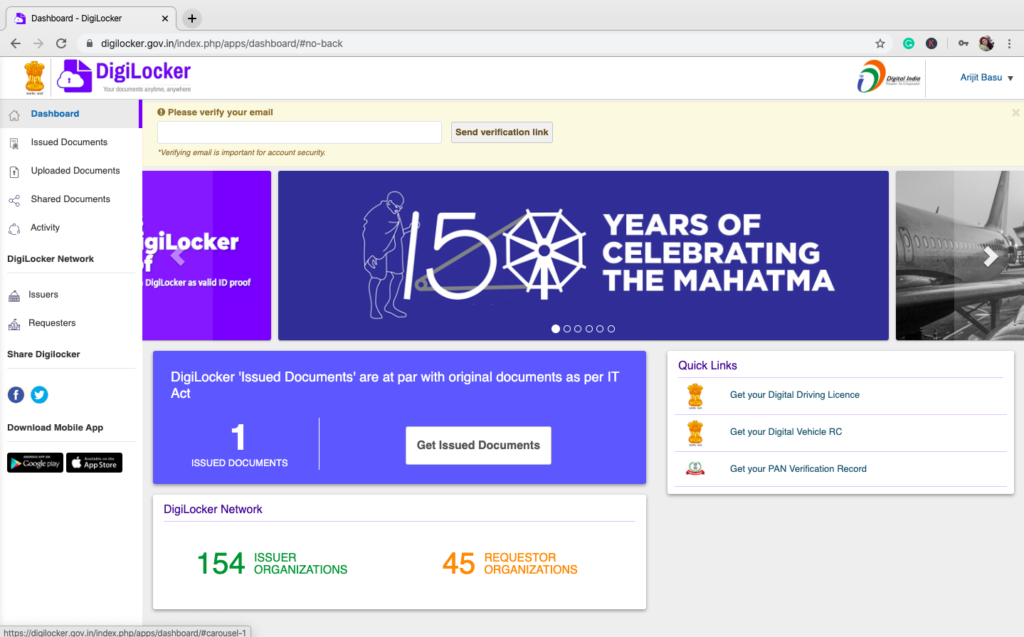 Login with your Mobile Number for Registered Users
If you have already registered previously, then you can simply log in and download your documents by using your Mobile Number and OTP.
How to link your Aadhar Card with DigiLocker?
If you have registered with your mobile number and your Aadhar Card is not linked, then you will get a message like:
Then you need to enter your Aadhar Number and click "Continue" and then enter the OTP which has been sent to your mobile number registered with your Aadhar Card. Once that is done, you can view your Aadhar Card under the "Issued Documents" like this:
How to download the soft copy of your e-Driving License in the DigiLocker?
Now let us see how to download driving license soft copy or an e driving license
Step 1: Once you enter the website, you'll be able to see the below. You need to verify your email address by going to a link as shown below on the left-hand side page
Step 2: You can get directly all the documents like driving license, registration card from the Issued documents section on the right-hand side as below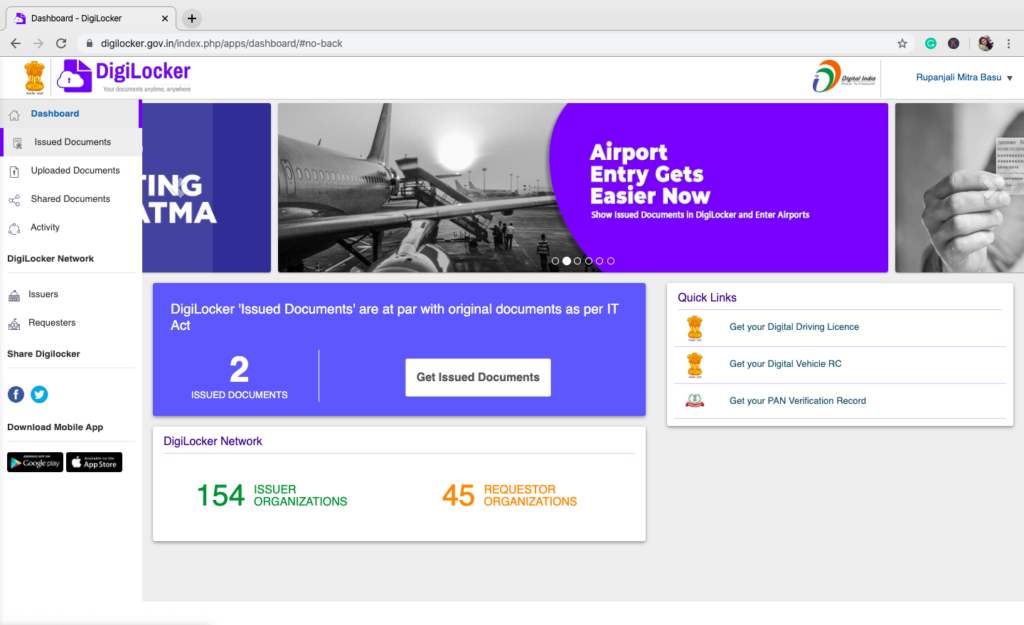 Step 3: You can get directly all the documents like driving license, registration card from the Issued documents section on the left-hand side as below and tap on 'Check Partners Section'
Step 4: You need to look for 'Ministry of Road Transport and Highways, All states' In the partners' name section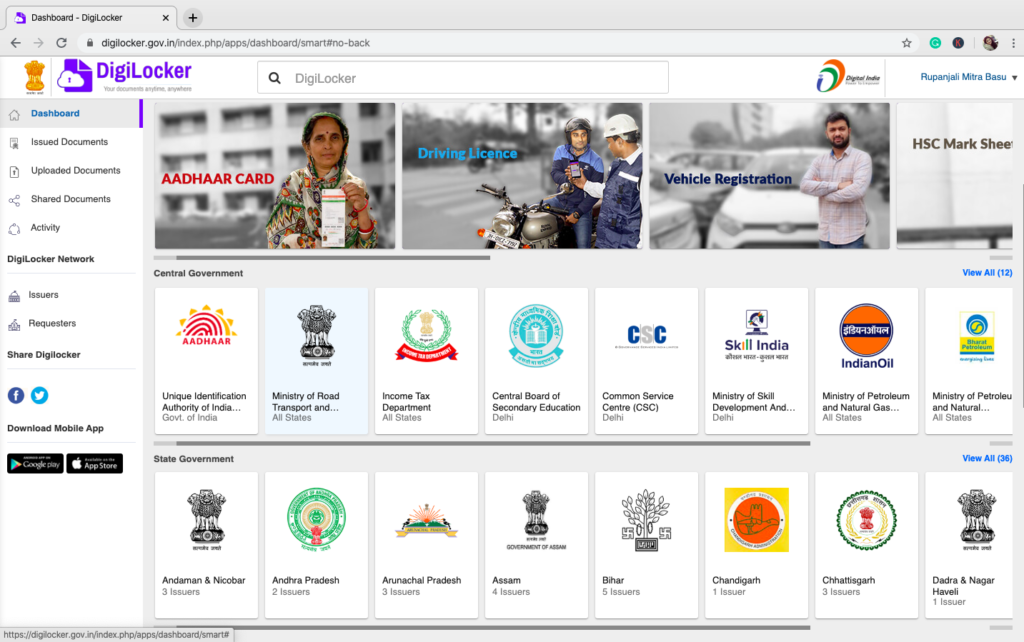 Step 5: In the 'Document Type' section you can choose a Driving License, a Fitness Certificate of fitness, Vehicle Registration, etc as shown below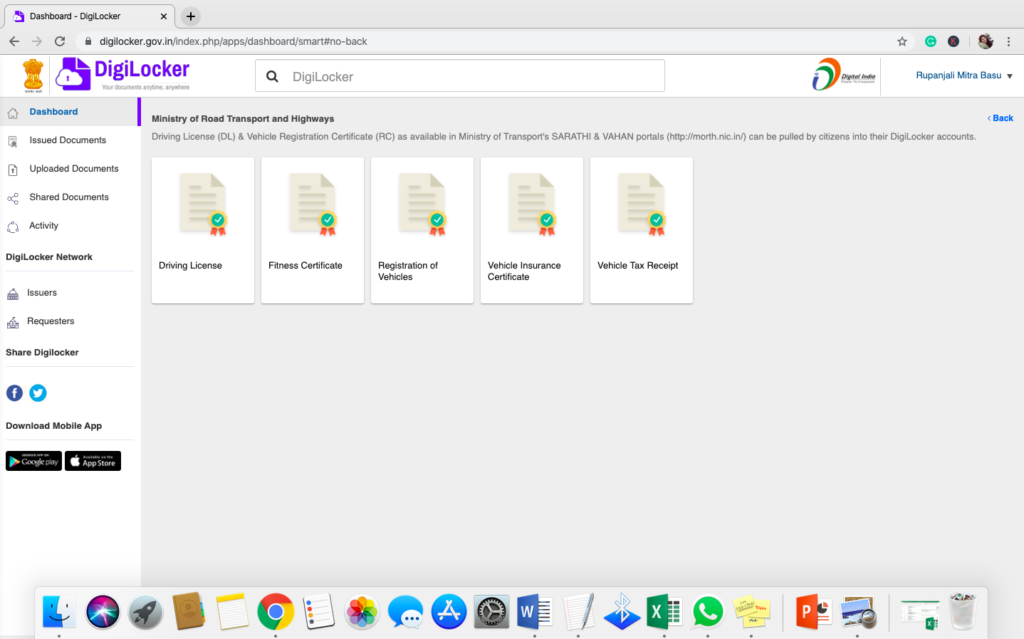 Step 6: You need to fill in your Driving License number in the space mentioned where your name and DOB is already pre-filled from your Aadhar Card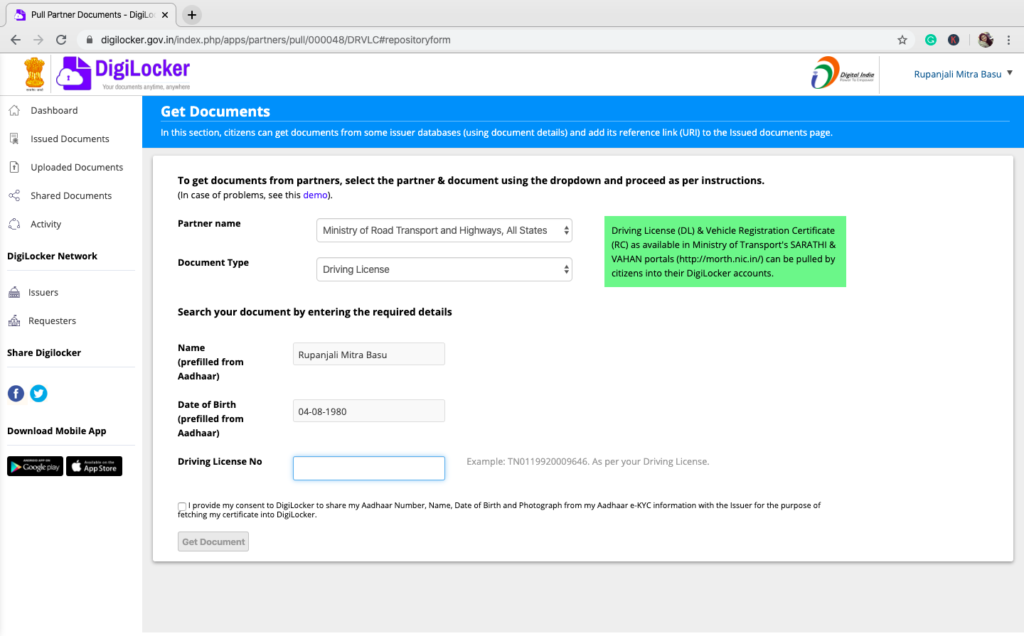 Step 7: Your Driving License can be linked to your "Issued Documents" section and you can also "download" the same for your reference
How to download your vehicle's Registration Certificate?
You need to log in and then click on Vehicle Registration Number
Next, you would need to fill in the details like your vehicle registration number, number of chassis, etc as given below to get your required documents
After you submit the required information as stated above, the website will download an electronic copy of those documents and will have it save under 'Issued documents" section
You also have an option to download all your important documents yourself from the 3rd section on the left-hand side named "uploaded documents" if you have saved all the soft copies of those documents in your laptop or desktop or cell
Upload other documents in your DigiLocker
You can upload your other documents to your DigiLocker as well by following these simple steps:
Click on "Get Issued Documents"
The Issued Documents on the DigiLocker is at par with the Original Documents as per the IT Act and can be claimed as ORIGINAL.
Thus, it is quite easy if you know how to download a driving license soft copy or how to get an e driving license. It is very easy, safe and secure and you can avoid carrying the hard copies thereby not having the risk of losing any document. The electronic copy of your e driving license and your vehicle's registration certificate is being digitally signed by MoRTH signatories – Ministry of Road Transport and Highways, and hence this will be treated as original only and you need to worry any more.
Thus, an important point to remember, ANY soft copy of your documents may not be considered valid as per the IT Act but the ones issued in the "ISSUED DOCUMENTS" is surely considered as valid.
FAQ's
The advantages of using a DigiLocker are:
Important Documents are just a few clicks away and can be retrieved at any point of time
The issued documents are considered true and legally valid and thus, as good as originals
Exchange of Digital Documents with the permission of you as a citizen
Convenient access to the important original documents which are kept very safely as verified ONLY with OTP.
DigiLocker is safe, secure and private to use. All precautionary measures are taken to make sure that your information is secured fully.
To link your DigiLocker account with your Aadhaar, your cell number must be linked with your Aadhaar card.
You can visit https://eaadhaar.uidai.gov.in/ and download the eAadhaar for yourself. You will be in a position to check the linked cell number
Issued documents are the e-documents issued by several government authorities in digital format straight from the source of data and the URI link- Uniform Resource Identifier of these documents are made available in the section of issued documents of DigiLocker. Uploaded documents are those that you as a DigiLocker user can upload your own documents.
No, You cannot. You will be able to register in DigiLocker by using an Indian cell number only.
This error is possible if your Aadhaar card is previously linked with a DigiLocker account and presently you are creating an additional DigiLocker account and trying to link your Aadhaar with that DigiLocker account. It is advisable that you attempt to retrieve your IDs by using the option of "Forgot Username or Password by using Aadhaar" for the primary account and continue with that account only.