To be recognized as a Citizen of India, every person is needed to possess a valid identity proof. Aadhaar Card is one of those identity documents. Issued by the Government of India with UIDAI, the Aadhaar Card has become one of the most demanding documents for the identity of any individual. Above and beyond helping as an identity proof, the Aadhaar card is also used as address proof of the individual. The card can also be used for opening a bank account, for availing government subsidies and also for applying for any kind of loan. Amongst the various documents issued by the Government of India for diverse purposes, the Aadhaar Card stands primarily as a proof of identity for residents in India. With an online facility of aadhaar card online registration, you can easily get an aadhaar without any trouble.
What is an Aadhaar Card?
Aadhaar Card is a unique identity card issued to all Indian citizens by the Unique Identification Authority of India -UIDAI. The card has a random blend of 12 digits that is unique for every Aadhaar cardholder. This 12-digit number is termed as the Aadhaar card number and is mainly used to identify people. The card has the demographic and biometric data of an individual and therefore is utilized for authentication purposes. An Aadhaar card is issued free of charge and individuals may voluntarily apply to enrol under the card.
Why do you need an Aadhaar card?
Aadhaar card demonstrates to be a beneficial document as it allows you to do several transactions easily. The Aadhaar card is a one-time allotted document and is valid for your entire lifetime. You need to be an Indian citizen and you can simply get yourself an Aadhaar Card. If you have the card in your name, you can get several benefits from the same that can be summarized as below:
You can use Aadhaar as a valid identity proof for getting a passport, for opening a new bank account, to buy an insurance policy, etc.
Aadhaar can also be used as a valid address proof if you do not own a passport or a driving license
The Aadhaar card is compulsory for filing your income tax returns and by having this card, you can state the 12-digit unique identification number on your tax returns and file the same easily
You can avail subsidies offered by the Government if you are eligible and for that, you would need an Aadhaar card
Aadhaar can also be used as a permanent Financial Address and enables financial inclusion of the deprived and weaker segments of the society and is, therefore, a tool of distributive fairness and equivalence
Aadhaar is a deliberate policy tool designed for social and financial addition, delivery restructurings in the public sector, managing financial budgets, increase ease and encourage trouble-free people-oriented administration
A probable question that may come to your mind is how to apply for aadhaar card. We will see this in detail in the below section.
Eligibility of Aadhaar card for Indian Citizens, NRIs & PIOs
Let us now see who is entitled to apply for an Aadhaar card:
Aadhaar Card for Indian Resident – According to the Aadhaar Act, 2016, an Indian citizen who has resided in India for a period of 182 days or more in the 12 months immediately previous the date of application for enrolment.
Aadhaar Card for Minors – UIDAI issues Blue Colour Aadhaar called Bal Aadhaar for children who are between 0-5 years of age. After the age of 5 years, the child would need to get his or her demographic and biometric details that need to be updated against the same Aadhaar card number by visiting any nearest Enrolment Centre.
Aadhaar for NRIs & PIOs – Foreigners who are residing in India are entitled to apply for Aadhaar if they meet the criteria for the duration of their stay in accordance with the Aadhaar act, 2016.
Importance of applying Aadhaar Card online
You can easily book an appointment online, after which you can visit an enrolment centre and apply for Aadhaar. Booking an online appointment is important as it will save a lot of time and unwanted hassle if you are visiting any centre without any appointment.
How to apply for aadhaar card?
You can apply for an Aadhaar card online, downloading your e-Aadhaar and by visiting any Enrolment Centre. Let us see the process one by one below.
Via Online
You need to follow the below simple steps:

Step 1: Visit the official website of UIDAI https://uidai.gov.in/and select on "Book Appointment" below "Get Aadhaar" under "My Aadhaar" in the homepage or you can simply "locate an enrolment centre" and visit, as shown below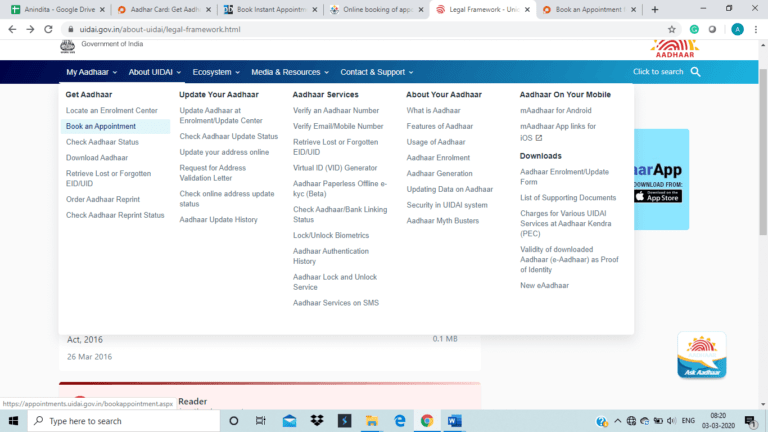 Step 2: Select your "City/ Location" as below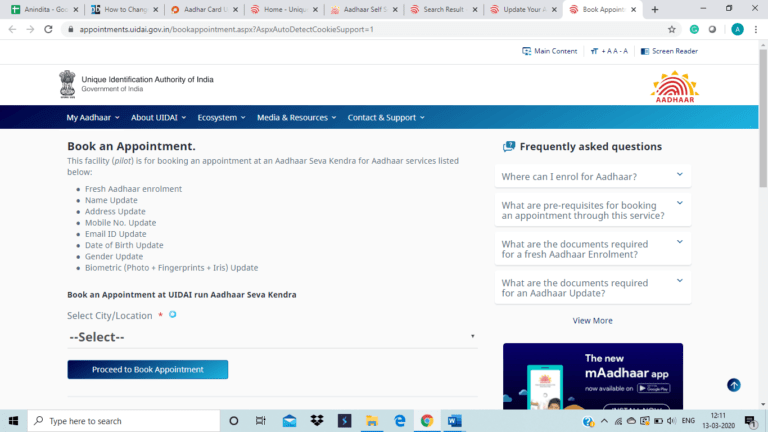 Step 3: Fill in your mobile number and complete the captcha verification process and submit the page after which you will be able to see a new page as below, where you will be able to see an option of "New Aadhaar". You need to fill in your cell number and get an OTP.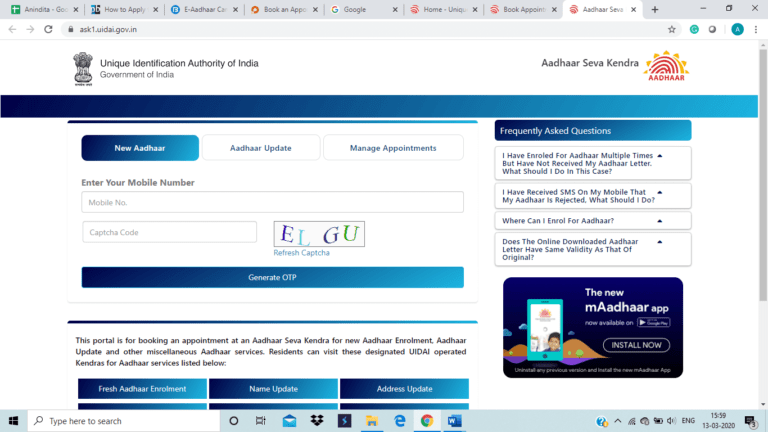 Step 4: After submitting the OTP, you will be taken to a new page as below wherein you need to fill in the relevant details, and then proceed to fill all the necessary information under each tab and choose a time slot and book an appointment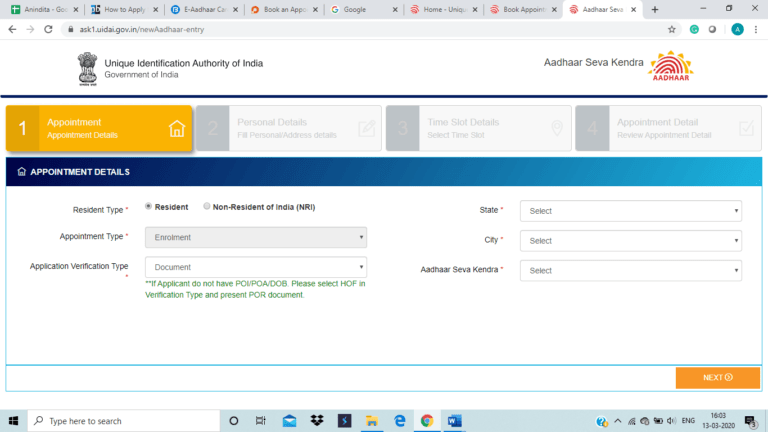 Step 5: Ensure to take the relevant documents as per the list specified under POI/ POA/POR* category and visit the enrolment centre and you can enrol yourself for an aadhaar card online

*POI- Proof of Identity
POA- Proof of Address
POR_ Proof of Relationship

E- AadhaarAn e-Aadhaar card is nothing but your Aadhaar card in an electronic form having your biometric and demographic details and is equally valid like your physical aadhaar card. The UIDAI website allows you to download your e-Aadhaar card easily on your desktop and laptop and get your aadhaar card online. You will get three choices of downloading your e-Aadhaar and they are, via your Aadhaar number, your Enrolment ID/ EID and a Virtual ID /VID. Let us see the steps as below.

Step 1: Visit the official website of UIDAI at https://uidai.gov.in/

Step 2: On the home page, under the section 'My Aadhaar', select 'Download Aadhaar' as shown below in the screenshot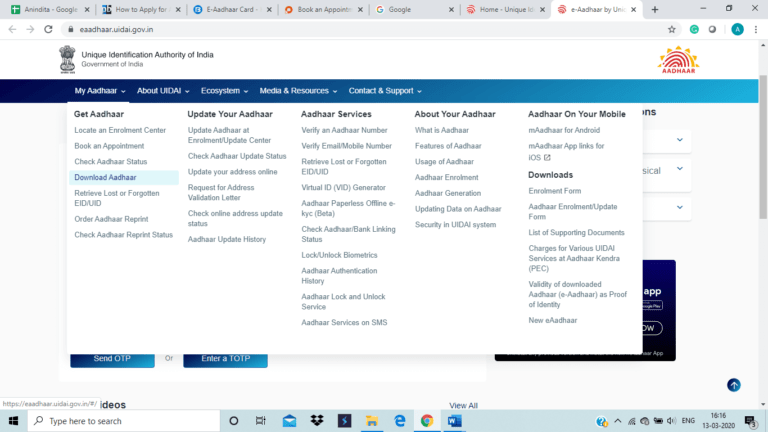 Step 3: You will be able to see all 3 options as mentioned above, Aadhaar Number, EID and VID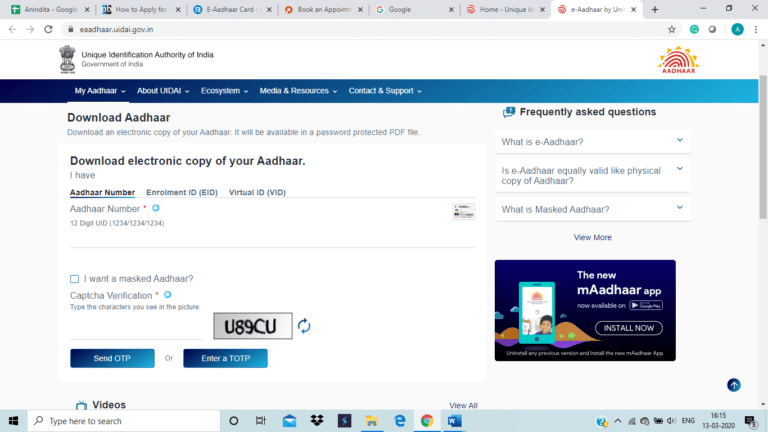 Step 4: You will be able to see all 3 options as mentioned above, Aadhaar Number, EID and VID. Select the box saying 'I want a masked Aadhaar' to get a masked Aadhaar card where the 1st eight digits of your Aadhaar card number will be hidden and the last four numbers will only be visible. This kind of Aadhaar card is designed for safety so that no one else can see your Aadhaar card number and try to do any fraud. Or else, if you don't want such masked aadhaar, you can simply download the e-Aadhaar with full Aadhaar number which will be seen

Step 5: In all the 3 options, the next step will be to authenticate the captcha code as shown above and enter the code as shown in the box and select 'Send OTP'

Step 6: You need to enter the OTP and download your e-Aadhaar in.PDF version and take a print if you want or you can save the same as well and in this way, you will get your aadhaar card online

Note: 'Enrolment ID" or EID is a 14-digit number stated in the enrolment form and Virtual ID or VID is a 16-digit number that needs to be generated via 'Virtual ID (VID) Generator' in 'Aadhaar Services' tab under "My Aadhaar "section in the home page as shown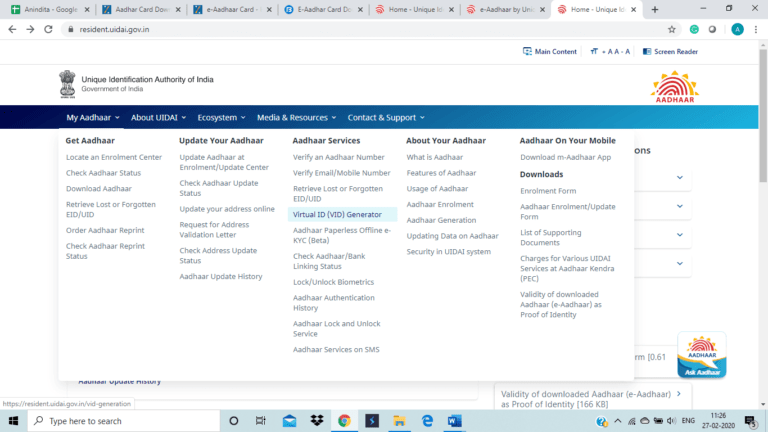 Enrolment Centre
This is another way to apply for aadhaar card, which is visiting an enrollment centre and apply for aadhaar. The first step for you to keep in mind before applying for an Aadhaar is to have all the necessary documents ready when you are visiting any enrollment centre so that you can provide all the documents timely.


From the UIDAI website, find the nearest Aadhaar Enrolment Centre as mentioned under the online method. Else If you are residing in Tier I cities, you can find the same from the official link
https://uidai.gov.in/images/Tier1_Cities_PECs.pdf.
You can also find the nearest Aadhaar Enrolment Centres in other cities by visiting another link
https://appointments.uidai.gov.in/easearch.aspx.
You may download the enrolment form from the UIDAI website link https://uidai.gov.in/images/aadhaar_enrolment_correction_form_version_2.1.pdf)
Submit the enrolment form with the supporting documents such as the proof of identity and the proof of address which will be authenticated by the respective official
Submit your biometric data that includes your fingerprints and your iris scan. The concerned official will take your photograph as well via webcam
You will receive an acknowledgment slip having a 14-digit enrolment number. Which you may use to track the status of your aadhaar card
Advantages and Disadvantages of aadhaar card online
Advantages
You can download an e-Aadhaar anywhere and anytime and you can show this to avail several benefits and perform many transactions
Applying an Aadhaar is voluntary and there is no compulsion for applying the same
Individuals who do not enjoy of having an ID proof will be able to get an id issued by the government
You can avail many benefits by having an aadhaar, as holding an e-aadhaar is equally valid as that of a physical one
Aadhaar's uniqueness helps to remove frauds and incorrect identities
Aadhaar also helps identify person who evades tax
Disadvantages
Aadhaar is connected to many other records, hence there may be a probability of the data being negotiated and the risk of misuse remains. This can be a great risk that we are having with the Aadhaar now
Aadhaar information may be altered as the same is linked to various bank accounts
Since all data gets stored in one place, data Centralization can cause many challenges as the dependency on one single entity increases and any disruptions in UIDAI software will affect the entire system
Lot many people are still not aware of the aadhaar concept and hence online applying of aadhaar might not be of great use to this section of the society
Many remote places in the country are there where the facility of Aadhaar is not there and hence online facility is unknown to the people as well
Important Points to remember when you are applying for Aadhaar Card
You must carry the specified list of documents as mentioned by UIDAI as any other document will not be accepted
For kids below 5 years of age, you need to submit their biometrics, however when they turn 5 years and 15 years, you need to submit the same
Make sure that you are giving correct details including your name, date of birth, address, etc, as any miss in giving an accurate information might end up an issue for you
Visit the official site of UIDAI and gain more knowledge about Aadhaar as shown below in the homepage under "Download "option with the sub-heading as " Handbooks"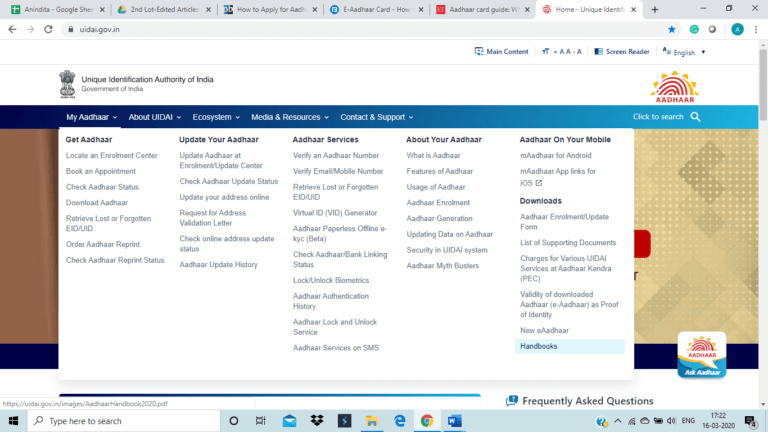 So, what are you waiting for? Applying and getting an aadhaar is an easy process and all you need to do is get the relevant documents and choose a method as to how to apply for aadhaar card and go ahead.
FAQ's
Yes, you need to have the original copies of all your supporting documents for Aadhaar enrolment. These will be scanned and will be given back to you after the process of enrolment.
You need to fill up the relevant form at Enrolment centre with supporting documents which are Proof of Identity-POI, Proof of Address -PoA, Proof of Relationship -PoR and Date of Birth- DoB document. UIDAI admits 31 PoI and 44 PoA, 14 PoR and 14 DoB documents.
Yes, you can still enrol for your Aadhaar even if one or all your fingers or Iris are missing. Aadhaar software has been designed keeping in mind such scenarios.
Yes, you can. If you do not have the essential documents, you can still enrol if your name exists in the family entitlement document. Here, the Head of Family or HoF in the entitlement document needs to be first enrolled with his or her valid PoI & PoA document and after that other family members may enrol based on the EID or the Aadhaar number of HoF.