The Government of India presented a new concept of Aadhaar to provide every single Indian citizen with a unique identification tool by which an individual can be easily recognized. The Aadhaar card became a significant document that provided an individual with certified central storage of your personal and biometric details. The responsibility of issuing Aadhaar card is entrusted upon UIDAI- Unique Identification Authority of India to the Indian residents who enrol for the same. Let us understand in brief as to what an Aadhaar Card is.
What is an Aadhaar Card?
An Aadhaar card is a unique document that comprises the demographic and biometric details of an individual. The card has a 12-digit unique number which is called the Aadhaar number. This number is exclusive for all individuals and it helps as a proof of identity as well as the address. Enrolling for an Aadhaar card is completely voluntary for people, however, it is always recommended to get an Aadhaar as it has many benefits other than acting as a proof of identity and address like obtaining subsidies, KYC verification, income-tax returns, ease of important financial transactions, etc. You can have this card in both physical form as well as in soft copy. Additionally, UIDAI has also provided facilities to you for your Aadhaar reprint. In this section, we will take you through the details of Aadhaar reprint for your better understanding.
What is the Aadhaar Card reprint?
"Order Aadhaar Reprint" is an innovative service that has been launched by UIDAI from 1st December 2018, on the experimental basis that facilitates you as a resident Indian to get your Aadhaar reprint letter by paying a minimal charge, if you have misplaced your Aadhaar letter or if you require a new copy. In case, you do not have your mobile number registered with your Aadhaar record, then also you can go ahead and place a request for "Order Aadhaar Reprint" using your non-registered or an alternative cell Number.
UIDAI –
The Unique Identification Authority of India has taken another digital initiative through which also you can order for Aadhaar Reprint through a mobile-based application named mAadhaar. The new Aadhaar application can be downloaded by both the Android together with iOS users and is obtainable for download on Apple's App store as well as Google's Play Store. mAadhaar application is very convenient as you can get host of benefits like downloading your Aadhaar card, order an Aadhaar reprint, show or scan QR code, offline e-KYC, update address, verification of Aadhaar, authentication of your email address, retrieving the UID or EID, requesting for address validation letter and also to check the online request status. For ordering an Aadhaar reprint, you need to pay a service charge of INR 50, and the reprinted Aadhaar would be delivered in 15 days to your registered address as stated in your Aadhaar.
Steps involved in Aadhaar card reprint
While the soft copy of the Aadhaar card may be downloaded online also there are other means of getting a duplicate Aadhaar card physically or in hard copy as well. There are three ways of requesting a duplicate Aadhaar, first being the online submission on the official UIDAI website, second on the mAadhaar mobile application and third is applying at any of the Aadhaar enrolment centres. The procedure of the mentioned three ways are mentioned below:
UIDAI website
Visit the official website of UIDAI- https://uidai.gov.in/
On the home page, click on 'My Aadhaar' and then choose 'Order Aadhaar Reprint' under 'Get Aadhaar' option as shown below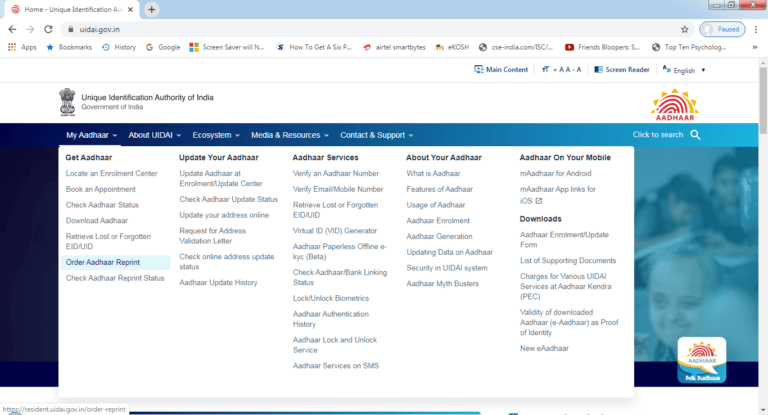 3. You will see a new window where you need to place a request for Aadhaar reprint by filling your Aadhaar card number or VID- Virtual ID number or EID-Enrolment ID number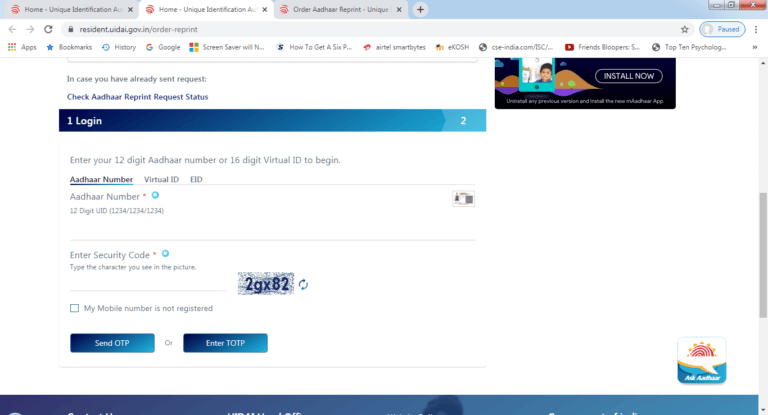 4. Fill in the security code as shown in the screen
5. If your mobile number is not registered with your Aadhaar records, tick on the box 'My mobile number is not registered'. This will permit you to place a reprinting request by way of an alternative mobile number. However, if your cell number is, registered with your Aadhaar, no need for you to click on this box
6. Click on 'Send OTP' to get the OTP on your registered mobile number or an alternate mobile number as mentioned in the above
7. Enter the OTP which you have received and you will be able to see your Aadhaar card. If all details are correct and you are ok with the details as shown, then go ahead and select 'Make Payment'
8. You will be forwarded to the payment page where you can pay the charge using your net banking facility, debit or credit card, or UPI payment
9. After making the payment, a receipt for Aadhaar reprint will be produced which would have an authorized digital signature. You may download the same and print the receipt for your record
10. A Service Request Number or SRN will be sent to your registered or alternate mobile number via an SMS. You can use the SRN to track the delivery of your Aadhaar card
2. mAadhaar application
The mAadhaar application, as stated above, also allows you to place an Aadhaar reprint request. The process is mentioned below:
Download mAadhaar application and register on the same
After opening the application, select 'Order Aadhaar Reprint'
A notice will be shown which you need to click on the box that will be just next to the 'Terms and Conditions' and give your agreement for the same
Click on 'OK' and you will be provided with two choices – 'I have registered mobile number' and 'An unregistered mobile number'
Click on the 1st choice If your mobile number is registered. Give your Aadhaar number, enter the captcha code and place a request for an OTP. Enter the OTP to and complete your request
For the 2nd option, enter your Aadhaar number, captcha code and the cell number in which you would need the OTP. Enter the OTP to and complete your request
5. Then, you need to pay online for INR 50 on the payment page
6. After the payment is done by you, you would get a confirmation receipt with a Service Request Number. The number can be used to track the delivery of your Aadhaar card.
3. Aadhaar enrolment centre
You may visit your nearest Aadhaar enrolment centre and place a request for the printing of the duplicate Aadhaar card. You will then get a receipt for reprinting and a Service Request Number or SRN by which you can track the issue as well as the delivery of your Aadhaar card.
SRN number
SRN is a 28- digits Service Request Number which is created after you place a request for Order Aadhaar Reprint on the UIDAI website. SRN will be generated each time when the request will be placed irrespective of the fact whether the payment is successful or not.
How to check the status of the Aadhaar Reprint through the app
If you have placed an order for an Aadhaar reprint, you can track the delivery status online through both the UIDAI website as well as through the mAadhaar application. The procedure for both is as follows
mAadhaar application

After you open mAadhaar application select the option 'Check Request Status'
You will have multiple options for checking the request. Select 'Reprint Request Status'
Furnish you Aadhaar card number, Service Request Number as well as the captcha code
Click on 'Check Status' and you will be able to check the status of your Aadhar reprint
2. UIDAI website
Visit the UIDAI website. Select 'My Aadhaar' and under 'Get Aadhaar' select 'Check Aadhaar Reprint Status' as shown in the below screenshot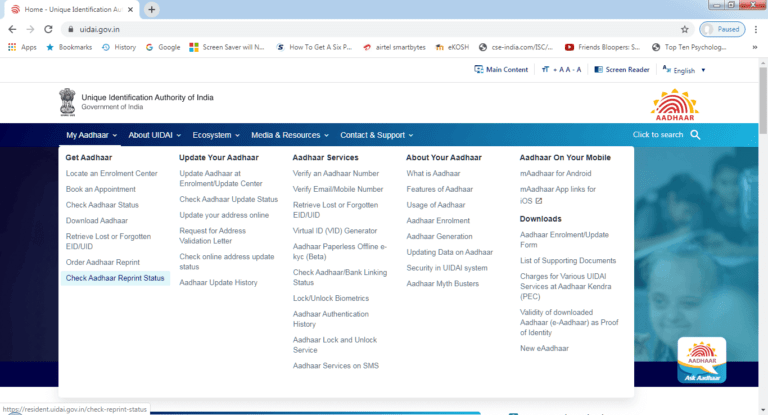 2. In the next section, you need to enter the Service Request Number or SRN which is displayed on the Aadhaar reprint receipt, Aadhaar card number and the captcha verification code as shown below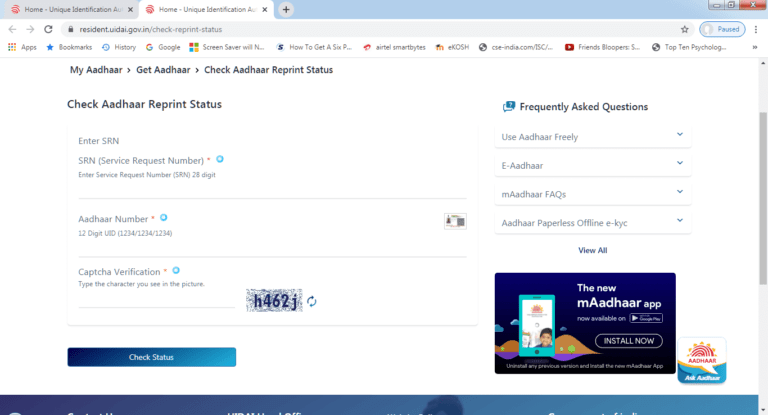 3. Click on the 'Check Status' option to see the status of reprinting of your Aadhaar card
Advantage and Disadvantage of Aadhaar card reprint
Advantages
You can easily apply online in case you have lost your aadhaar and need a duplicate one
You will be in a position to get all the eligible benefits by the soft copy of the aadhaar
You can also visit any enrolment centre for doing an Aadhaar card reprint
You can store a soft copy in your cell all the time
Disadvantages:
If someone is not conversant with the online procedure or do not possess a desktop or a laptop, he or she will find the online procedure a bit difficult
Storing the soft copy in your mobile may be risky as other may have an access to it and misuse the same
Things to remember under Aadhaar card reprint
You must remember the below points:
You must have a registered mobile number if you are using the online facility of reprinting your aadhaar letter
Make sure you have android version of 5.0 and up to use mAadhaar – the mobile app to download your aadhaar
Always use the option of "masked aadhaar" for security reasons
Always remember, that the downloaded soft copy of your aadhaar or e-aadhaar is as valid as your physical aadhaar and will hold good for using for several purposes
UIDAI is continuously trying to update the facilities so that you can easily take advantage of the same and can take the necessary benefits without any hassle. Hence, as a responsible citizen, do apply for an Aadhaar, if you have not done already.
FAQ's
You can use the below payment modes for placing an order for "Order Aadhaar Reprint"
Net Banking
Debit Card
Credit Card
UPI
Airway Bill Number is the number that is created by DoP or India Speed Post for tracking any assignment or any product which they deliver.
Yes, you can. If you want to have the delivery of your "Order Aadhaar Reprint" on a different address, you would need to update your Aadhaar details by visiting your nearest Enrolment centre or do an update online via SSUP portal.
After you place an order for your Aadhaar reprint, UIDAI will deliver the printed Aadhaar Letter to the post office within 5 business days and this is without the date of request. Aadhaar Letter would be delivered via Speed Post Service of the Department of Post in tangent with DoP delivery standards. You may track the delivery status using DoP Status Track Services.
No, currently there is no expiry date for VID and it will be valid till the time a new VID is being created by you.