The government of India has announced a new identity proof or a document named Aadhaar Card for citizens of India. Like a voter's identity card, Aadhaar card also can be used as proof of identity. Aadhaar Card is now the most significant document to be used for both identity and address proof of any individual.
What is an Aadhaar Card?
Aadhaar Card is a unique 12- digit number that is issued to all Indian citizens together with the children as well as the infants. The card consists of their biometric data and demographic information which is used for verification purposes. Aadhaar Card acts as the main proof of being a citizen of India and is issued free of cost. Aadhaar card is issued by the Unique Identification Authority of India or UIDAI to every resident Indian who enrolls for the card.
It is of utmost importance to get an Aadhaar card since it is a very useful document and allows you to perform many transactions and activities effortlessly. The Aadhaar card once issued is valid for your entire lifetime. The only criteria to obtain an Aadhaar Card is to be an Indian citizen and nothing else. Here, we will take you through the enrolment procedure of the Aadhaar card formand how to fill up the same.
How to download the Aadhaar enrolment form from UIDAI's site
You can visit UIDAI's official website https://uidai.gov.in/and go to the 'My Aadhaar' section. You will be able to see a section named "download" on the right-hand side, under which you need to click on the "Aadhaar Enrolment/ Update Form" to download the Aadhaar enrolment form. You can refer to the below screenshot for a quick reference.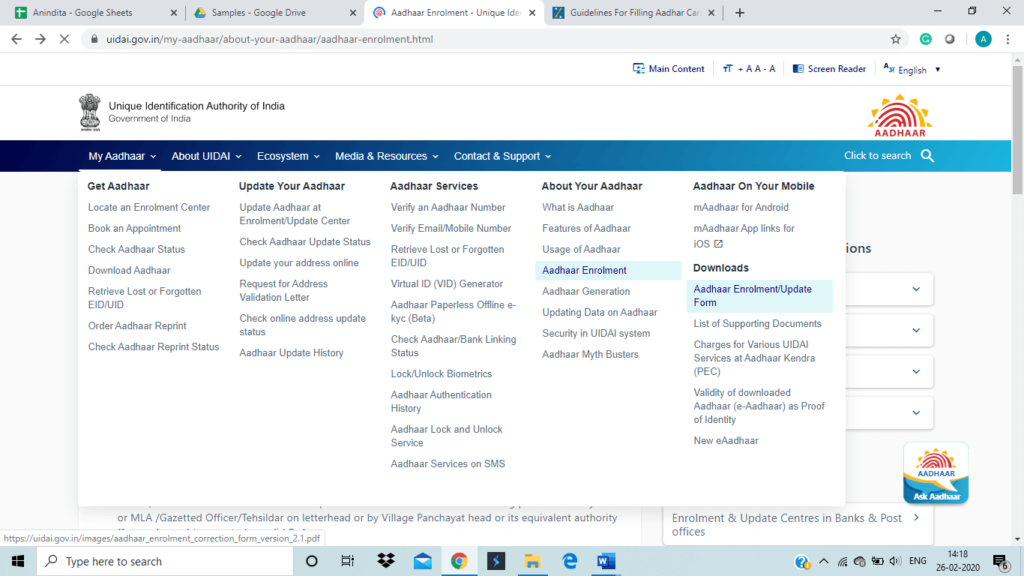 Contents or fields of the Aadhaar enrolment form
The contents of the Aadhaar card form can be listed as below. These are very easy fields for you to fill up smoothly without any hassle.
Full name of the Applicant
Address
Age
Gender
Pre-enrolment ID, if any
TIN Number- Tax Identification Number/NPR Receipt Number- National Population Register
Details of Father/Mother/Guardian as required
Particulars of the introducer or Head of Family- Hof
Details of the documents which are submitted
Signature or Thumb impression of the applicant
Enrolment date and time
Step-by-step process on how to fill Aadhaar enrolment form
To fill Aadhaar enrolment form, you need to follow the below-mentioned steps:
Step 1: Visit theUIDAI's official website https://uidai.gov.in/and go to the 'My Aadhaar' section. You will see another subsection named "download" and from here you can download the Aadhaar card form as mentioned above
Step 2: In the 1st section as shown below in the screenshot, you need to fill up the Pre-Enrolment Id, if you have. Pre-Enrolment Id is the acknowledgment number received by you after you have submitted the online application of your Aadhaar form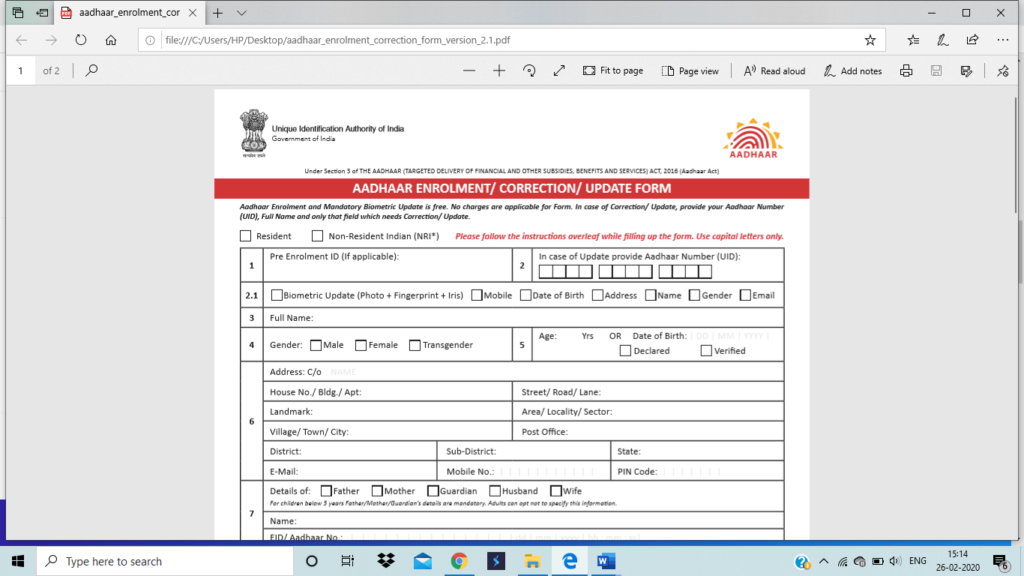 Step 2: You need to fill up your details carefully from section 2 till 7 like your name, date of birth, address details, details of parents, etc. Point no 7 also talks about 3 means of applying through Aadhaar card form, first being with documents and second if you do not have any documents, then the process will be via an Introducer and Head of Family (HoF) as shown in the above screenshot.
Step 3: For Section 8 you will have to declare the document name as per the specified list. And for section 9, you need to fill up the details of the Introducer and HoF as shown below.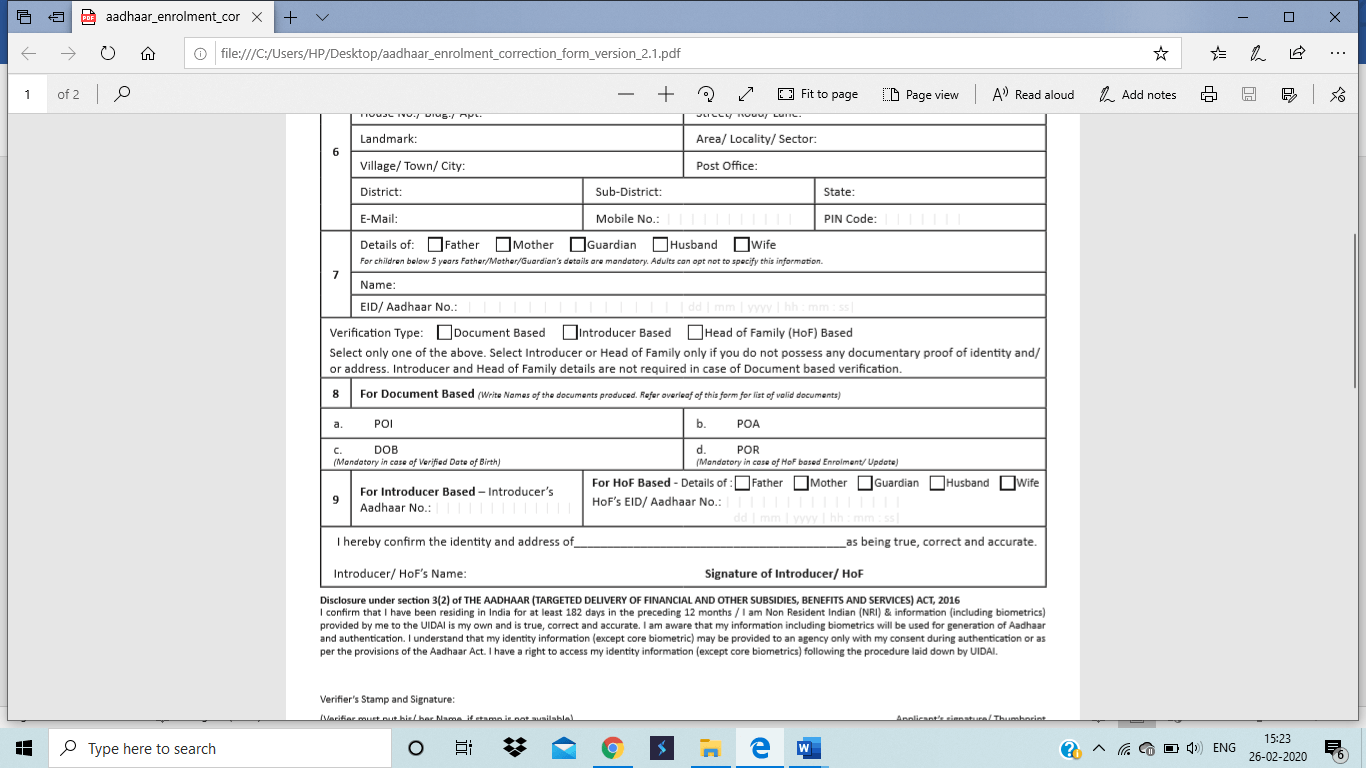 Step 4: If you are applying for any child who is an infant, then any one of the guardians need to provide details of his or her Aadhaar card
Step 5: Make sure you are filling your correct email address and your mobile number
Step 6: After you complete all the information, you can click on the submit button.
Important tips to remember while filling Aadhaar card form
Although filling the Aadhaar card form is very easy, there are a couple of main aspects which you must always remember and these are as below:
You need to make sure that the details entered are not in small letters, but only in capital letters
You need to verify and register your cell number and is compulsory
The documents which you have mentioned as proof must match with the ones you are submitting
 An important point to note here is that all data and information will be authenticated, after which the application will be processed. Hence, you need to be careful when you are giving the necessary information accurately. 
Aadhaar enrolment form or Correction Form
You can apply for correction in the Aadhaar card in the same Aadhaar enrolment form.Remember the below points when you go ahead for any correction
If you need to correct your date of birth make sure its accurate as you will get only one chance to correct the same
Do not mention any old data or information when you are giving your updated data
Things to remember while filling Aadhaar enrolment form
Here are a few vital points of Do's and Don'ts which you must remember for your Aadhaar enrolment form.
Do's
You need to use only the capital letters while filling the Aadhaar enrolment form
You need to ensure that you attach the right supporting document for any change you want in your Aadhaar card
You must link or register your cell number with Aadhaar for you to make any request for correction online
If you are doing corrections, fill up those fields only which needs correction and nothing extra
Make sure to provide full and correct address details, as the same address will be used to send your Aadhaar card
You can use any language to fill up the details on the Aadhaar enrolment form and not necessarily the local language
In case you do not have the original documents with you for authentication, in that case, all the photocopies need to be certified by a gazetted officer or a public notarized officer
Don'ts
Do not give incorrect or false information else your application will be rejected
Do not give old information unreasonably. You need to make sure that you give the recent and updated information in your Aadhaar enrolment form
Do not use salutations like Mr./Mrs./ Dr./ Col., etc.
Do not use initials like A.K. Bose, instead the same should be written as Asim Kumar Bose
Do not use a photo which is fade and cannot be seen or recognized
Documents required for Aadhaar enrolment form
You need to fill up Aadhaar enrolment form with the supporting documents which are Proof of Identity or PoI, Proof of Address or PoA, Proof of Relationship or PoR and Date of Birth or DoB documents. UIDAI permits 31 PoI documents and 44 PoA documents, 14 PoR, and 14 DoB documents. Let us see some of the main documents as below:
With Documents– In this case, you need to provide the POI which is Proof of Identity, Address and date of birth with your name and photograph. Some of the main documents are as below:

Passport
PAN card
Voters id
Driving license
Government photo id card,
Ration Card
Photo Credit Card
Bank Statement or Passbook as address proof
Utility bills less than 3 months old
Birth Certificate as a date of birth proof



Without Documents- In this case, you do not have any documents then you can have someone introduce you where you will be needing his or her ger, Aadhaar Card. And if the Head of Family (HoF)is doing the same then below are some of the main Proof of Relationship (POF) documents are as below:

Passport
PDS Card
State Government/ CGHS/ ECHS/ ESIC Medical card
Pension Card
Birth Certificate
You can refer to https://uidai.gov.in/images/commdoc/valid_documents_list.pdf for the complete list of documents for your reference. Below is the screenshot given for the relevant section.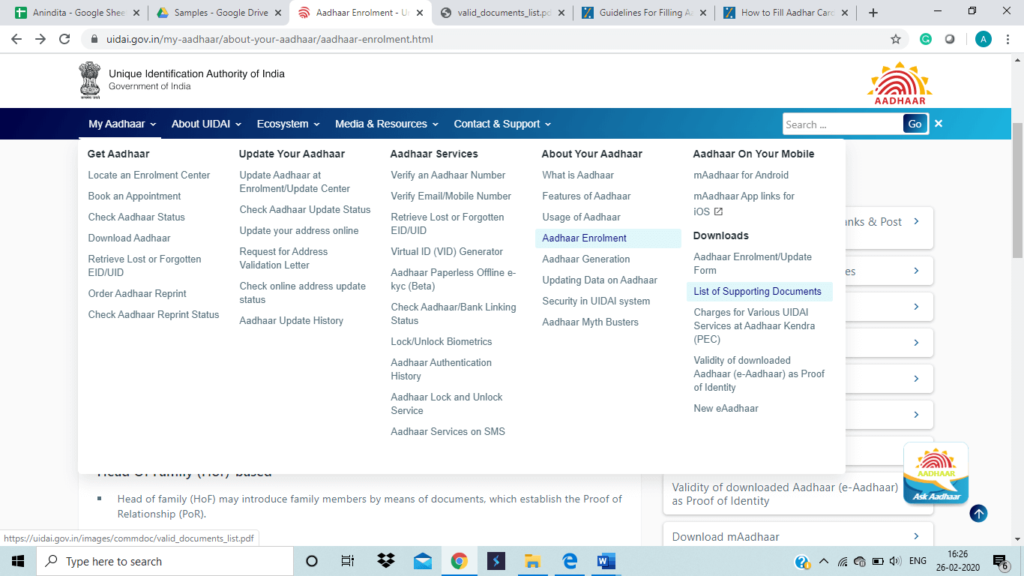 UIDAI has made it easy for all resident Indians to enrol themselves online easily and without any hassle. Hence, as a responsible citizen of India, do apply for your Aadhaar Card and use this official document as an when you need it.
FAQ's
It takes about 90 days for the Aadhaar card generation from the enrollment date.
Yes, you will be allowed to enroll for an Aadhaar card even if one of your fingers or irises is missing.
No, you will need to come personally and visit one of the Aadhaar enrolment centers so that you can enroll yourself as Biometrics data like fingerprints, iris scan, etc will be needed.
No, there are no online means of applying for an Aadhaar card. You need to come physically as mentioned in the above point.
You need to visit an Aadhaar Enrolment center set for you to enroll for Aadhaar. You can also search the nearest Enrolment center by clicking on the "Locate Enrolment Center" by visiting the official site of UIDAI- https://appointments.uidai.gov.in/easearch.aspx. You would need to enter your State, District and your locality to find the nearest enrolment center.