In India, currently, the most important document which is considered as a valid proof of identity is Aadhaar Card, other than the Voter's id card. Aadhaar Card is a unique identification number of 12-digits issued to Indian citizens based on their demographic information and biometric data like their fingerprints, iris scan, etc. The importance of an Aadhaar Card is not restricted as a proof of identity only, but it is also of great use in many critical activities, financial transactions, etc. One such crucial aspect is Employees' Provident Fund Organisation or better known as EPFO, where you can use your Aadhaar card to complete certain important procedures as a salaried professional.
What is EPFO?
The Employees' Provident Fund Organisation – EPFO is an association that is created to support the Central Board of Trustees, Employees' Provident Fund- a legal body designed by the Employees' Provident Fund and Miscellaneous Provisions Act, 1952. EPFO is governed and monitored under the administrative regulations of the Ministry of Labour and Employment , Government of India. EPFO supports the Central Board in managing an obligatory contributing Provident Fund Structure, a Pension Scheme and an Insurance Arrangement for the employees engaged in the organized segment in India. As an employee, you can go ahead and claim your Provident Fund, Gratuity, Pension, etc and can perform various other critical transactions through EPFO.
What is UAN?
Universal Account Number or UAN is assigned all the contributing members under EPFO and distributed through the employers by EPFO. The UAN Act as a canopy for the numerous Member Ids given to an individual by various enterprises. The aim is to link several Member Identification Numbers -Member Id assigned to one single member under one solo Universal Account Number. In this way, it will benefit the member to see details of all Member Identification Numbers that are linked to it. In simple words, UAN is a 12-digit number that is provided to every member of the Employees' Provident Fund Organisation or EPFO once in their career through which he or she manages his or her Provident Fund accounts. UAN is being made compulsory for all employees as it helps a lot in handling the EPF account thereby making transferring and withdrawing the PF money much easier.
An important point to remember here is, mostly the employer gives the UAN to its employees and the employee will have to get this initiated by providing appropriate Know Your Customer-KYC documents to the employer.
What is the linking of UAN to Aadhar?
Over a period of time, EPFO has taken many initiatives to make the provident fund or the PF claims settlement procedure faster and smoother so that you need not face any challenge in doing all these activities. EPFO is continuously trying to better its services and facilities and it is in this line of thought, lately, EPFO announced a UAN Aadhaar link facility via the Government's UMANG mobile application. Even though It is not compulsory for anyone to link their Aadhaar to UAN, doing this will become easy when it comes to the PF settlement process.
How to link Aadhaar with UAN?
There are three ways by which you can link Aadhaar to UAN. Here we will take you through the same in detail.
UAN Aadhaar link by way of UMANG: The UMANG application provides an amalgamated platform where manifold government services, for example central, state as well as regional bodies, with those from EPFO as well, will be accessible by the users. You need to download the UMANG app in your mobile and register yourself if you are new to UMANG as shown below.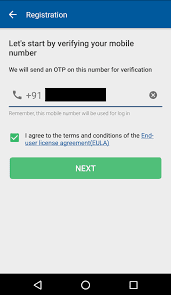 A screenshot of the UMANG app is shown below for your reference.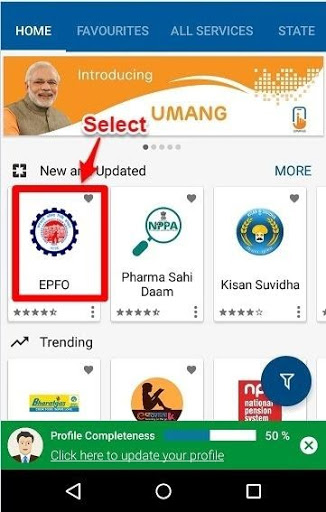 You need to follow the below steps to link Aadhaar to UAN
Step 1: Fill in your UAN number
Step 2: An OTP-One Time Password will be sent to the UAN registered mobile number. Remember your cell number must be registered with your UAN
Step 3: After you complete the OTP verification process you need to fill in you Aadhaar card details
Step 4: A different OTP will be sent on your registered cell number and email address given at the time of enrolment of your Aadhaar card
Step 5: In this step, your Aadhaar would be linked with your UAN. Point to note here is that your UAN and Aadhaar details must match, else you will not be able to link Aadhaar to UAN
UAN Aadhaar link online: You need to follow the below steps to link Aadhaar to UAN online.
Step 1: Visit the 'Unified Portal of Employees' Provident Fund' at https://unifiedportal-mem.epfindia.gov.in/memberinterface/ as shown below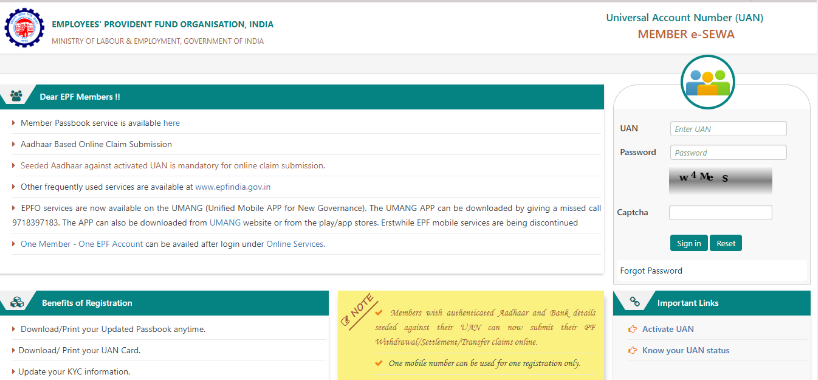 Step 2: Fill in your UAN number and password on the extreme right-hand side and complete the captcha security procedure as shown above
Step 3: Click on the 'Manage' section and from the drop-down menu select 'KYC' as shown below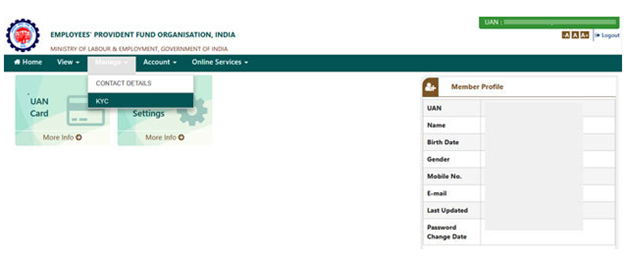 Step 4: Under the 'Add KYC' tab, you need to give your details of bank account, Aadhaar, Passport, PAN, driving license, Voter's id and ration card details if you have. After this, click on 'submit' and you can see all these details given by you under the 'Pending KYC' section. These will be reflected under the 'Approved KYC' tab after the same gets approved by your employer. This approval process generally takes about 15 working days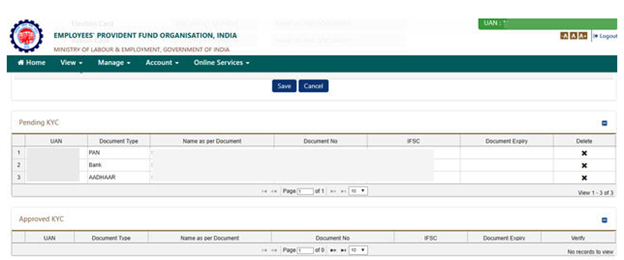 UAN Aadhaar link Offline: EPFO also allows you to link UAN with Aadhaar through offline mode as well.
You need to correctly fill in the 'Aadhaar Linking application' with the essential details. Ensure to provide accurate UAN and Aadhaar number
Along with the form, you would be required to attach self-attested copies PAN, Aadhaar card and UAN number
Submit the Aadhaar Linking application' form at the area offices of Employees' Provident Fund Organization or EPFO or the Common Services Centres CSC
After you submit the necessary documents, the same will be authenticated, after which only your Aadhaar will be linked to your PF account or UAN Aadhaar linkprocess will be completed
The government of India has been continuously moving towards "Digital India" and all these initiatives are examples of such movement. Ensure to link your UAN with Aadhaar and avail the benefit of smooth transfer or settlement of your PF- Provident Fund.
FAQ's
You will need to submit an application together with the proof via your employer. It will take less than a week for the new changes to get incorporated in EPFO records and the employer will instantly link your Aadhaar with UAN.
Yes, as an employee working in Indian and as an Indian citizen, it is mandatory to have a UAN.
No, it is not compulsory to link UAN with Aadhaar, but by doing so you will be benefited in the process of PF transfer or closure
No, a UAN number once allocated is valid for your entire lifetime.