The two most important documents which are treated as proof of identity are Voter Identity Card and Aadhaar Card. There is another document named PAN Card, which is an equally very significant document from a tax-paying perspective and is also treated as an identity proof in India.
What is an Aadhaar Card?
Aadhaar Card is a unique 12- digit identification number that is issued to all Indian citizens irrespective of their age, basis their biometric data, for example, their fingerprints, eye scan, etc and their demographic statistics. Issued by the Government of India, the Aadhaar Card is now one of the most important documents for the identity of any person. In addition to acting as proof of identity, the Aadhaar card is also used as proof of address of any individual. The card may be used for various purposes like for opening of your bank account, for availing the government grants, for applying for a loan and many more. Among the several documents issued by the Government of India for diverse purposes, the Aadhaar Card stands mainly as proof of being an Indian citizen.
What is a PAN Card?
A Permanent Account Number or abbreviated as PAN is a 10-digit alphanumeric identity, that is issued in the form of a plastic-coated way by Indian Income Tax Department, to any individual who applies for the same or to whosoever the Income Tax Department allocates the number without any application. PAN cards are one of the utmost vital documents at present. The card was issued to stop tax evasion by people and organizations as a PAN card links all monetary dealings made by a specific individual or an entity.
What is the linking of the PAN Aadhaar link?
PAN Aadhaar link is a technique in which an individual has a valid PAN Card can link his or her details of the card to his or her Aadhaar Card. Therefore, by linking both the cards, all the relevant details for that particular individual will get stored in a central database and can be monitored and governed by Income Tax Department and other Government organizations as and when needed.
Why must you do a PAN Aadhaar link? – The Mandate
The Supreme Court has announced that PAN Card must be compulsorily linked with Aadhaar Card as per Section 139AA of the Income Tax Act. According to this section, if your PAN is not linked with your Aadhaar within a specific date, then it would be considered as invalid or unenforceable. The Supreme Court has permitted linking of PAN with Aadhaar while declaring its judgment on the legitimate validity of an Aadhaar. The top court also mentioned that an Aadhaar is necessary to file an income tax return and also for applying for a new PAN
As per the Central Board of Direct Taxes- CBDT press release as on 30th December 2019, the time limit for the PAN Aadhaar link has been prolonged till 31st March 2020. Hence, from 1st April 2020, your PAN card will be considered as inoperative if you do not do the linking before 31st March 2020 while filing your income tax return.
Rationale behind PAN Aadhaar link
Indian Government has taken this step to PAN Aadhaar link card to lessen the increasing frauds, tax evasion and also to combat corruption. Since an Aadhaar Card will have the biometric facts of a person, it will be easier to track those people who are playing with the system and not paying tax. Another intent of this process is it will lessen the probable circulation of black money in the economy. Chances of scams and duplication of these documents will be almost impossible. These are the reasons why the Government of India has taken the step PAN Aadhaar link.
How to do PAN Aadhaar link and how to check PAN Aadhaar link status check online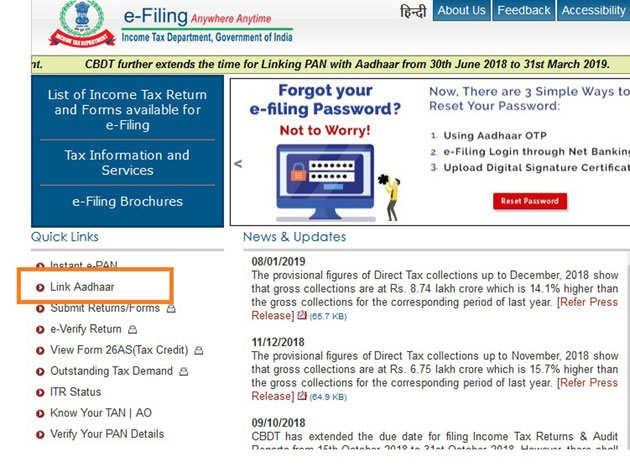 You will view a new page on your computer screen showing a hyperlink that will allow you to view Aadhaar PAN link status online as shown below.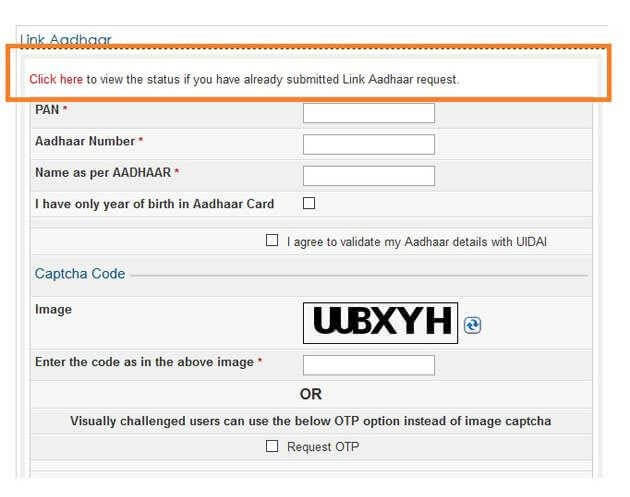 When you click on the hyperlink, you will be asked to fill in you PAN AND Aadhaar card details
Enter the above details as required and then you will see the Aadhaar PAN link status like below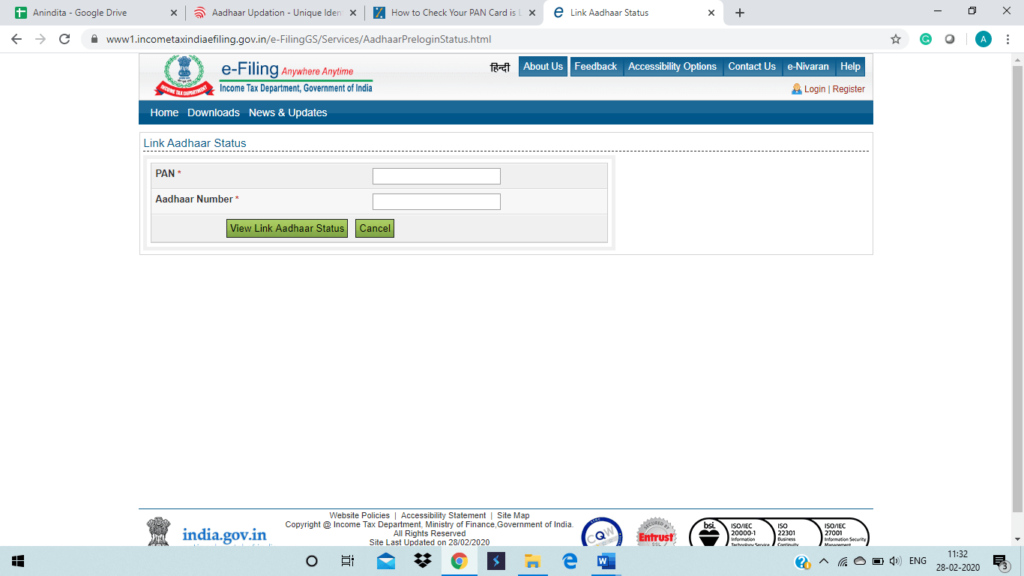 How to check PAN Aadhaar link status check via SMS
The government of India has given ample facilities online which are easy, user-friendly and absolutely hassle-free. In the age of being digital, everyone looks for the topmost convenience means of performing any activity. Here also, you can check the Aadhaar PAN link status by way of an SMS in the following manner:
You need to send an SMS to 567678 or 56161 in the below format:
UIDPAN> Your 12-digit Aadhaar Number> 10- digit Permanent Account Number or PAN
Once you do the above and the process is successful, you will receive a message stating "Aadhaar is already associated with PAN XXXX in Income Tax Database"
As a responsible citizen of India, you must follow the mandate for the Aadhaar PAN link and in case if you are unable to do so, consult with your tax advisor or take assistance from the website. Be compliant and stay well.
FAQ's
There may be few reasons why you are a taxpayer. may not be able to do the Aadhaar PAN link. Some of the main reasons are stated below:
Phone number not updated in the database of Aadhaar:
You will not be able to do the Aadhaar PAN linkif your cell number is not there in the Aadhaar database. You will then be needed to visit the nearest Aadhaar Enrolment center to have your number updated in the Aadhaar database.
Mismatch of Gender:
If there is a mismatch in the gender, you won't be able to link your Aadhaar with your PAN. You need to change the gender as appropriate in the Aadhaar database or the database of PAN.
Mismatch in Date of birth:
If there is a discrepancy in your date of birth, the Aadhaar PAN link will not be possible. Nevertheless, if your Aadhaar Card has your Birth year and the same matches with your PAN data, Aadhaar PAN link will not be problematic
Yes, you can do the same by filling up a form by visiting the designated PAN center. You need to furnish your Aadhaar card.
No, you are not allowed to e-file without an Aadhaar card. In case you do not have an Aadhaar card, you need to apply for the same and furnish the Aadhaar enrolment number.
Yes, you can. There is a direct link saying " link Aadhaar" which you can click and do the needful. No need for you to create an account on the Income Tax Department website.
Yes, you will be able to do an e-filing of your income tax return without Aadhaar. However, it is always advisable to do so for future needs as Aadhaar has become a very critical document and is used not only as an identity proof but for completing several other procedures and activities.